David Weprin
Sunday, July 31, 2011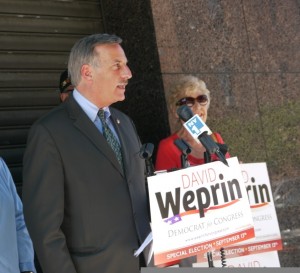 Using Rego Park's social security office as a backdrop, Assemblyman David Weprin sought to keep the issue of entitlements at the center of the congressional race out in Queens. The debt ceiling deadlock in DC was a threat to seniors' social security payments in August, he said, and would reduce the average senior's monthly income by more than $1,000.
"Seniors should not become the innocent victims of the Republicans' irresponsible, partisan games and their failure to negotiate in good faith," Weprin said in a statement. The campaign's decision to hold these events in the northern, heavily Jewish portion of the district looks like an attempt to focus older Jewish voters on their social security checks and Medicare payments, and away from Weprin's counterpart Republican Bob Turner's desire to make the special election in the 9th congressional district a referendum on Obama's support for Israel.
Read More
Thursday, July 28, 2011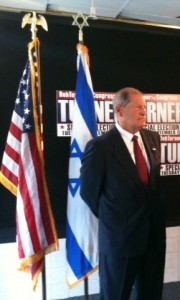 There are a couple of interesting things to note about Bob Turner. First, he's a very grandfatherly figure—which makes sense, considering his age (70) and the number of grandkids he has (13). He's about as close as you can get to a Reagan Democrat these days. He thinks the government should get out of the business of most things, but wants to keep entitlements, which he's said he would have a moral and legal obligation to preserve, in place. He doesn't seem too keen on being labeled a "quintessential Tea Party" candidate. And, right now, he believes the path to victory in the September special election runs right through the 9th congressional district's Orthodox Jewish community.
We sat down after his appearance on the "Brian Lehrer Show" to further discuss some of the issues. On air, Turner sounded unpolished—which can just as easily be interpreted as a sign of his authenticity as any detrimental awkwardness. He is, in many ways, a citizen candidate and what you might imagine when some people clamor for a non-politician to run for office. He's in the mold of, if not the less self-financed, CEO for office. He deferred on-air to questions he didn't have the answer for. He also had difficulty answering statistical questions like the district's poverty rate (11 percent according to the Census, but below the approximately 14.5 percent national rate) and its immigrant population percentage (he guessed 25 percent, but census has the figure at just over 40 percent for foreign born).
In discussing the issues in this race, Turner presented what, for many years, had been the Republican Party line on government. In a National Review article about why he's running for office again, Turner targeted the age-old villain—liberalism—and said he wanted to "dramatically" cut the federal budget by between 30 and 35 percent. His opponent, Assemblyman David Weprin, has attempted to use this stance as proof that Turner is ideologically indistinguishable from Tea Party Republicans.
In conversation, though, Turner pulled back from dramatically cutting one-third of government spending. "It's not like tomorrow we're going to chop it down," he said. "I think we need a thorough, top-to-bottom, zero-budgeting approach on the businesses we have to get into."
Turner would not start by cutting or fundamentally altering one of the single largest federal outlay—health care—as some Republicans in congress, such as Rep. Paul Ryan, have suggested. There are other places Turner says we should start first, such as the Department of Agriculture.
"Much of [the mission of the Department of Agriculture] was initiated as protecting mom-and-pop farms. That's been gone a very long time," Turner said. "What are we doing in that almost at all? Maybe that entire department should be reviewed, put into [the Department of] Interior or something."
He went on to add the Department of Education and Energy as further examples of places that deserved to be scrutinized for both efficacy and fiscal efficiency. Those three together, however, represent only about $250 billion in federal spending. With a $3.82 trillion budget in 2011, getting to that $1 billion or so third would require finding significant savings elsewhere, and doing so without touching entitlements or military spending seems next to impossible.
Jobs, too, have been an issue Turner has said is important to him. He wasn't specific about what congress could do to improve the job environment—Weprin, on the other hand, wants to revive the House Democrats jobs bill—but did lean on his background in business and in general believes that if the government gets out of the way jobs will grow. "You need a climate that works and you need incentives for that capital. There seems to be a lot of capital out there," he said. "I want to create a climate that frees that up and allows the American entrepreneurial spirit to function."
The most significant issue of the campaign for Turner remains Israel, and what he sees as the issue that could bring voters to the polls in his favor. "The orthodox [Jewish] community could be the swing in this," he said. Turner is looking to build off his 40 percent showing against Weiner last year, and his campaign believes this is the issue and population that are most likely to do that. How they'll respond to the Catholic Turner's Israel credentials over the Jewish Weprin remains to be seen, but you can expect mailings to be dropping soon arguing in Bob Turner's favor.
Read More
Wednesday, July 27, 2011
One of the city's most powerful labor unions announced its endorsement in two of the upcoming special elections. The property service workers union 32BJ is lining up behind Assemblyman David Weprin in his race for congress the union has announced.
It also confirmed it is supporting former council staffer and Brooklyn party boss favorite Rafael Espinal in the race to succeed Darryl Towns in Brooklyn's 54th Assembly District.
"Now more than ever, New York needs elected officials who represent the interests of working families," 32BJ President Mike Fishman said in a statement. "These candidates will help to take the steps necessary to improve our economy and the lives of working men and women."
Both candidates will likely count on the 70,000-member strong union's considerable ground support leading up to election day. 32BJ is the state's largest private sector union.
Read More
Tuesday, July 26, 2011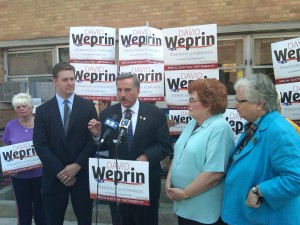 The site for David Weprin's press conference today—the senior center located behind the Forest Hills Jewish Center—gave the congressional candidate an easy twofer. It continued the counter narrative his campaign's been pushing since former mayor Ed Koch sought to make the race in the 9th congressional district a referendum on President Obama's support for Israel. But more importantly it was an attempt, the dayafter Koch announced he was backing Weprin's Republican opponent Bob Turner, by the Weprin campaign and its supporters to change the topic of conversation from Israel to the existential threat Medicare and Social Security face from congressional Republicans.
"The Republicans in the House are looking to slash Social Security and Medicare. Frankly, people are scared," Weprin said as supporters stood behind him. "I will fight to preserve Social Security and Medicare, not to privatize Social Security and Medicare."
In case you missed that: David Weprin wants you to know he's the guy who will fight for Social Security and Medicare.
Weprin was joined by nearly all of the local elected officials whose districts overlap portions of the 9th congressional district: Assemblyman Andrew Hevesi, State Senator Toby Ann Stavisky, and City Councilmember Karen Koslowitz. Stavisky, when asked, didn't down play the importance of Israel in the race, but pointed to Weprin's family and past support as clear indicators it will not be an issue voters will have to consider. "I have heard David, innumerable times, talk about why Israel is important, but it's not the only issue," she said. "Let's talk about the important issues."
The triumvirate of Queens political support will continue to be important for Weprin, as much of the congressional district lies to the south of his assembly seat's boundaries. Likewise, tying Turner to House Republicans keen on cutting back on many of the entitlements those inside the senior center count on will be an important distinction Weprin's campaign will try to make in the few short weeks before the election on September 13th. Turner has said he would fight to keep senior services in place.
One of the big things to watch for will be how much the Tea Party label being pushed by Democrats sticks to Turner moving forward, as the Weprin campaign continues to angle the discussion  away from support for Israel and towards attacks on Medicare and Social Security.
Read More

Monday, July 25, 2011
By Joyce Purnick : WNYC Political Analyst
Turning a Congressional special election into a referendum on President Obama's policies towards Israel makes perfect sense – to former Mayor Edward Koch. Koch, after all, thought up the idea and is off and running in pursuit of his plan to treat the local contest for a Queens-Brooklyn seat like an exercise in foreign policy.
To pretty much everyone else, even friends and supporters who generally agree with him, Koch's latest quest is quite a stretch in both logic and politics.

Sunday, July 10, 2011
By Alec Hamilton : Assistant Producer, WNYC News
Democratic Assemblyman David Weprin said he wasn't chosen to be a placeholder when he was selected by Democrats to run for the seat left vacant by disgraced former Rep. Anthony Weiner, a position that may face elimination under redistricting.

Wednesday, June 29, 2011
New York Democrats are lining up to fill Anthony Weiner's seat in the 9th District special election, which is scheduled to take place later this year. But there's more for party bosses to consider than just who makes the strongest candidate.
Wednesday, September 09, 2009
By Bob Hennelly
Who wants a job overseeing a budget billions in the red and protecting pensions in the age of anxious markets?
Katz, Liu, Weprin, Yassky. That's who.
It turns out three City Council members from Queens and one from Brooklyn are willing to spend millions to get the City Comptroller job ...
Friday, March 13, 2009
By Beth Fertig
Sparks flew in the Bronx today at the State Assembly Education Committee's hearing on mayoral control of the public schools.
With the law granting Mayor Bloomberg full control over the school system of more than a million students set to expire in June, assembly members peppered Department of Education officials with questions - specifically about programs for English Language Learners. It was an especially relevant issue as the Bronx is now more than 50 percent Hispanic, according to census figures.
Maria Santos, the Education Department's executive director of English Language Learners, testified that there are now more programs for these students.
She said the number of English Language Learners performing at the lowest levels has decreased in the Bloomberg years and that the city has created more dual language programs - though she conceded the graduation statistics were less clear. But
Assemblywoman Carmen Arroyo called her a 'liar' (in Spanish and English) and proposed a collaboration with a University in Puerto Rico to prepare more teachers for working with English Language Learners.
And parents and community members in the auditorium at Lehman college erupted with boos as Santos testified.