David Storobin

Thursday, May 31, 2012
It appears that the race to replace disgraced former state senator Car Kruger in the 27th District is over ― and the winner of the special election is Republican David Storobin.
Read More
Thursday, March 22, 2012
Yesterday, in the midst of all the SD-27 election discussion, I emailed the Orthodox Pundit to get his sense of what had happened. The discussion led to a post on his website today that argues Storobin's near-win--a victory in many ways, even if he ends up the loser after paper ballots are counted next week--is the continuation of a voting pattern that's seen the Orthodox Jewish community resist the conventional wisdom of the front-runner.
"[M]ore than anything, the last few elections showed that there is a strong anti-establishment mood in the Orthodox community. There is an insurgent segment that hates the inevitability mantle created by politicians around their candidates," OP writes.
The pattern, according to OP, started back in the 2009 city council contest between Brad Lander and John Heyer:
Dov Hikind – and if I recall correctly Agudah leaders -- supported Lander, but a group of activists, notably Shia Ostereicher from Belz, supported Heyer, pointing to his traditional marriage stances. Lander is today our councilman and Heyer ended third in the district overall. Still in [another] staggering defeat for Hikind and Agudah, Heyer won Borough Park 74-13 against Lander.

Ostereicher and company were seen as the new kingmakers in town, and some started to count Hikind's days, believing [he was] losing out to the Hasidim who long ago overran the Hikind types in the Borough Park.

Shortly afterwards a special election for Simcha Felder's seat came up. Hikind decided to align with the new Hasidic powers, and they 

settled

 on Joe Lazar as their candidate. Ostereicher worked hard for him, even 

pushing

 out others from the race[.] Hikind, 

Lander and Heyer

, Agudah leaders and a '

who is who'

 list of the community also banded together to back Joe Lazar, creating an environment of inevitability. Result: David Greenfield, the insurgent, went on to a landslide in the district, and even the Hasidic BP split their vote almost evenly.

...

In the current election, Councilman David Greenfield was trying his magic, cloaking Fidler with the inevitability mantle, while Storobin didn't have too many Orthodox Jewish political leaders publicly supporting him. Fidler also had the support of the highly celebrated [Russian kingmater], 

Gregory Davidzon

,

whose star rose dramatically thanks to the Turner upset

.

I, for one, sensed an atmosphere a lot like the lead-up to the Greenfield-Lazar race, but thought that Greenfield had the advantage of the Bloomberg machine and that he led a more sophisticated targeted campaign than Storobin's. For these reasons, I still felt that Fidler will win the seat and the establishment will win for a change.
OP's time line and thesis were mentioned in more than one conversation I had yesterday. If OP and others sense of things is correct, this should be good news for Democrats. At the very least, it will allow voters--not the county organization--to decide on a candidate. OP sketches out what could be the election strategy for both parties heading into this year's elections.
"My sense is that there is an active Orthodox electorate that hates to be told what to do and that the outcome is pre-determined," OP writes. "They rather like beaten down candidates who fight for their votes – it doesn't matter if it's with substance or with dirty attacks, as long they don't come with high-profile names directing to them how to vote. I'd advise the next candidate to take a more humble approach."
Read More
Wednesday, March 21, 2012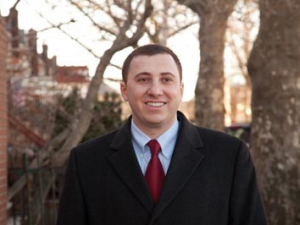 The later it got on Tuesday night, the more it became apparent that the special election in Brooklyn's Senate District 27 wasn't going to be decided in one night. In fact, the neck-and-neck race that has Republican David Storobin with a 120 vote over Councilman Lew Fidler, the Democrat, probably won't be finalized until next week, when the Board of Elections counts the more than 700 absentee and affidavit ballots.
The seat might not yet be won, but the race had a clear winner. David Storobin and his Republican allies will have knocked off—or come very close to knocking off—the Democratic Party pick who was seen as the front runner and likely winner throughout the campaign.
"Tonight, we'll go to bed as winners when nobody outside believed that we had a shot to even compete, when every story about this campaign began with Lew Fidler, the heavy favorite," Storobin said after the election.
Republicans in southern Brooklyn are now two for two. Congressman Bob Turner' upset win over Democratic Assemblyman David Weprin last September happened because southern Brooklyn turned out for the Republican. Now, conservative Orthodox Jews and the immigrant Russian community (itself heavily Jewish) have upset yet another candidate handpicked by the county Democratic organization (i.e. The Machine) in a special election.
What's happening in Brooklyn in the last two years is as much a story of a few, at-times overlooked, and increasingly assertive communities fighting to be heard, as it is a partisan realignment. The muscle flexing is a story as old as New York City politics. But two special elections don't mark a permanent political trend, Democrats and observers say. A special election, a divisive social issue like same-sex marriage and a 15 percent turnout may add up to a Republican victory in District 27, but is it the exception or the rule?
Read More
Tuesday, March 20, 2012
SPECIAL ELECTION RESULTS FOR THE STATE SENATE

SPECIAL ELECTION RESULTS FOR THE ASSEMBLY

Read More
Friday, March 16, 2012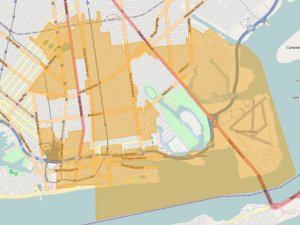 Next Tuesday voters in southern Brooklyn will go to the polls to pick who will replace disgraced former state senator Carl Krueger in the 27th District. The race between Democratic City Councilman Lew Fidler and Brooklyn county GOP vice-chair David Storobin has been short and anything but sweet.
The tone of the campaign might lead a casual observer to see this as a big deal. But the race is only a formality. Whoever wins on Tuesday will see the district they represent disappear at the end of this year. With Governor Andrew Cuomo and legislators coming to an agreement on new state senate lines, next Tuesday's election is really just the start of an entirely new campaign.
The actual issues in the race have spoken to the divide in the district's large Orthodox Jewish community. Same-sex marriage has been a major issue, as has school vouchers in a community with a high religious parochial school presence.
But whether on the issues or off, the race has been an ugly one. Both candidates are Jewish, but that hasn't stopped accusations of ties to neo-Nazi groups, hints of insufficient Jewishness via a kosher reference, and a general ugliness that's made what was always going to be a quick race seem slowed up by the amount of mud getting tossed around.
While the candidates have been busy bashing each other's brains in (in a political sense, of course), Senate Republicans were slicing and dicing Brooklyn's political terrain. When the redistricting proposal was done the Senate had carved out a promised "super Jewish" district, while cutting the current 27th between four new districts.
Whether Stororbin or Fidler wins, each will have to make a decision—or they may have already—as to which district they want to run in. City and State pointed out recently that Fidler is debating between running in the new "super Jewish" 17th District, or challenging long-time Republican Senator Marty Golden. Golden's new district is one of the four that cannibalizes the current 27th.
Meanwhile, Storobin, who wouldn't be a resident of the proposed 17th district, has saidhe's interested in running for it. Either way, the winner of next week's election will look for the victory to catapult them into the next election this November—something that has in many ways already begun.
Read More
Tuesday, March 06, 2012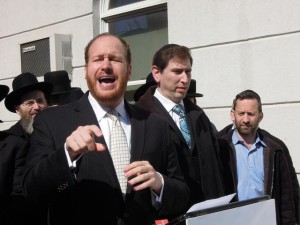 Colby Hamilton / WNYC
Speaking with a few dozen members of the southern Brooklyn Jewish community behind him, Councilman David Greenfield denounced the creation of a so-called "super Jewish" state senate district during this year's redistricting process, calling it instead a "super ghetto."
"We're not going to allow for a backroom, smoke-filled deal to dilute the strength of our community," Greenfield said during a press conference in the Borough Park neighborhood of Brooklyn.
A number of speakers from various community groups and religious organizations spoke, including Chaim Deutch of Flatbush Shomrim, Rabbi Chaim Goldberger of Satmar, Mendel Zilberberg of Community Board 12, and Rabbi Yechezkel Pikus of the Council of Jewish Organizations of Flatbush.
"We are opposed to this so-called 'super-jewish' district. This district may be super for other people, but it's not super for the Jews," Greenfield said.
The proposed district in question is part of the first draft of state senate lines drawn up by LATFOR, the task force made up of state legislatures who are responsible for drawing the new lines. If created, the 17th district would stretch from Borough Park down through the Midwood section of Brooklyn (see below).
Greenfield compared the creation of a senate district carved out for the predominately Orthodox Jewish community in the area to the creation of the Venetian ghetto 500 years ago.
"They told the Jews, 'It'll be good for you; why do you want to live with everybody? We're going to separate you. We're going to put you in a neighborhood.' And they came up with a brand new name for this neighborhood. They called it a 'ghetto'," Greenfield said. "This, folks, is nothing more and nothing less than a ghetto district."
The Councilman refused to say who, specifically, it was that wanted to create this "ghetto district" but the push for the high-density district has come from the Senate Republicans, who both drew the maps and see it as a potentially winnable seat this year. Greenfield said he testified before LATFOR, calling for more concentrated districts in the area that is now divided among as many as six senate districts.
"They gave us one--one senator. A senator that can be easily marganilized. A senator who can be dismissed. A senator people don't have to pay attention to," the Councilman said.
The battle over the future district lines has been playing out behind a special election for the nearby senate district recently vacated by disgraced former senator Carl Kruger. Another local council member, Lewis Fidler, is running against Brooklyn Republican Party vice-chairman David Storobin.
The candidate was unable to attend at least two recent debate appearances due to illness. But the illness was announced ten days ago and Fidler has been scarcely seen publicly, with just two weeks left to go in the campaign.
Requests were put in to Councilman Fidler's campaign for an update on his status. They have yet to be returned.
Read More
Wednesday, February 29, 2012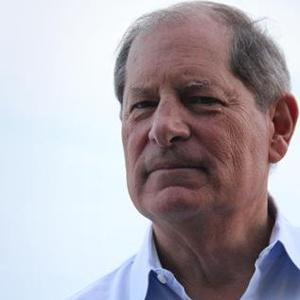 According to a Senate source, the GOP congressional maps that will be released today will show why they want to preserve the NY-09 seat of Bob Turner. According to the source, under their plan the seat would move further into Brooklyn, consolidating the Orthodox Jewish community inside Turner's district.
Earlier reports on the proposed maps say that while both Assembly Democrats and Senate Republicans have agreed to carving up upstate seat of Democratic Representative Maurice Hinchey, who will retire at the end of this term, there is particular disagreement over the Turner seat.
According to reports, Assembly Democrats want to cut up the mostly-Queens 9th district, which Republican won in a special election last September—something that had been anticipated even before Turner's win.
But with the redrawing of Turner's seat to include a larger portion of the Orthodox Jewish community in southern Brooklyn, Republicans are pushing for a seat they're drawing to win.
This is the latest in a series of Republican moves to consolidate the Orthodox community they see as a potentially natural constituency. On the state legislative side, a new senate district is being proposed that would itself consolidate the Orthodox community in southern Brooklyn. A special election being held next month to fill the seat vacated by disgraced former senator Carl Kruger is setting the stage for a battle in the proposed seat that Senate Republicans they believe they can win, even if Democrat Lewis Fidler beats Republican David Storobin on March 20.
A call to the Assembly speaker's office hasn't been returned to confirm the difference between the lines in question.
Read More
Monday, February 27, 2012
A group of 49 rabbis urged followers not to vote for Councilman Lew Fidler in the special election to replace disgraced former senator Carl Kruger. In a letter titled "A Message for the Community", the rabbis detail Fidler's support for same-sex marriage, declaring:
It is therefore considered to be a great Chilul Hashem [desecration of God's law] to vote for or provide funding, campaign assistance, public recognition or any type of campaign support to Mr. Fidler. To do so would amount to being mesiy'ayah ovrei aveirah (abetting transgression of the Torah's commandments).
Fidler's campaign has released a list of 266 endorsers of his campaign, but the Politicker blog found that"at least a handful of these backers, mostly rabbis, are no longer on board with Mr. Fidler as he campaigns in the heavily Jewish, southern Brooklyn district."
The letter from the rabbis did not go so far as to endorse a vote for Fidler's opponent, Republican David Storobin.
The letter is after the jump. [h/t to the Orthodox Pundit.]
Read More
Thursday, February 23, 2012
The Orthodox Pundit blog has a great rebuttal to my posts on the new Orthodox Jewish majority district that's included in the proposed redistrictingmaps. My argument, made over a couple of posts, is that voting trends and registration suggest the new district isn't a sure thing for Senate Republicans and, more importantly, the dividing up of conservative voters into two senate districts in Brooklyn may end up backfiring.
In the response, the OP blogger points out the string of Republican-over-Democrat results--from McCain to Paladino--in Assemblyman Dov Hikind's district. Hikind, while a Democrat, has often sided with Republicans over social issues, and his district would be the heart of the proposed 17th Senate seat.
"They clearly lean republican," the OP blogger says. "Their registration as democrats and electing democrats is solely for political expediency. Democratic primaries are where most local races are decided, and they want to be a part of the process, and a republican city member is virtually worthless, so they will elect democrats.
"In national and statewide elections, they vote their conscience, and republicans generally do well. In local elections, where the candidates and their positions are less known, they will elect officials based on community leaders' wishes, the candidates' chances, and their support for the community, without any regards to party lines. This calculus until now favored democrats, because Orthodox haven't had a chance to sway elections in places where republicans matter."
These points are well taken. OP's arguments are certainly the ones Senate Republicans had in mind when they went and drew the seat they did. The district's political leanings have far more to do with individual candidates and the issues inside the community than party registration.
The problem, though, is that senate districts are significantly bigger than assembly districts. The larger the seat, the more diverse the voting pool. In a place like Brooklyn, that means bringing in people that are actually Democratic voters.
That doesn't make anything OP is saying wrong. But the lens here is wider than just the Orthodox community, even as they will surely be the anchor to whatever district gets drawn. In trying to carve out two seats for Republicans in southern Brooklyn, Senate Republicans may be stretching themselves precariously thin.
But a lot of what happens at the end of this year will be determined by what happens in the election next month, as OP points out:
As of the current round, Lew Fidler is the clear front runner for Kruger's seat. He's a known in the community, and Storobin have yet to get a single community leader in the non-Russian Orthodox community behind him.

But Fidler haven't nailed it down yet. The establishment is not firmly behind him. The two Borough Park Orthodox elected officials – even the councilman strongly behind his candidacy - have yet to endorse, and the leading Askunim are still wavering between the clear front runner and majority leader Skelos' pick.

In essence, it's clear that the seat is Lew Fidler's to lose, but it is still a possibility. Should Storobin get the community leadership behind him.
Read More
Wednesday, February 22, 2012
The largest private-sector union in New York is throwing its support behind New York City Councilman Lew Fidler in his race to replace disgraced former Brooklyn state senator Carl Kruger in the 27th Senate District in southern Brooklyn.
"Councilman Fidler has a record of championing the rights of working people throughout the city," said 32BJ's president Mike Fishman in a statement. "We are committed to supporting candidates who will make New York a state that works for working people."
The union says it will work to mobilize the more than 1,500 members it has in 27th Senate District in southern Brooklyn.
"I am proud to have the support of the hardworking men and women of 32BJ," Fidler in a statement. "I've spent my time as a public servant dedicated to advocating for working and middle class families. This endorsement is a true indicator that I've succeeded for these communities. But our work here is not done and I look forward to continuing this work in Albany and delivering for Working and Middle-Class families in this district and throughout the state."
While Fidler is accepting the backing of labor, he's not appearing on the labor-backed Working Families Party line. He didn't appear on the line for his 2009 council run either.
Calls to the campaign of Fidler's opponent, David Storobin, for a comment were not immediately returned.
Read More
Tuesday, February 21, 2012
[Note: There were a number of errors in an earlier version of this article, including the misspelling of Congressman Bob Turner's name. They've been corrected and I apologize.]
In a month, voters in the 27th State Senate District in southern Brooklyn will go to the polls for a special election to replace former senator Carl Kruger.
This race has generated a considerable amount of interest in what would normally be a sleepy off-season political event. But Senate Republicans are making a strong run for the seat, buoyed by the strong showing in the Brooklyn side of Congressman Bob Turner's district, which he won in a special election last fall. That Brooklyn slice just happens to represent about half of Senate District 27.
They've settled on David Storobin, a trial attorney and vice-president of the Republican Party in Brooklyn, emigrated from Russia two decades ago. He's reflective in many ways of the young, Russian Jewish population Republicans are hoping to mobilize on Election Day.
On the Democratic side, the man who had long been seen as Kruger's likely successor, City Councilman Lew Fidler, was chosen to keep the seat in the "D" column. Early on the Fidler campaign stirred up controversy by suggesting Storobin had ties to neo-Nazi and white supremacist groups. He later backed off that line of attack,saying he never called his opponent a neo-Nazi, while Storobin's campaign has used it as a rallying cry. At least some in the Orthodox Jewish community appear to be listening.
Behind the rushed campaigning of this special election has been the impending redistricting process. No matter who wins the special election next month, they'll be running again later this year in a district that will likely look very different than the one they win in.
Read More