David Axelrod

Tuesday, February 10, 2015
Hillary Clinton should "be authentic, not look authentic." Rand Paul might not be "solid" enough. And Chris Christie's style might work in Bayonne, New Jersey, but not in Keokuk, Iowa.
Read More

Thursday, October 04, 2012
Following what is widely believed to be a lackluster performance by President Obama in his first debate with Mitt Romney, the Obama campaign has tried to undermine the accuracy of his opponent and explain glaring omissions from the president's arguments.
Friday, September 07, 2012
By Bob Hennelly
The Charlotte airport was abuzz Friday, as David Axelrod, a senior Obama campaign advisor, was swarmed by out going Democratic delegates as they sought pictures with President Barack Obama's key strategist.

Wednesday, April 06, 2011
By Anna Sale
Two days after President Obama launched his reelection campaign, senior campaign strategist David Axelrod came to New York to fire up the base by touting what the president has done for them. More, he came to tell them how much worse it can be.
Speaking in New York City at the 20th anniversary convention of the National Action Network, the Rev. Al Sharpton's civil rights organization, Axelrod pointed to the 2010 midterms as a cautionary tale.
Wednesday, November 17, 2010
By Azi Paybarah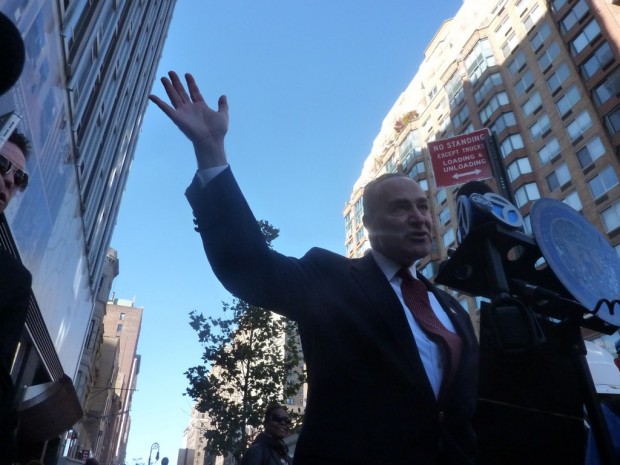 Dana Milbank foresees
tension with the rise of Schumer:
Expect to see a Clintonian focus on popular (though not pathbreaking) middle-class issues and regular votes designed to split and embarrass Senate Republicans.

Schumer's rise should come as a warning to the White House, as well: With 23 of their seats on the ballot in 2012, Senate Democrats are going to start looking out for themselves rather than for the president. "The last year was finishing the job on all the things Obama wanted and the House passed," said a Democratic aide familiar with the new plan. "These next two years it's about keeping our Senate incumbents strong."

[skip]

Schumer has often disagreed with Axelrod, siding with the pragmatic Rahm Emanuel over the past two years. He was privately skeptical about the merits of a major push for health-care reform, arguing that there would be little political benefit, because the average middle-class voter already had health care.

Instead, Schumer favored a Clintonian array of less ambitious proposals with popular appeal, ranging from immigration reform to a crackdown on Chinese currency manipulation, to a payroll tax holiday.
Read More