Dan Halloran

Tuesday, April 23, 2013
Queens State Senator Malcolm Smith shook hands with well-wishers and entered a courtroom packed with supporters on Tuesday. He was being arraigned for allegedly trying to rig the mayoral election — but the only remnant of the initial outrage over the alleged corruption was a thin line of protesters outside court.

Tuesday, April 02, 2013
Very little prior to Tuesday's indictment suggests Republican Councilman Dan Halloran and Democratic State Senator Malcolm Smith shared much of a connection other than Queens, the borough they both called home.

Tuesday, April 02, 2013
U.S. Attorney Preet Bharara says in a statement that Smith "tried to bribe his way" into a shot at the New York City mayoral race: "The show-me-the-money culture seems to pervade every level of New York government," he said.

Thursday, March 14, 2013
By Anna Sale
A potential run-off in citywide elections this year could be a disaster, elections officials told the City Council Thursday. Board of Elections officials also argued that chronic underfunding is partially to blame for some of the recent problems at city polls.

Friday, October 26, 2012
If elected to Congress, Grace Meng would be the first Asian American in Congress from a state east of the Pacific coast.  But to win, she has to overcome Dan Halloran, a Republican with ties to the district that date back a century.
Tuesday, March 27, 2012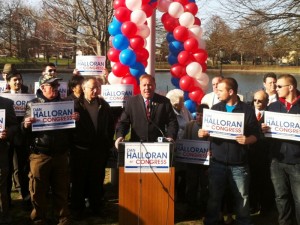 Courtesy of the Halloran campaign.
The cast of characters is assembled. Republican City Councilman Dan Halloran's official announcement yesterday that he is running for Congress in the new 6th District in Queens capped a week or so of campaign launches. Unless a Republican challenger emerges, Halloran will face whichever of the three Democrats pulls out a win in this year's sprint of a primary race.
"I am running for Congress because the president and the Democrats' policies have failed, and New Yorkers need a new voice," Halloran said in a statement announcing his campaign's launch. "Democrats in Washington, led by President Obama, have spent us into financial ruin. They have failed to grow our economy and have led us deep into a harrowing recession. And they have thumbed their nose at Israel, calling for a return to its 1967 borders and showing an unwillingness to stand up to our mutual enemy, Iran, who wishes to destroy us. My Democratic opponents are nothing but a rubber stamp for this president's failed leadership."
Halloran was first elected to the city council in 2009 after a campaign that took some interesting as well as ugly terms. Halloran has been called a "pagan" after reports connected him to a group that worshiped Nordic and Germanic gods. Halloran was also accused of race baiting white voters against his Korean rival, Democrat Kevin Kim.
There's a decent chance Halloran could again face an Asian candidate from the Flushing area. The early Democratic frontrunner is Assemblywoman Grace Meng. Last week Meng received the backing of the Queens County Democratic organization. This week she officially launched her campaign, listing a large number of Queens Democrats as supporters.
At least from the statements from the campaigns, it looks like Halloran and Meng arepicking up where now-Congressman Bob Turner and Assemblyman David Weprin left off in their special election last September. Republicans appear to want to continue to make the the race about Obama and, in a heavily Jewish district, Israel. Democrats—at least those around Meng—lead with House Republicans' fiscal combativeness and attacks on the social safety net in Meng's statement on Halloran entering the race:
Read More

Thursday, December 15, 2011
The Manhattan District Attorney spoke out against a proposal that would require New York to adopt conceal and carry laws — invoking the name of Officer Peter Figoski who died at the hands of an illegal gun this week.
Monday, January 31, 2011
By Azi Paybarah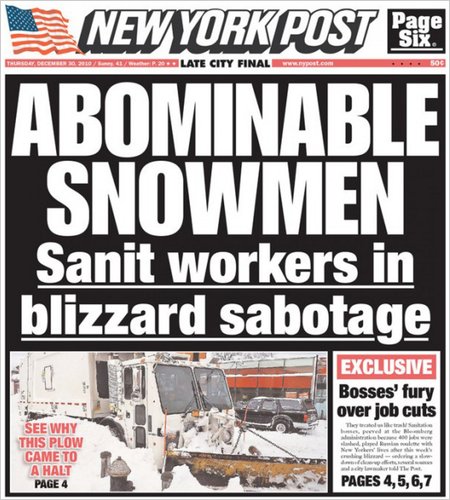 The New York Times ran a story last week questioning the claims made by a City Councilman who said sanitation workers intentionally did a poor job of removing snow during the Christmas weekend blizzard.
Now, a reporter for the paper is questioning the coverage surrounding that claim.
The New York Post first reported the claims by Councilman Dan Halloran, but, according to Times metro political reporter Michael Barbaro, the Post has not been as thorough in reporting on the state of the investigation which has stalled, amid a lack of verifying evidence.
Speaking on the New York Times Close Up (a New York 1 show featuring Times reporters discussing stories of the week), Barbaro said, "This was a really tabloidy moment, in the coverage of the blizzard."
"And, you'll be holding your breath for a very long time if you wait for the New York Post, whichoriginally reported this - sort of salaciously and loudly on the front of their paper - to come back at it and say 'the person we quoted as saying there was a deliberate slowdown, you know, is withering under investigation, [there's] no evidence of it.' "
Then, referring to his colleagues, Russ Buettner and William Rashbaum's story, Barbaro added, "The reality is, it took some really enterprising reporters to fact-check a claim that rocketed around the world and everyone took to be the truth…and now it seems to be crumbling."
As Josh Benson and I discussed earlier, whether Halloran's claims are verified by investigators or not, one thing is certain: it has taken the spotlight off Mayor Bloomberg's handling of the storm.
UPDATE: Columbia Journalism Review's Ryan Chittum piles on, criticizing how easily the story got picked up, especially on cable news.
UPDATE II: Two other things worth noting: First, the Post coverage wasn't based solely on Halloran's comments. Later stories quoted local residents and even another lawmaker, Councilwoman Tish James, who said on a radio show in December, "I do believe that there were a few [workers] that in fact engaged in a slow down." Democratic State Senator Malcolm Smith said he "heard it from sanitation workers that there was a concerted effort" to slow the street plowing.
Secondly, investigators have not commented publicly about this ongoing investigation, so, the official ruling hasn't come in yet.
Read More
Thursday, January 27, 2011
By Azi Paybarah
There's been mounting pressure for City Councilman Dan Halloran to disclose more information to back up his allegations that city workers purposely botched the Christmas snow storm in order to embarrass the mayor.
The New York Times said investigators aren't finding evidence to back it up. The Daily News called for Halloran to speak up, or face legal action. And City Hall News outed the name of one of Halloran's source, who is reportedly not giving investigators the same story he gave the Councilman.
I asked the mayor if he thought Halloran should be more forthcoming with the information he has.
The mayor didn't get in the middle of it.
"It's a City Council issue. You should talk to Dan and other interested parties. It's nothing we know anything about. He has not shared any information with us, as far as I know," the mayor said.
Read More
Monday, January 03, 2011
By Azi Paybarah
City Councilman Dan Halloran, whose early comments to one media outlet, helped kick-start talk of a slowdown in snow removal efforts, is refusing to name names.
From Halloran:
In spite of pressure from many parties, I have kept confident the names of the five workers who approached me about the 'slowdown' in the days after the snowstorm.  My decision is one of principle.  The sources asked for confidence.  I agreed, and I am a man of my word.  Would anyone, especially in the media, ask questions about a reporter keeping a vulnerable source confidential?

"Only a small number of DSNY supervisors were behind the slowdown.  The vast majority of workers did their jobs, and they should be commended.  They are rightly outraged, but they should be mad at their colleagues who put personal grudges over their obligations to New Yorkers.  The proof is in the pudding.  The response to the storm was a disaster, and our neighborhoods are suffering.  The slowdown was likely only a part of the problem, but it happened.

"I have since been informed the two Department of Transportation supervisors who approached me are in contact with the city's Department of Investigation, which is investigating the slowdown.  It's my hope that the investigation will keep their names in confidence while getting to the bottom of this debacle that crippled our City."
Read More
Tuesday, August 31, 2010
By Azi Paybarah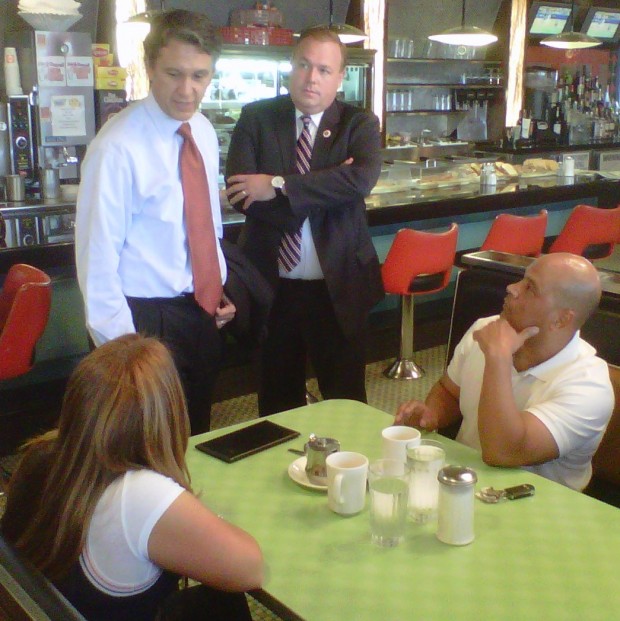 Here's City Councilman Dan Halloran, best known for breaking religious boundaries in New York City, campaigning with Republican gubernatorial candidate Rick Lazio,who has made another religious institution the focal point of his campaign ads.
The two greeted voters at the Pop Diner in Elmhurst today.
Read More