Daily Show

Tuesday, March 31, 2015
The South African comedian appeared on the show in 2013 to talk about his off-Broadway solo show, "Born a Crime," about being born mixed race in apartheid South Africa.
Read More
Friday, February 15, 2013
Of the many options for political humor served up earlier this week in the State of the Union speech, the Daily Show's Jon Stewart chose infrastructure. Yup, bridges. With his usual  exuberant brand of comic outrage he even went so far as suggesting President Obama should have made infrastructure the top issue in the State of the Union speech.
You can start the video two minutes in for the best part.
Stewart zeroes in on one line in particular, the one where the president mentions "70,000 structurally deficient bridges across the country."
But Stewart is not happy.
Stewart: "Shouldn't you have led the speech with that one?" Stewart implores. "I mean, c'mon, shouldn't you have just opened with that one. Or broken into whatever programming was scheduled the night you found that BLEEP out?!?!"
He goes on to suggest what the speech might have been like if Obama had focused entirely on crumbling bridges, and even gives a special, ignoble mention of the Tappan Zee, which we've covered extensively.
According to a TN analysis before the previous SOTU, bridges and infrastructure were pretty  common words mentioned by Obama in public speeches.
Read More

Sunday, September 18, 2011
The 63rd Emmy Awards, hosted by Jane Lynch (of Glee fame), aired on Sunday night. The big winners were the ABC comedy "Modern Family," which won five awards, including Outstanding Comedy Series, and the PBS show "Downton Abbey," which got four Emmys. "The Daily Show With Jon Stewart," "Mildred Pierce" and "Friday Night Lights" each won two Emmys.
Saturday, August 28, 2010
By Azi Paybarah
GOP gubernatorial Rick Lazio is best known to New Yorkers as the guy who ran against Hillary Clinton for Senate in 2000. More precisely, as the guy who marched across the stage in a debate with Clinton.
Going through some old Lazio footage, I came across this early clip from The Daily Show with Jon Stewart, which had its own take on that famous debate.
Read More
Thursday, August 26, 2010
By Azi Paybarah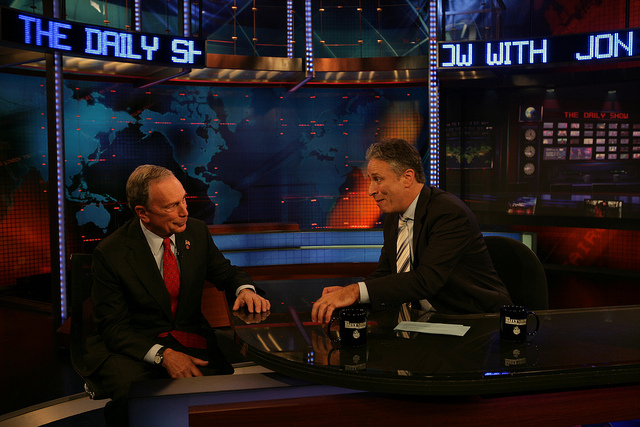 Kirsten Artz / nyc.gov
The more serious side of Bloomberg's appearance on "The Daily Show," via a pool report distributed by the mayor's office:
The New York Times wrote about this mosque a year ago. Laura Ingram did a show about it, or mentioned it on one of her shows, and said she was in favor of it. This mosque has been operating for over a year. There is nothing new [here]. The difference is we're in an election season. And this whole issue, I think, will go away right after the next election. This is plain and simple people trying to stir up things to get publicity and trying to polarize people so that they can get some votes. And I don't think that most of these people who are yelling and screaming really care one way or another. The family members, they do care. And the family members that I've talked to, and I'm chairman of the board of The World Trade Center Memorial, 100% in favor of saying these people who want to build a mosque can build a mosque, that the lives of our loved ones were taken because the right to build a mosque or to say what you want to say was so threatening to people.
Read More