Csea
Monday, February 27, 2012
By Karen DeWitt, New York State Public Radio Capital Bureau Chief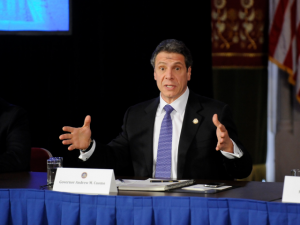 Governor Andrew Cuomo took a step back from his proposal to give new state workers the option of defined contribution 401(k) plan Monday, but the governor says without pension reform, local governments in New York could end up "bankrupt".
Cuomo told a receptive audience of mayors from around the state that New York's current pension system is unsustainable and must be changed for future hires.
"If we do not do this, we could literally bankrupt the state of New york," Cuomo said.
The governor, in his budget proposal, wants a new benefit tier that offers a reduced public pension or a 401k style plan, but he says he's flexible like "Gumby" on that.
"I'm not saying that 'this is my plan, you know, it's my way or the highway'," Cuomo said.
Cuomo says if lawmakers offer an alternative plan that saves as much money as his plan, then he's open to talks. The governor says his plan will save $113 billion dollars over future decades.
A spokesman for the state's largest public workers union, the Civil Service Employees Association, says even without the 401(k) option, Cuomo's proposed Tier VI benefit plan is too meager.
"The Tier 6 plan represents a 40 percent reduction in benefits, with or without options," CSEA's Steven Madarasz said in a statement. "That is all about corporate CEOs  driving an agenda that tells future nurses, school bus drivers, highway workers and others to give up hope of  future security."
Read More
Wednesday, February 15, 2012
CSEA, the state's largest public employees union, announced its leadership team was reelected without opposition.
"These are some of the toughest times CSEA has faced in our 102 year history, but there is only one way to go and that is forward," said the union's reelected president, Danny Donohue, in a statement.
The election comes after a testing year for Donohue, who led his union's negotiations with the Cuomo administration. CSEA and other unions accepted large concessions in a new contract, including no raises for two years and increases to benefit contributions. The deals were part of an austerity program initiated by Governor Cuomo  to help the state close a budget gap in the billions.
Read More
Monday, February 13, 2012
After getting the one-two punch from business-backed groups critical of Comptroller Thomas DiNapoli's lack of support for a 401(k)-like system to be an option for future state employees, the state's two largest union--as well as the Comptroller himself--came to his defense.
CSEA President Danny Donohue issued this statement in response to the criticism leveled against DiNapoli:
The Business Council (the lobby for Big Business in New York State) Unshackle
New York (another front for big business interests) and Billionaire NYC Mayor Michael
Bloomberg are all taking shots at state Comptroller Tom DiNapoli for standing up for
working people in the Tier 6 debate. DiNapoli has raised legitimate concerns that a 401K
style pension option will lead to greater economic instability.

Once again, the corporate interests and the 1 percent are at it trying to demonize
anyone who stands up for fairness and consideration of what's right.
The other big public employee union, PEF, released this statement from its president, Ken Brynien:
Tom DiNapoli is talking about the facts, and the facts show our defined benefit-pension system is the best way to provide retirement security.

Meanwhile, the highly paid lobbyists for millionaires in the Business Council and other right-wing groups are trying to take money out of the pockets of nurses, firefighters and other workers, so Wall Street can further enrich itself at the expense of the middle class.

I understand why the supporters of Tier 6 are afraid of the truth, because the truth is their plan will hurt the average worker and make retirement with dignity an impossibility.
In a statement from DiNapoli's office, the Comptroller chose to come at the situation with a bit of humor:
I haven't seen such a coordinated attack since Francesca was voted off Survivor.

I stand firmly behind my position that defined contribution plans are not adequate for retirement security for public or private workers. Study after study has shown that defined benefit plans cost less in the long run than 401k style plans and perform better. It is unconscionable that so many New Yorkers and Americans do not have a secure retirement, often times because corporations have stripped retirement plans for short-term fiscal gains.
He went on to say that "[t]he best public policy comes from thoughtful discussions, accurate and realistic presentation of the facts, and a long-term view."
Read More
Tuesday, December 13, 2011
Today on "The Capitol Pressroom":
We'll take a look at the new crop of commissioners tapped to run JCOPE.
This year CSEA President Danny Donohue has walked a fine line between supporting the Governor's programs, including last week's package of tax reforms, and criticizing him on issues like pension reform. Today we speak with this long-time labor leader about his expectations for the coming session.
Apparently there are loads of ways that New York State can help you pay for college. Unfortunately, they're hidden behind walls of bureaucracy. Today the Chairperson of the Assembly Higher Education Committee Deborah Glick and former Assistant Vice President of Financial Aid Services at HESC, Brian Matthews, will help to unearth these funding gems.
Read More
Thursday, November 03, 2011
To the outside observer, it probably seems strange that the state's second largest public employee union—PEF, which is announcing the results of a new contract vote today—was unable to agree to terms with the state the same way the largest public employee union—CSEA—was able to.
The major points of departure between the two unions comes down to who makes them up. With CSEA, you have a younger, lower earning, less formally educated, more ethnically and racially diverse membership than PEF. During their labor negotiations, CSEA membership is said to have strongly empathized with the plight of fellow workers: they didn't want to see their friend Suzy get laid off, or were worried about what Jack's kids would do if he didn't have a job.
This isn't to say PEF members were more coldly willing to kick 3,500 of their union brothers and sisters to the curb. But in CSEA, the members were more closely linked—the gap between the highest CSEA member incomes and the lowest is far closer than in PEF. In the latter's case, their specialized membership can mean one or two people in a job title in the entire state.
The more specialized—and higher earning—positions also tend to be older. So if you're making $75,000 a year, and you're within ten years of retirement, looking back at the PEF member who is less specialized, younger and making half your salary, the sympathy vote for that person's job over a better deal for you can be a tough choice. Obviously, in the last round, that seems to partially account for the contract's downfall.
But that's not the whole picture, said Ed Ott, the former executive director for the New York Central Labor Council and current a consultant with OT Solutions. PEF's membership—about half the size of CSEA's—is also plugged in, politically, to what's going on, Ott said, which results in greater internal debates over these sorts of issues.
"They really, really have an internal political life and nothing gets through without a thorough discussing and I think that contributed to the vote," he said, referring to the vote against the first contract. PEF leadership has reportedly been doing a major push to get members behind—something they didn't do the first time.
Ott said the vote was also a rebuke of the anti-union sentiment that's reached a peak this year. He said, with a better deal hammered out between the Cuomo administration and union leaders, the new contract would likely pass—but note assuredly.
"I would be really surprised if it went down again," Ott said. "But this is PEF—it's possible."
Read More

Tuesday, September 27, 2011
By WNYC Newsroom / Colby Hamilton
Governor Andrew Cuomo said the second largest state worker's union should reconsider its decision to reject a contract with concessions aimed at avoiding layoffs.
Tuesday, August 16, 2011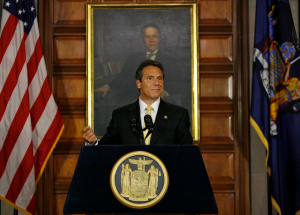 Late last night, after a long day of counting, the membership of CSEA--the state's largest public employees union--ratified the contract, 60 percent to 40 percent, agreed to by its leadership and Governor Cuomo. The agreement is a big win for Cuomo, as it keeps state budget cost-cutting measures intact, while keeping the good will between the state and the union intact and avoiding layoffs. It was also a win for CSEA leadership, as the vote was essentially a vote of confidence on the part of the membership.
"This is a big, big win--a win for the union and a win for the people of the state," Governor Cuomo said in a statement. "The union avoided layoffs and the state is financially stronger. I'm pleased that our approach of labor and management working together is vindicated. Mutual respect and honest negotiations work."
"These are not ordinary times and CSEA worked hard to reach an agreement that we believed would be in everyone's best interest," CSEA President Danny Donohue was also quoted as saying. "CSEA members agree that this contract is reasonable and responsible for the long term and shows that CSEA members will do what is right for the good of all New Yorkers. The Governor's leadership is helping move this state in the right direction."
The agreement means union members won't receive a pay raise until 2014, as well as series of health care reforms that the state says will save more than $1.2 billion over the course of the agreement.
Read More
Tuesday, August 16, 2011
The state's largest public workers union has approved a five-year contract that freezes wages for three years, but also avoids thousands of layoffs.
Monday, August 15, 2011
The members of the state's largest union, the Civil Service Employees Association, have cast their ballots on the contract negotiated between the union's leadership and Governor Cuomo. If passed, the contract will be a big piece of the plug the governor's office is counting on for this year's $10 billion budget gap.
The contracts would freeze wage increases for the next three years, as well as mandatory unpaid time off and an increase in health care contributions. The results of the union's vote are expected later today.
Read More
Monday, August 15, 2011
By Tracie Hunte : Assistant Producer, WNYC News
Under threat of nearly 10,000 layoffs, members of New York's largest public employees' union will soon find out the status of a new five-year contract with New York State.

Wednesday, June 22, 2011
By Alec Hamilton : Assistant Producer, WNYC News
Governor Andrew Cuomo and the union representing 66,000 state workers in the executive branch have reached a contract agreement.
Wednesday, October 13, 2010
By Azi Paybarah
From a union supporting Democratic comptroller Tom DiNapoli.
This flier, from Civil Service Employees Association, arrived at my apartment building earlier this week. The other side of the flyer says DiNapoli "believes that public employee pensions should continue to be guaranteed."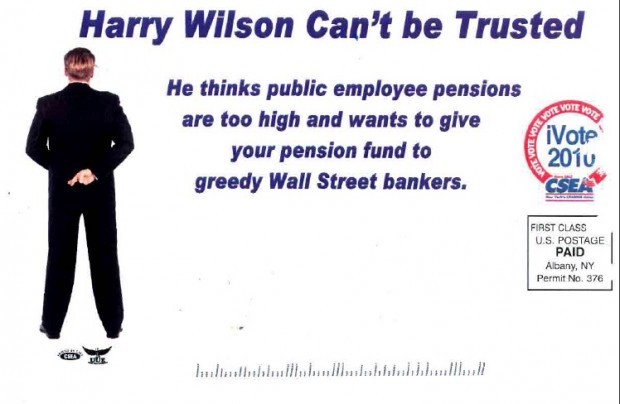 .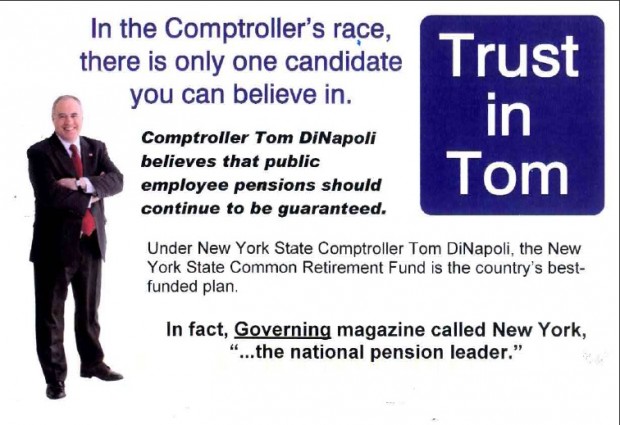 Read More