Cornell University

Wednesday, May 15, 2013
As the inaugural class in the applied sciences graduate program wraps up its first semester, we checked in with the school's founding dean Dan Huttenlocher on the real-world skills stressed in the curriculum, the school's mission and what's being done to attract more women to the one-year program.
Read More

Thursday, May 10, 2012
By Stan Alcorn
Cornell University won a bid to build a $2 billion graduate school in New York City earlier – but it didn't do it alone. The Ivy League school partnered with an Israeli-based public research university — the Technion-Israel Institute of Technology, sometimes called the MIT of Israel — to create the CornellNYC Tech campus and help fulfill the vision of fueling a start-up boom in the city.

Tuesday, April 03, 2012
By Stan Alcorn
Moody's warned that Cornell University's plan to build a high-tech graduate school in New York City comes with risks that could jeopardize their credit rating in the future.

Monday, December 19, 2011
Mayor Michael Bloomberg announced Monday that Cornell University, with its partner the Technion - Israel Institute of Technology, has been chosen to build a new applied sciences and engineering school on Roosevelt Island.  It is another sign of his administration's push to promote and expand the city's growing technology sector.
Monday, December 19, 2011
The Times reports that many educators, school boards and districts -- including the city's Department of Education -- are struggling to find a balance to protect students from inappropriate behavior by the grown-ups in their lives using Facebook, Twitter and texting, while also allowing teachers enough freedom to take advantage of the social media tools that, after all, are how children communicate nowadays.
Read More

Friday, October 28, 2011
By Jim O'Grady
The deadline for universities to submit their bids to open a new engineering school in the city with the help of the Bloomberg administration is today.
Thursday, May 28, 2009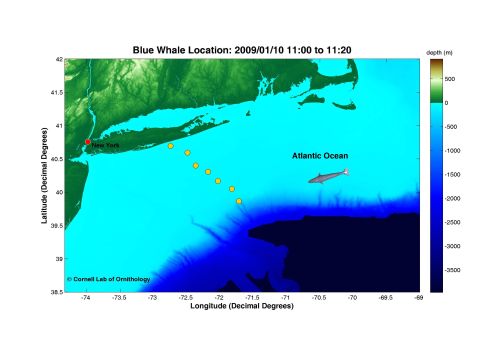 That's the sound of an endangered blue whale singing only 70 miles off of New York City's coastline. The whale was on its way to Maine for the summer, ...