Common Cause

Wednesday, August 14, 2013
By Stephen Nessen : Reporter, WNYC News
Republican state senators are the top recipients of campaign contributions from New York City's real estate industry, but over 70 percent of the politicians receiving these funds are not from the city, reported the non-profit advocacy group Common Cause New York.

Thursday, May 30, 2013
By Robert Lewis : Reporter, WNYC News
The owner of Indian Point nuclear plant has thrown millions into lobbying and political donations as it tries to get its facility relicensed for another 20 years, according to a report released today.

Monday, June 25, 2012
In fewer than 200 words on Monday, the U.S. Supreme Court overturned Montana's 100-year-old prohibition on corporate spending in elections, setting the stage for renewed efforts to overturn Citizens United that don't involve the nation's highest court.

Wednesday, May 16, 2012
It's hard to imagine the Senate without the filibuster, but now the non-profit group Common Cause is filing a lawsuit against the Supreme Court claiming that the notorious senate procedure is, in fact, unconstitutional. The Takeaway talks with the plaintiff's attorney Emmet Bondurant and filibuster scholar Gregory Koger to find out where the filibuster came from, what good it's done us, and whether it's going to stick around.        
Wednesday, February 22, 2012
In a joint release, the state's leading good government groups blasted the state's Board of Elections over a set of draft regulations governing that they say would allow huge sums of money to be spent in elections without proper disclosure to the public of who's behind the spending.
The board is mandated under a law passed last year to draft rules to govern"independent" campaign spending. The rules were supposed to be in place by January 1, 2012. The first draft was published yesterday.
"The current draft applies only to spending by individuals and committees which expressly tells voters to support or oppose a candidate. Advertisements that criticize a candidate's positions on issues a week before Election Day would fall outside of these limited parameters," the release said.
The groups also criticized what the say as lax rules for filing information on who is spending in elections. While campaigns, candidates and political parties are held to relatively strict spending rules, outside groups and individuals wouldn't even be required under the draft rules to tell the public which campaigns they spent money on, charge the good government groups.
"Members of the public who hope to figure out how much money was spent on their legislators' races will be unable to do so," the release said. "While independent expenditures, like every other committee, will need to submit copies of their advertisements to the State Board of Elections, these are not due until nearly a month after elections."
Read More
Monday, January 30, 2012
Coverage of the redistricting process—including the coverage here--tends to focus on the state Senate. With the margin between the majority and minority party razor thin, overt attempts by the Senate Republicans to keep control are vividly evident.
But that doesn't mean Democrats in the Assembly aren't guilty of carving out election districts for maximum partisan benefit in the draft maps released last week.
In a presentation in Albany this morning, Common Cause's Susan Lerner presented a PowerPoint presentation that showed what they say are Assembly districts as egregious as some of their counterparts in the Senate.
In Queens, Common Cause found the conservative-leaning Middle Village area chopped up into four separate districts to keep Democratic officials in those seats, as is the case today.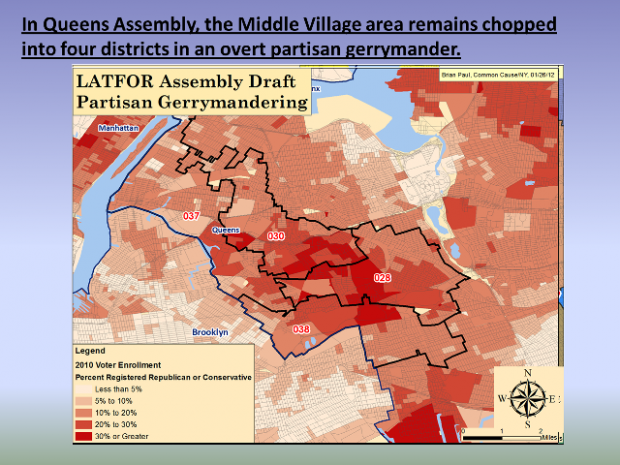 Courtesy of Common Cause.
Upstate, Assembly Democrats continue to divide up cities like Albany and Rochester to help dilute the impact of conservative voters. Rochester is divided into three separate districts, all of which are represented by Democrats. A similar situation is proposed for Syracuse.
Read More
Tuesday, January 24, 2012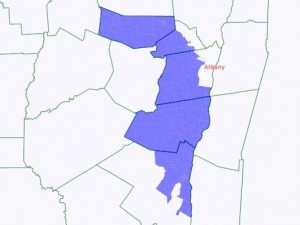 Ever since the rumor that the Senate Republican planned to create a new, 63rd Senate district in in the soon-to-be-released redistricting maps, there have been new rumors flying about where it could be. At least one of those rumors appears to be true: Times-Union's Jimmy Vielkind reported today that sources tell him the district will be located in the Capital Region, stretching from west to south of Albany (see picture insert). The district is likely created to help Republican Assemblyman George Amedore get elected to the Senate, helping the Republicans keep their majority.
The news, if it holds up (and there's good reason to believe this is what we'll see when maps likely become available either late today or tomorrow), raises three important issues.
Read More
Tuesday, January 10, 2012
According to a new report released today (see after the jump) by Common Cause NY, companies with heavy interest in hydrofracking's legalization in New York have made more than $1.34 million in campaign contributions to New York politicians over the last four years. National Grid, ConEdison and National Fuel led the way in expenditures.
The report identifies Republican State Senator  George Maziar, who chairs the Senate's energy committee, as the recipient of the most donations from the industry, with more than $38,500 coming his way.
The top 10 list is below, but it's worth noting the one Assemblyman on the list--Democrat Kevin Cahill of Ulster County. He chairs the Assembly's energy committee.
Read More
Monday, December 19, 2011
The good-government group, and regular critic of New York's legislature-led redistricting process, todayunveiled its proposed maps for both the state legislature and Congress. The lines were drawn wholly divorced from the current maps and who the representatives are, according to Common Cause. They say they began with the most basic geographic boundaries—towns, cities and county lines—before adding demographic data to create what they say are non-partisan alternatives to gerrymandered districts.
"We have been outspoken about the problems with the current process, which is characterized by partisanship and political self-interest," said Common Cause's executive director Susan Lerner during a conference call. "Our goal has been to show that there is no practical impediment—it's only a political one—to achieving fair, non-politicized district maps."
Common Cause's maps were released in partnership with Newsday, and the interactive map database "U Map NY" is located here.
Let's take a look at these by legislative level, and keep it focused on the city.
Read More
Thursday, September 22, 2011
By Karen DeWitt, WXXI Capitol Bureau Chief
Governor Cuomo launched a new website today, which he said aimed at making his administration more transparent to the public and as "a new way to get people involved." It lists events from his public schedule since taking office in January, and will feature on-line chats with top state officials, including, the Governor himself, this coming Saturday.
The site includes information on staff meetings the governor has held, meals at the executive mansion with legislators, and one-on-one meetings with various State Senators in the days leading up to the successful Senate vote to legalize gay marriage. It also shows records of numerous plane trips the governor has taken, some to promote his budget and tax cap agenda. Others to survey storm damages after Irene and Lee.
Cuomo promised during the 2010 campaign for governor to make more details of his personal schedule available to the public, but until now had not followed through on that. Now, with the launch of a new website that includes details from the governor's day to day schedule and a list of upcoming events by administration officials, government reform groups say Cuomo has taken a major step towards openness.
"I think it's a very good development," said Susan Lerner, with Common Cause.
Russ Haven, with the New York Public Interest Research Group, says the Governor has set a standard for transparency that will be hard to retreat from in the future. "It does create a set of expectations," said Haven. "You can't un-ring that bell."
Haven says a major gap in the schedule, or a questionable plane ride, would be open to greater scrutiny.
"If there are any gaps people are going to assume that there's a story to be told even if there isn't" said Haven. "I think it really does ratchet up the level of accountability."
Read More
Thursday, September 22, 2011
Brian had me on to talk about redistricting about redistricting. Susan Lerner of Common Cause was on as well, and provided a great point of view on her group's efforts in the looming process.
Read More
Wednesday, September 21, 2011
The state legislature's redistricting task force is holding public meetings this week in New York City. Today they were in Manhattan hearing testimony from elected officials, good government groups, and any normal people who were inspired to take a day off of work to attend the hearing.
Oh, and Ed Koch.
The former mayor, fresh off his party-crossing coup in the 9th Congressional District, came to shakedown the bicameral committee. He was joined by Dick Dadey, the head of the nonpartisan good government group Citizens Union, and former parks commissioner and founder of NY Civic, Henry Stern.
The Legislative Task Force on Demographic Research—known awkwardly as LATFOR—has been holding meetings around the state to get the public's feedback on how the decennial process of redrawing the state's legislative districts should go. Koch and his good government cohorts have been pushing for an independent redistricting plan for over a year.
The New York State legislature was unable to put together a plan before the end of the last session, and so the traditional process—the politicians in the legislature whose districts are being redrawn controlling the process—has begun. This hasn't made Ed Koch particularly happy.
Read More
Friday, February 20, 2009
A coalition of New York groups, spearheaded by Common Cause/New York, is seeking to have Governor Paterson agree to a high level of disclosure standards (something New York state government historically hasn't championed) for economic stimulus money (in line with President Obama's promise that "every dollar" will be ...