Christmas Tree

Saturday, December 06, 2014
Welcome to The Takeaway Weekender!
Wednesday, December 03, 2014
It's the most wonderful time of the year for Christmas tree farmers. How much do you spend on a Christmas tree? Fill out our survey here.

Saturday, December 07, 2013
By Richard Hake
"I've been to Lego Land at least three times," said NJ Public Radio's Nancy Solomon on her excitement at attending a Lego art exhibit.

Wednesday, December 21, 2011
By Amy Pearl
With highs in the 40s predicted for December 25th in the city, it's not exactly a storybook Christmas. Still, the tradition of buying a tree, schlepping it home through the streets and hoisting it up narrow apartment stairwells is alive and well. Watch this video of a tree-trimming party.

Wednesday, December 07, 2011
By Stephen Nessen : Reporter, WNYC News
Dozens of Christmas tree stands pop up during this time of the year on streets corner and lots across the city. Learn what it takes to run one of these stands, and why the smell might be worth it.

Tuesday, November 30, 2010
Rockefeller Center's annual Christmas tree lighting takes place Tuesday night at 8:55. This year's 12-ton, 75-year-old Norway spruce comes from Mahopac, New York and is decked out with 30,000 multi-colored LED builbs.
Thursday, December 03, 2009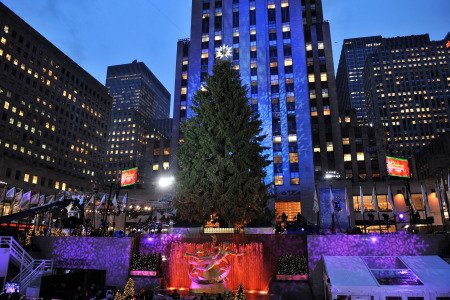 There are few things that scream Christmas in New York louder than the giant spruce at Rockefeller Center. Last night Mayor Bloomberg, along with Aretha Franklin, the Rockettes, and thousands of spectators flocked to watch ...