Chanukah

Saturday, December 13, 2014
Classics for Kids celebrates Chanukah with music by Jewish composers through the ages, including the American composers Leonard Bernstein, Aaron Copland and George Gershwin.

Thursday, December 05, 2013
Watch the archived video webcast from The Greene Space of a special Chanukah event featuring music from four different continents.

Wednesday, December 04, 2013
The Young Artists Showcase this week returns to the Keshet Eilon String Mastercourse in Israel, continuing a show Chanukah tradition since 2000.


Wednesday, November 27, 2013
In a series of radio vignettes, at 7 pm each night of Chanukah, WQXR's Naomi Lewin tells the stories and talks about the customs of the holiday.

Wednesday, November 27, 2013
Tonight at 5:30 pm, hear how the spirit of Chanukah is richly reflected in the folk melodies and songs from countries across the globe where Jews have lived and worshiped for centuries.

Wednesday, December 12, 2012
Continuing a Young Artists Showcase Chanukah tradition, we return to the Keshet Eilon String Mastercourse in Israel, which, like the Young Artists Showcase, is in search for the best young talent.
To start, Keshet faculty pianist Dan Deutsch accompanies cellist Michal Beck in the first movement of Brahms' Sonata in E Minor. The program continues with violinist Lea Birringer playing Hindemith's Sonata in D, followed by Bizet's Carmen Fantasy performed on viola by Dana Zemtsov.

Tuesday, December 04, 2012
Hanukkah Lights 2012
Airs Saturday, December 8 at 12pm on AM 820 and 3pm on 93.9 FM
A perennial NPR favorite, Hanukkah Lights features Hanukkah stories and memoirs written by acclaimed authors expressly for the show, as read by NPR's Susan Stamberg and Murray Horwitz.

Friday, December 23, 2011
By Emily Vinson
On December 27, 1951, the Brownsville Boy's Club hosted  5,000 children to an inter-faith party at the 106th Regiment Armory in Brooklyn. 
Read More

Friday, December 16, 2011
This Friday at 1 pm, The New Canon gets a head start on Chanukah by exploring the immense influence Jewish composers have had on music on the whole, in conversation with composer Judd Greenstein.

Thursday, December 02, 2010
As with our inaugural press-release-of-the-day item yesterday, this one combines two things that publicists absolutely love -- invoking holiday spirit, and attaching an important social cause (hunger, autism) to a merchandising opportunity.
"With eight nights of giving, it's easy to run out of gift ideas for that hard-to-buy for person. Let the aroma of steam-grilled-on-a-bed-of-onions fill the house this Hanukkah season by giving White Castle's Original slider®-scented candle as a quirky, yet distinctive Hanukkah gift.



Read More
Friday, December 11, 2009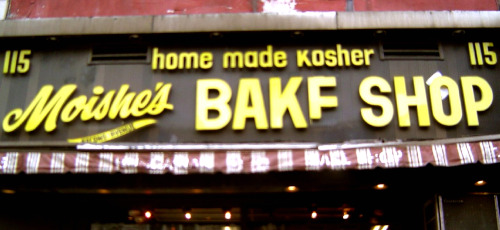 The eight-day festival of lights known as Chanukkah starts tonight, and that means tasty holiday delicacies.
At Moishe's Bakery in the East Village, sufganiyot are selling like...donuts during Chanukah.
Employees at the bake shop say they've sold hundreds of the ...