Cas Holloway

Friday, February 06, 2015
By Brigid Bergin : Reporter
The city's 911 emergency call system is facing scrutiny once again, and there are dueling sets of facts. But two reports agree: the system desperately needs fixing.

Tuesday, October 22, 2013
By Matthew Schuerman : Editor, WNYC
Almost a year after Sandy, the Bloomberg administration said it is just beginning to distribute the first of $520 million in federal aid to homeowners trying to rebuild.
Monday, August 29, 2011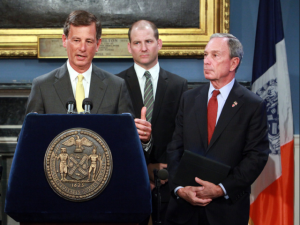 Mayor Michael Bloomberg is scooping up praise from elected officials and civic leaders for the city's handing of hurricane Irene. Sure, the storm itself was a bit overblown, but few, if any, officials joined naysayers in questioning the mayor's precaution tactics ahead of the storm's landing late Saturday.
"Now that Hurricane Irene has come and gone, New Yorkers should take a moment to recognize that the storm's effects would have been much worse if Mayor Bloomberg had not taken steps to properly prepare the City for the worst storm to hit the East Coast in decades," New York City Comptroller John Liu—not always the biggest fan of the mayor—said in a press release.
"When I need to be critical of Mayor Bloomberg, I am," said Bronx Borough President Ruben Diaz, Jr. "But I have to tip my hat and give kudos when it's merited."
"I think they handled this extreme well," Staten Island Councilman Vincent Ignizio said, after noting he had been a critic of the mayor in the past. "It goes to show: When the hierarchy is clearly in place the operations flow appropriately."
Ignizio's comment about operational flow is worth highlighting. A number of those interviewed praised not only the mayor, but the mayor's newly appointed deputy mayor for operations, Cas Holloway. After a stint at the head of the city's Department of Environmental Protection, Holloway was brought in to replace Stephen Goldsmith after Goldsmith resigned. Goldsmith was largely—and possibly unfairly—blamed for much of the city's shoddy emergency response to the massive snowstorm back in January.
At the time, Holloway's appointment was cast largely as a reversal for the mayor, who'd been installing outsiders like Goldsmith in key positions. In Holloway, the mayor had a seasoned city bureaucrat; someone whose strength was working inside the system, not shaking it up.
The move paid off. The city's well-praised response to Hurricane Irene might be redemption for Bloomberg. But for Deputy Mayor Cas Holloway it is a victorious trial by fire.
Read More