Carolyn Mccarthy

Wednesday, December 19, 2012
By WNYC Newsroom / Eddie Robinson : Weekend Edition Host, WNYC News
Congresswoman Carolyn McCarthy has been calling for gun control since her husband was among the six people killed during a mass shooting on the Long Island Railroad in the late 1990s — and she told WNYC on Wednesday that she thinks the Newtown shooting is enough to move the needle.

Monday, December 17, 2012
By Annmarie Fertoli : Associate Producer at WNYC
The shooting rampage in Connecticut that left 27 dead, including 20 children, has re-ignited conversations about gun control across the nation.
Thursday, February 09, 2012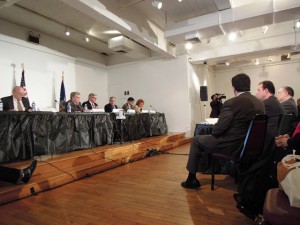 [UPDATE: Judge Gary Sharpe ruled today that the Democratic proposed election calendar--see the Kellner-Aquila doc below--will be used for congressional elections. ]
The final public hearing in New York City on the draft maps drawn by LATFOR, the legislature-controlled task force responsible for redistricting, was in Queens this week. An earlier meeting in Brooklyn had reportedly brought out just a few dozen people, with the one in the Bronx appearing to be slightly better attended. The hearing in Queens, however, saw a line out the door a half an hour after the meeting started.
Inside, angry community members blasted the members of the committee for hours over what many in the room felt were maps meant to divide the ethnically diverse neighborhoods in Queens.
But the conversation was focused almost entirely on state legislative lines for Assembly and Senate. Meanwhile, the clock on the lines for Congress is quickly approaching midnight. A federal judge has set the primary date for congressional candidates up from September to June. So far, LATFOR has yet to release a congressional draft map.
Meanwhile, candidates are planning on running in districts that will look radically different than they do now—if they exist at all. And the leaders of the Assembly and Senate are sending mixed signals on where the state will lose its two mandatory congressional seats.
So should we be freaking out about congressional lines?
Read More
Wednesday, January 26, 2011
By Azi Paybarah
Afterwards, Bloomberg released a statement calling the omission of gun control from the speech "disappointing."

Considering the effort Bloomberg put into forcing the issue onto the president's radar, that appears to be an understatement.

Leading up to Obama's third State of the Union speech, Bloomberg hosted 34 people who lost family members to gun violence — one for each person who, on average, are killed in America every day by guns. Among those represented were victims of the Virginia Tech shooting, the recent Tuscon shooting, and even Martin Luther King III, son of the slain civil rights leader.

At the event, Bloomberg said the nation needed someone with "courage" to address the issue.

Later that same day, Bloomberg appeared on CBS with Katie Couric — along with King — to further press his case.

The day of the speech, the coalition Bloomberg founded to combat "illegal guns" published an open letter to the president in the Washington Post. Hours before the speech, Bloomberg's office announced he would be joined at City Hall on Wednesday by "Gifford's hero intern" who "cared for Rep. Gabrielle Giffords after she was shot."

Democratic Rep. Carolyn McCarthy of Long Island said, "I'm disappointed that President Obama did not urge us to look at our nation's gun laws."

McCarthy — a gun control advocate spurred to action after her husband was gunned down on the Long Island Railroad — added, "I look forward to continuing that path and hearing from our president in the future."

Democratic Rep. Anthony Weiner also thought that the Arizona tragedy provided Obama a moment to lean into what has normally been a difficult issue.

"In a speech that seemed to strive for common ground, he missed a chance for common sense on guns," Weiner said.
Read More
Wednesday, January 26, 2011
By Azi Paybarah : author of The Empire blog
President Obama's speech was a call to arms for those seeking bipartisanship. Unfortunately, those looking for regulations of firearms heard not a word about their cause.
"What comes of this moment will be determined not by whether we can sit together tonight, but whether we can work together tomorrow," Obama said to an audience of Washington lawmakers which, for the first time, had Democrats and Republicans seated next to one another.
"We share common hopes and a common creed; that the dreams of a little girl in Tucson are not so different than those of our own children, and that they all deserve the chance to be fulfilled," said the president, referring to the youngest victim of the massacre that left Democratic Rep. Gabrielle Giffords with a gunshot wound to the head.
But after that, Obama did not address the issue of gun control, something Mayor Michael Bloomberg strenuously advocated for with a major media push leading up to the speech.
Afterwards, Bloomberg released a statement calling the omission of gun control from the speech "disappointing."

Monday, January 10, 2011
Members of Congress are increasing their vigilance at public gatherings following the shooting in Arizona on Saturday. Six people were killed and Arizona Representative Gabrielle Giffords is in critical condition, after a man opened fire in front of a supermarket in Tucson.