Campaign Money

Wednesday, June 12, 2013
New York's attorney general, Eric Schneiderman, talks about the new regulations on non-profits, including 501(c)(4)s, that spend more than $10,000 on elections.
Friday, August 20, 2010
By Azi Paybarah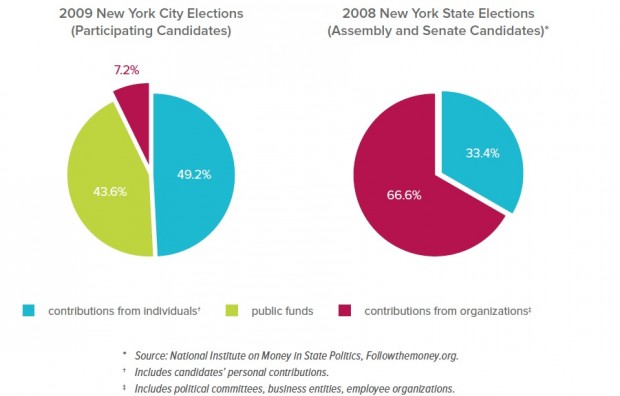 The NYC Campaign Finance Board proudly notes that small contributions make up
a big part of the story
in city races, in comparison to state races.
Read More
Thursday, August 19, 2010
By Azi Paybarah
Andrew Cuomo explains why he currently accepts large sums of money from LLCs, even as he campaigns with the pledge to close the loophole allowing LLC's to give huge sums of money to political campaigns.
In Ithaca, Cuomo said:
I want to reform the campaign finance system. To reform the campaign finance system I have to get elected. To get elected I have to raise money. I don't have large sums of personal wealth, I don't' come from a family with large sums of personal wealth. I have to get elected which means I have to raise money, so I can be in a position to actually make the reforms.
Read More
Wednesday, August 18, 2010
By Azi Paybarah
Kathleen Rice maintains her financial edge in the five-way Democratic primary for Attorney General, as she and another well-funded rival, private attorney Sean Coffey, launched television ads.
Rice, the Nassau County district attorney, ended the 32-day pre-primary filing with $4,424,391.33 on hand, with more than $623,267.47 being raised in this latest filing. She spent about half that amount, or $368,630.06. Among her expenses were $99 at Bergdorf Goodman's, for "clothing for a film shoot," according to records the campaign filed with the State Board of Elections.
But a campaign spokesman said they inaccurately described the expense. It was actually for a hairdo Rice received before a televised debate, campaign spokesman Eric Phillips told WNYC.
Rice also launched her first ad of the campaign season. It's a 30-second biopic, with a man's baritone voice telling viewers, "If anyone thought Kathleen Rice would be a pushover as Long Island's first woman district attorney, they were wrong."
No one has raised that issue with Rice during the AG race -- if anything, she's been accused of being too tough on drug offenders, and not supporting a repeal of the Rockefeller Drug Law earlier. But the ad allows Rice to underscore the point that she is a woman: the only one in this race and one of the only ones running statewide for Democrats (the other is appointed Sen. Kirsten Gillibrand).
State Sen. Eric Schneiderman of Manhattan ends the filing period with $2,191,966.57 on hand. He raised $263,646.92, and spent more than half of that, $182,930.85, this period. Schneiderman is not airing ads. His biggest expense in this filing was for a $22,500 "database" from Voter Activation Network.
Assemblyman Richard Brodsky of Westchester transferred $966,576.30 from his Assembly re-election campaign account into his attorney general account. That helped him end the filing period with $1,512,534.70 [figure corrected] on hand. Among his $93,961.91 in expenditures this period was a $13,023.20 poll from the Washington-based Lake Research Partners.
Former State Insurance Superintendent Eric DiNallo has $1,627,233.68 on hand, after raising $109,231.31. But he spent more than he raised: $170,496.48.
Among DiNallo's notable expenditures was $22,500 on a voter file from Smartvan NY, and $324 on Google Adwords. He's not running ads yet, but his campaign is purchasing archival video. There was a $321 purchase of "archive video" from a place called Video Monitoring Service. Another $80 was spent purchasing "archive video" from New York 1 News.
A campaign spokeswoman told WNYC they had purchased footage from the 2006 attorney general debate, for preparation. They also paid $500 for "photo permission" to Nathaniel Brooks, better known as the New York Times photographer based in Albany who has taken many memorable photographs, including this front-page image of Gov. David Paterson's troubled aide, David Johnson, which caused quite a stir.
The biggest spender in this cycle was Coffey, the attorney in private practice who is basically self-funding his campaign, and airing television ads.
Coffey, again, lent his campaign $1 million, helping him end the filing period with $3,162,032.49. He spent $824,028.22 in this period.
Coffey's expenditures include $20,462.12 on polling from Lables & Lists Inc.
But the real big expenditure --  besides the five-figure fees to consultants like the Mirram Group -- was $286,600 for television ads with GMMB (coincidentally, that's the same firm Anthony Weiner used to create some memorable ads during his 2005 mayoral race).
In Coffey's ad, black and white images of him slowly fade in and out of the screen as a narrator talks about his military record and his record as "a lawyer who took on Wall Street."
"New Yorkers don't need another politician seeking office, they need an attorney general seeking justice," the narrator says, highlighting Coffey's lack of political experience as an asset.
Public opinion polls show that none of the candidates are really known to the public. So, much of the money candidates are raising will probably be unleashed around Labor Day, when people return from vacation and realize that one of the most sought-after offices in New York State, if not the country, is up for grabs.
UDPATE: An informed reader notes that the money Coffey spent on TV ads with GMMB was for the "ad buy," since the firm purchases airtime for the ad creator working for the campaign, Jimmy Siegel.
Read More
Tuesday, August 17, 2010
By Azi Paybarah
I'm going through campaign filings and came across one you don't see everyday:
Kathleen Rice's campaign reported spending $99 at Bergdorf Goodman's, for "clothing for film shoot." Rice did just release her first television ad.
But a campaign spokesman said the expenditure was improperly described.
"The campaign staff member who entered the information into the report made a mistake with respect to the memo and address fields. The expenditure related to the district attorney's hair appointment the morning of the race's televised WABC debate," spokesman Eric Phillips told me.
Read More
Monday, August 16, 2010
By Azi Paybarah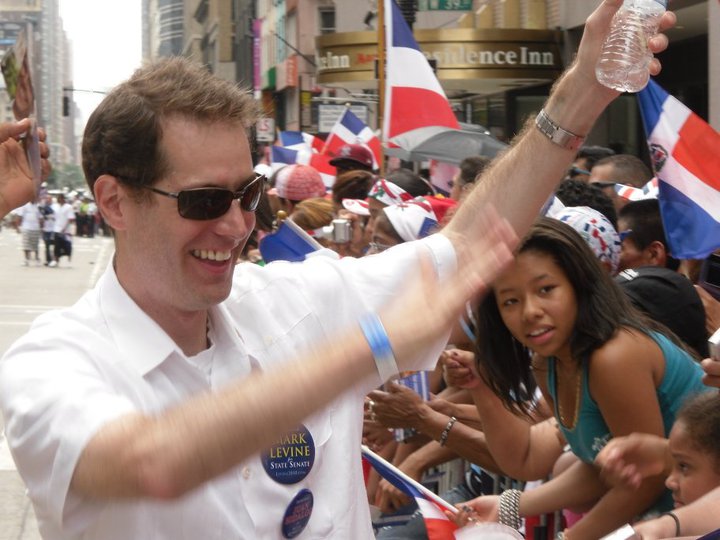 Mark Levine's FaceBook page
Here's a brief detour into one of the local races: a State Senate seat has opened up, and a chance to join the much  talked about upper chamber of the state legislature is drawing fierce competition from, among others, one of the institutional players in Albany.
Eric Schneiderman is vacating the seat in order to run for attorney general. The district goes from the liberal bastion of the Upper West Side, through Dominican-dominated areas like Inwood and Washington Heights, and extends all the way to parts of Riverdale in the Bronx.
Adriano Espaillat, is the front-runner, since he's an Assemblyman already representing part of the district. He was elected in 1996, but, in this anti-incumbent tide, having a 14-year record in Albany may not be as strong an asset as usual.
Espaillat has also hired consultants The Mirram Group (institutional players, run by the former head of the Bronx Democratic County Organization) and BerlinRosen (the powerful and well-connected, uber-progressive folks who help keep Sheldon Silver popular, and labor groups happy).
Either way, he has an impressive $104,700.96 on hand, according to the latest finance numbers released late last week.
But Espaillat doesn't have the most money in the field.
That title goes to Mark Levine, an educator, Democratic district leader and a guy who speaks English, Spanish and a few other languages.
Among the people that helped Levine raise $146,529.51are Wall Street veteran John C. Whitehead, mega donors Nina and Fritz Loewenstein and actor Ed Norton.
Also running is Anna Lewis, who's latest filing shows she has just $911.09 on hand. She ran for City Council years ago, worked for the Assembly for a few years and is casting herself as the wonky, not-too-political candidate in the race.
And lastly is Miosotis Munoz, who managed to raise $6,2400 for the race, but ended the latest filing period with $339.87 in debt.
So, practically speaking, it's mostly a two-person race (Espaillat and Levine)  with Lewis and Munoz, sucking-up some oxygen each of them: Munoz could siphon away some Spanish votes from Espaillat, while Lewis, the only woman in the race, could, theoretically, draw votes away from Levine.
Read More