Campaign Finance Violations

Thursday, December 11, 2014
By Janet Babin : Economic Development Reporter, WNYC News
The New York City Campaign Finance Board fined NYCLASS for "serious" spending violations.

Monday, November 26, 2012
The House Ethics Committee says it's investigating Republican Rep. Michael Grimm for possible campaign finance violations, but is deferring its inquiry because of a separate Justice Department probe.
Wednesday, November 16, 2011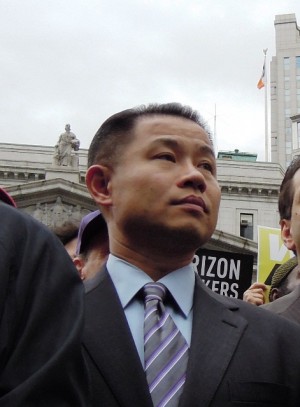 Standing next to the other city elected officials yesterday, New York City Comptroller John Liu didn't appear to be a man under siege. He was introduced by Working Families Party deputy director Bill Lipton at the press event before chastising the Mayor and lauding Occupy Wall Street.
But outside of the ring of liberal city officials and labor leaders, Comptroller Liu is facing serious questions about his fundraising activities, the likes of which could make his future political aspirations dead on arrival.
"We assume there will be a fair investigation of the allegations, and of course we would not comment on anything until that's done," said WFP spokesperson TJ Helmstetter. But it's uncertain how long political allies will be standing by Liu.
Liu's trouble really started back in July when a little-seen piece in Crain's pointed to some suspiciously large campaign contributions from supermarket workers. At the time, the Liu campaign pushed back, essentially suggesting the question was thinly-veiled racism, calling it "a ridiculous assumption."
But then the New York Times started poking into the campaign's finances. They found a number of major irregularities, including the possibility that some donors didn't even exist. Liu came on WNYC's Brian Lehrer Show to defend his campaign, questioning how the Times conducted its reporting but vowing to get to the bottom of things. He later hired former New York State Attorney General Robert Adams to review his own fundraising efforts.
Earlier this week it was revealed that Federal authorities are now involved. Grand jury subpoenas have been issued to find out more information about a city contractor whose employees gave large donations to the campaign. The big question is whether or not that was their own money, or if funds were funneled through employees, which would potentially be a violation of Federal law.
Now, today, the Wall Street Journal is reporting more specifically that donations from donors connected to disgraced national Democratic fundraiser Norman Hsu were not returned back in 2008
According to campaign records, Mr. Liu accepted a $500 donation from [actress Susan] Chilman on April 11, 2007. In the midst of the scandal surrounding Mr. Hsu, a number of politicians returned the contributions they received from Ms. Chilman, including Sen. Kirsten Gillibrand and former Rep. Anthony Weiner. Mr. Liu did not.

In a recent interview with the Journal, Ms. Chilman said she isn't a supporter of Mr. Liu. She said she made the contribution solely at Mr. Hsu's behest and was reimbursed by him for it. "I don't know John Liu," she said.

The full extent of Mr. Hsu's influence on Mr. Liu's 2009 campaign is unknown, in part because Mr. Liu has yet to comply with city campaign finance laws that require the disclosure of bundlers, people such as Mr. Hsu who collect contributions for a political candidate from other people. Mr. Liu said he plans to disclose his bundlers but is awaiting the green light from the Campaign Finance Board; the board told the Journal on Tuesday that Mr. Liu is free to disclose immediately.
To add to this, the Comptroller's plan for a major overhaul of the city's pension system--announced alongside Mayor Michael Bloomberg--has come under fire since the plan was released.
How does all this add up for John Liu's mayoral ambitions?
"The mayoral race is out the window," said Hank Sheinkopf, a long-time Democratic political consultant. But Sheinkopf noted the question now is less about ambition and more about survival.
"The question is, can he run for reelection," Sheinkopf said. "If the revelations continue, that will also be very difficult because you can't have the city auditor audited by the federal prosecutor at the same time, with the potential for criminal indictment."
Read More
Thursday, July 14, 2011
UPDATE: The Empire blog has received some corrective communications from both the Campaign Finance Board and a few campaigns, including Councilman Mark Weprin. "Offenders" was a poor choice of words in characterizing a few of the campaigns identified in yesterday's CFB press release. Both Councilmember Mark Weprin and former Councilmember Kenneth C. Mitchell have repaid their portions promptly.
Eric Friedman, Director of External Affairs at the CFB explained that a campaign can owe money back to the CFB without having done anything wrong, and it is not unusual for the CFB to request return of unused funds. He said that under the city's public matching funds system, there is a mix of private and public funds in every campaign. "The requirement to return unused funds to the taxpayers after the election helps ensure that taxpayers get the best value from the program," Friedman said.
Councilmember Weprin said that his campaign had actually been holding the money to return for 18 months, but had to await the CFB's ruling.  "We were very prudent with the public money we received and we were happy to return over $16,000 to the taxpayers," he said.
***
If you were a candidate in 2009, and you didn't do right by your public funds agreement, you better watch out -- the Campaign Finance Board is looking for you.
The CFB held another monthly meeting today, going through audits and claims to add sixteen more campaigns to its list of violators that owe either public funds or penalties to the board. The Board found that eight campaigns owe penalties, including Brooklyn Borough President Marty Markowitz, who owes $4,600, and Brooklyn Community Board 1 district manager--and former city council candidate--Gerald Esposito, who dwarfs the others with a whopping $23,725 in penalties.
The Board identified another eight campaigns that owed public money that the Board wants returned. In addition the Board found in favor of three campaigns claiming post-election payments: Councilmembers Robert Jackson and James Molinaro, and former council candidate Robert Friedrich.
Separately, the Board continues to hold one egregious offender to task – John M. Finan, a write-in mayoral candidate from 2009, who owes penalties of $500 for depositing public funds into the same account as his personal funds.
Read More