Building Collapse

Thursday, March 13, 2014
The latest on the massive gas explosions in Harlem, which leveled two buildings and killed seven (as of 8:30am Thursday). Plus: Delaware Governor Jack Markell speaks out in support of the Common Core as the national standards are questioned in New York and other states. Plus: The electric car company Tesla is contesting a new rule in New Jersey that bans car companies from selling cars directly to consumers; author Chimamanda Ngozi Adichie on her novel Americanah, which is a finalist for the National Book Critics Circle Fiction Award; and tech investor Ben Horowitz shares lessons he learned about making tough decisions while running a new business.

Tuesday, September 11, 2012
No one has come forward to claim the remains of a construction worker that died during a building collapse Monday. Winston Gillett marked his 67th birthday just days before he fell to his death at a job site in Fort Green, Brooklyn.

Monday, March 26, 2012
This isn't the first time the general contractor overseeing construction at the building that collapsed last week has been involved in a fatal accident. Since 2008, Bovis Lend Lease has been bound by a legal agreement to reform its safety practices, after a deadly blaze at the Deutsche Bank building took the lives of two firefighters in 2007. 
Thursday, April 30, 2009
By Matthew Schuerman : Editor, WNYC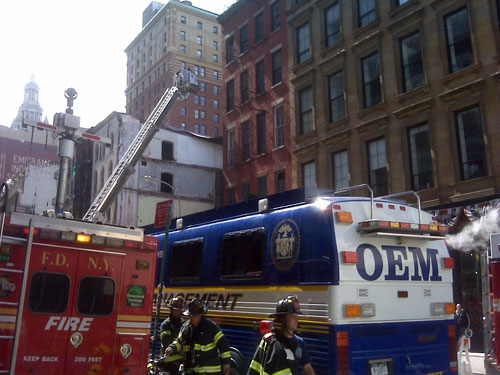 There's a street closure in lower Manhattan as emergency personnel clears the site of this morning's three-alarm building collapse.
A five-story building at 69 Reade Street has suffered a partial collapse of the front of the building. A car was ...