Brian Kolb
Monday, January 30, 2012
More from New York State Assembly Minority Leader Brian Kolb on redistricting: he also says one of three upstate Democratic-held Congressional seats should be on the chopping block.
His counterpart in the majority, Democratic Speaker Sheldon Silver, is quoted in a Daily News article saying he'd like to keep New York's 9th Congressional District--currently held by Republican Bob Turner--in place.
Kolb said his preference, if the logic of one upstate and one downstate district being removed still held, would be for one of the Western New York Districts to be gone.
"I think it generally should be somewhere in the urban areas," Kolb said. "The city of Buffalo would probably be one place to start."
Kolby cited Buffalo's population loss over the past decade as the main reason one of the two districts that encircle Erie County--NY-28, held by Rep. Louise Slaughter, and NY-27, held by Rep. Brian Higgins--should disappear.
Kolb also pointed to Rep. Kathleen Hochul's 26th Congressional District as a good candidate for removal.
"Between Rochester and Buffalo that would be the liklihood, where you've got one congressional representative too many if you just look at the population centers," he said.
Read More
Monday, January 30, 2012
Coverage of the redistricting process—including the coverage here--tends to focus on the state Senate. With the margin between the majority and minority party razor thin, overt attempts by the Senate Republicans to keep control are vividly evident.
But that doesn't mean Democrats in the Assembly aren't guilty of carving out election districts for maximum partisan benefit in the draft maps released last week.
In a presentation in Albany this morning, Common Cause's Susan Lerner presented a PowerPoint presentation that showed what they say are Assembly districts as egregious as some of their counterparts in the Senate.
In Queens, Common Cause found the conservative-leaning Middle Village area chopped up into four separate districts to keep Democratic officials in those seats, as is the case today.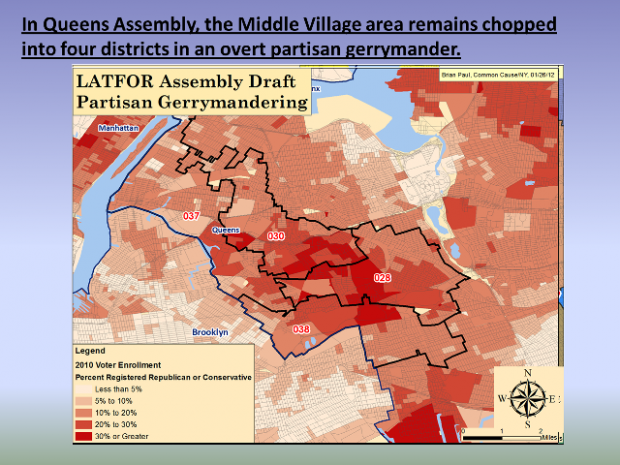 Courtesy of Common Cause.
Upstate, Assembly Democrats continue to divide up cities like Albany and Rochester to help dilute the impact of conservative voters. Rochester is divided into three separate districts, all of which are represented by Democrats. A similar situation is proposed for Syracuse.
Read More
Monday, January 23, 2012
Today on "The Capitol Pressroom":
Assembly Minority Leader Brian Kolb joins us in the studio.
Dr. Rick Timbs of the Statewide School Finance Consortium, an advocate for low wealth schools, got half of what he wanted from the Governor's budget. Now what?
The redistricting maps will be released this week (today?) Barbara Bartoletti of the League of Women Voters offers us a primer on how to quickly deduce the story behind the lines.
And Debra Winger is in town for a huge rally along with other celeb & non-celeb-anti-frackers.
For show archives, please visit The Capitol Bureau's website here.
Read More
Wednesday, January 04, 2012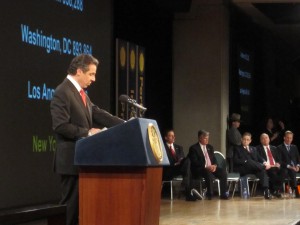 Governor Andrew Cuomo laid out his vision for New York State in 2012 and beyond on Wednesday. In a three-point outline that was led off by a set of economic plans and anchored by a proposal for a new convention center in Queens, Cuomo framed his sophomore effort in Albany.
"We've only just begun to do the work this state needs done," Cuomo said during a review of this past year's achievements. In 2012, the Governor said, education, jobs development, gambling legalization, energy, and pension reform as some of his top areas for improvement.
Assembly Speaker Sheldon Silver gave his comments before Cuomo spoke, arguing for a minimum wage increase and a tax cut for low-income New Yorkers. Afterwards the Speaker praised the Governor for a "great speech."
"I think he framed his agenda for this year and perhaps for a few years to come," Silver said.
Read More
Tuesday, December 13, 2011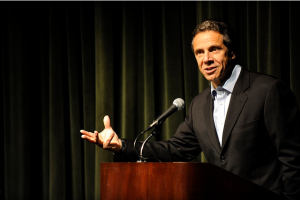 Courtesy of the Governor's office
Since its appointment announcement yesterday, the state's Joint Commission on Public Ethics has been criticized for some of the people picked by elected officials to serve on the commission that oversees elected officials in Albany. Here are some of the appointments that are raising the biggest questions:
1. Ravi Batra – appointed by Senate Minority Leader John Sampson
The biggest red flag being waved about Batra was his connection to incarcerated former Brooklyn Democratic Party boss Clarence Norman. Norman worked at Barta's law firm, before being let go shortly after arrests were made that eventually led to Norman's conviction on corruption charges. But it's Batra's position as a Democratic insider with connections to everyone, including as a fundraiser for the man that appointed him and Governor Andrew Cuomo.
Former Manhattan District Attorney Robert Morgenthau praised Barta in a letter of recommendation for the position, saying, "His independent judgment, informed by real life, will serve the best interests of New Yorkers who deserve a government that above all serves the public good."
But Chris Owens, a Brooklyn Democratic Party official, said the move raised serious questions about both the appointee and the elected official who appointed him: "Why would John Sampson, after all the questions about the Aqueduct scandal which everyone's trying to put behind them, nominate somebody who has any kind of taint attached to his name?"
2. David Renzi – appointed by Assembly Minority Leader Brian Kolb
Back in 2008, as a candidate running for State Senate against then-Senator Darrel Aubertine, Renzi was accused of inappropriately accruing retirement credit with the State as an employee of Pamelia, New York, even though he wasn't technically an employee. At the time of the report in the Watertown Daily Times, both of Renzi's partners in his law firm were being investigated by the State Comptroller's office for similar violations.
Renzi defended himself against the accusations, saying, "I have always held myself to highest ethical standards." The Pamelia town supervisor, Lawrence Longway, said Renzi is still employed by the town as an attorney and that the issue was overblown during an election year.
"It wasn't like he was getting so much money from us and getting benefits on top," Longway said. "Everyone in this area laughed, because if there's anyone in this area that doesn't give money away, it's me."
But that didn't stop Aubertine from airing attack ads back in 2008 that accused Renzi of unethical behavior.
Additionally, Renzi's wife is reported to be employed by State Senator Patty Ritchie, which the Watertown Daily Times has Dick Dadey of Citizens Union quoted raising concerns over:
For a JCOPE appointee to have his spouse employed by a state senator, while legal, crosses the line ethically…It doesn't look good to have such a tight association between an appointee and a state senator, over whom one has oversight.
3. Mary Lou Rath and Mitra Hormozi – appointed by Senate Majority Leader Dean Skelos and Governor Andrew Cuomo, respectively
While neither Rath nor Hormozi were specifically targeted in the past over ethics (in fact, Hormozi was lauded by some for her work in the AG's office), both violate a rule that says elected officials and government employees need to be out of Government for at least three years to be allowed to serve on JCOPE.
Rath was a State Senator from Erie County until she retired in 2008. Technically, she was in office until January 2009, when the current Senator, Michael Ranzenhofer, succeeded her, meaning she has at the time of her appointment not been out of government the full three years.
Hormozi served as the Attorney General's special deputy chief of staff under Andrew Cuomo, before heading up the now-defunct New York State Commission on Public Integrity. This would make her ineligible under the rules.
---
Now, it's not that everyone on the panel is facing fierce scrutiny. In fact two people in particular were highlighted as perfect picks for such a commission:
Read More
Thursday, December 08, 2011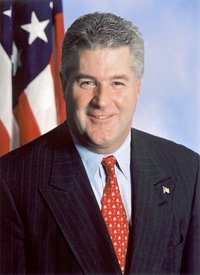 Courtesy of the Minority Leader's office.
Assembly Minority Leader Brian Kolb continued to hammer the Cuomo administration and legislative leaders today after the whirlwind passage late last night of a major economic package that included a rewriting of the tax code.
Kolb called the process "egregious" after Governor Andrew Cuomo, Senate Majority Leader Dean Skelos and Assembly Speaker Sheldon Silver crafted a deal behind closed doors that lawmakers were handed shortly before being asked to vote on the legislation yesterday.
"There was no reason to do this in this rush, in a 24 hour time period, not having bills be on desks for at least three days, not to have outside groups have their say about this, one way or the other," Kolb told Susan Arbetter during her radio program this morning. "And if you go through and still vote the way you do, fine. But at least have public discourse about it."
Media reports this morning focused heavily on how rapidly the Cuomo administration moved the legislation forward. The New York Times Thomas Kaplan captured the process this way:
The remarkably rapid progress of the tax revisions — without a single public hearing or town-hall-style meeting — provided the most striking illustration to date of Mr. Cuomo's policy making strategy: information is tightly controlled, negotiations are carried out behind closed doors and the debate is limited to just a few people.
"Governor Cuomo said, 'I'm going to have the most transparent, open government under my watch,'" Kolb said in his interview. "This is not transparency. This is not good government."
The New York Public Interest Research Group's Bill Mahoney, who was the first to notice that the 33-page bill was made public a mere 26 minutes before the Senate was to vote on it, called the process "not good, to say the least" but tried to look on the bright side of things.
"The best I could say is that at least there were no surprises this year," Mahoney said. "In the past it has happened that an issue that hasn't been discussed at all appears minutes before session and they wind up passing it."
Mahoney said that the Governor has had some limited success following his promise to open up Albany, but that Cuomo's tax reform process left much to be desired.
"What we saw last night indicates that we still have quite a ways to go," said Mahoney.
Read More
Thursday, December 08, 2011
Today on "The Capitol Pressroom":
Unlike many lawmakers, Assembly Minority Leader Brian Kolb is not all that thrilled about the deal hammered out by the Governor and both houses of the legislature in the wee hours. He will join us to discuss the issues, and (hopefully) comment on the winners & losers in the race for economic development cash.
Last week the State won the battle over where prisoners should be counted for the purposes of redistricting – the decision is considered a win for Senate Democrats. Queens lawmaker Democrat Mike Gianaris has reaction.
And Blair Horner a VP at the American Cancer Society and a long-time political observer at the Capitol in Albany weighs in on the vast spectrum of issues unfolding here.
Read More
Wednesday, December 07, 2011
Elected officials, by and large, came out in support of the tax plan deal between Governor Andrew Cuomo, Senate Majority Leader Dean Skelos, and Assembly Speaker Sheldon Silver.
Assembly Minority Leader Brian Kolb was not one of them. The upstate Republican blasted the measure as a tax hike, done behind closed doors and as a distraction from the issues New Yorkers needed real relief from:
From what has been reported in the media so far, the bottom line is that taxes are being raised in New York State and we are still not dealing with our state's serious spending problem.  There is still no significant unfunded mandate relief for local governments.  We should be protecting taxpayers by capping local Medicaid costs, enacting a state spending cap and doing this through an open, public process where these issues are debated and discussed in the light of day, not through secret deals behind closed doors by three-men-in-a-room. Tax hikes have never been the answer for creating more private sector jobs and long-term prosperity for New Yorkers.  That still holds true today.
Read More
Thursday, November 03, 2011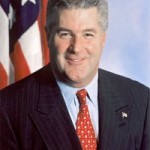 Courtesy of the Minority Leader's office.
Apparently Assembly Minority Speaker Brian Kolb hadn't put down his chips in on this issue. But on his 1300 AM talk show out of Albanytoday, the Post's Fred Dicker put the controversial question to the minority leader.
"It's controversial wherever it's brought up because there's a lot of misinformation. There's a lot of fearmongering," Kolb said. Not surprisingly, then, he said he supported bringing hydrofracking to New York State.
But Kolb did discuss having the kind of buffer zones around the Finger Lakes in and near his district that is being proposed for the reservoirs that feed city's like New York.
Read More

Tuesday, November 16, 2010
By Karen DeWitt : NYS Public Radio/WXXI
Albany, NY —
The state's Republican Party suffered some major blows in this month's elections, losing the governor's office and all other statewide posts. But the GOP did make gains in the legislature that could leave the party with a power base in charge of the State Senate and deprive Democrats of a veto-proof majority in the Assembly.