Bob Turner
Friday, August 12, 2011
The Uniformed Fireofficer's Association is not pleased with Bob Turner's 9/11-Ground Zero mosque-Obama-Weprin ad released yesterday, saying:
Robert Turners commercial is very insensitive. We object to anyone exploiting the pain of thousands of families who lost loved ones on 9/11 to score political points.
Expect more Weprin supporters to get lined up denouncing the ad which, if you missed it, is reposted below.
Send A Message from Bob Turner for Congress on Vimeo.
Read More
Thursday, August 11, 2011
The Weprin campaign's response to the ad put out earlier today by Bob Turner:
As we approach the tenth anniversary of 9/11, it's shameful that Bob Turner is trying to use the tragedy for his own political gain. I knew people who lost their lives that day and Bob Turner dishonors their memory by politicizing the attacks on New York.
Read More
Wednesday, August 10, 2011
In a district that's enrolled more than three-to-one Democrat, Assemblyman David Weprin is leading his Republican opponent Bob Turner by six points, according to Siena Research Institute poll today, with neither candidate being favored by a clear majority.
"While Weprin holds a two-to-one advantage over Turner with Democrats, Turner has a nearly six-to-one lead among Republicans and a slim four-point lead with independent voters," Siena College pollste rSteven Greenberg said in a statement. "Queens voters favor Weprin by 10 points, while Brooklyn voters, who account for about one-third of the district, support Turner by a six-point margin."
Turner's attempt to sway Jewish voters on the issue of Israel hasn't proven to be significantly effective, as Weprin has retained the support of 56 percent of the voters identifying themselves as Jewish. What Turner does have over Weprin is loyalty: 60 percent of voters said they were absolutely certain the would cast their vote for the Republican, with only 47 percent saying the same for the Democrat Weprin.
"Five weeks until Election Day, and this special election is a wide open race with both candidates trying to become more known to the voters of the district and earn their support," Greenberg was quoted saying.  "With a low turnout expected and limited media exposure in the nation's most expensive media market, the test of both campaigns will be to mount strong voter identification efforts and effective get-out-the vote operations.  The campaign that does a better job on those crucial campaign tasks will likely produce a victory for their candidate."
The poll consisted of 501 likely voters and had a 4.4 percent, plus or minus, margin of error. Siena said it intends to poll the district again prior to Election Day.
Read More
Thursday, August 04, 2011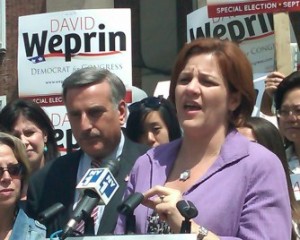 On the steps of Queens Borough Hall earlier this afternoon, Assemblyman David Weprin was surrounded by around a dozen female lawmakers from across the city, in every level of government, to tout the congressional hopeful as the woman's candidate. City Council Speaker Christine Quinn lauded Weprin as the right fighter pro-choice women voters needed in congress.
"We cannot now, when that right is under attack, lose one more voice in congress," Quinn said.
From Quinn to Congresswoman Carolyn Maloney down to the local female district leader, the praise was piled high. It was the sort of event Weprin has been having for the past few weeks. His campaign wants to make this race about defending Social Security and Medicare, the need to create jobs programs, and how dangerous the Republicans in congress are.
What David Weprin would like to stop talking about is Israel.
Read More
Tuesday, August 02, 2011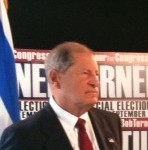 Republican Bob Turner's campaign is going after Assemblyman--and former head of the city council's finance committee--David Weprin over the 2008 slush fund scandal, claiming "[Weprin] has never satisfactorily explained how fake charities were created by the Council -- directly under his watch -- to funnel taxpayer dollars to political pet projects without the public knowing about it[.]"
If you recall, the city council was embroiled in scandal over hundreds of thousands, if not millions, of dollars being funneled through fake non-profits, a practice that some said went back decades. The scandal sent one councilman, Miguel Martinez of Manhattan, to jail and nearly derailed the political career of Speaker Quinn.
Weprin told the Observer in 2008:
I'm not proud of these scandals or these misappropriations of some small amount of money in a very large budget, but in the end I think the process is stronger for it, and we're all better off for all the scrutiny that came out of this.
"David Weprin either knew about these fake charities or he wasn't doing his job; there is no in-between," Turner campaign spokesman William O'Reilly said in statement from the campaign.
UPDATE
The response from Weprin's campaign:
Bob Turner is lying about David Weprin in a sad, pathetic attempt to distract the people of Brooklyn and Queens from his extremist tea party-inspired plan to slash trillions from Medicare and Social Security.
Read More
Monday, August 01, 2011
This agreement is far from perfect, but it will protect Social Security and Medicare and prevent default on our debt, which would have damaged this weak economy even more.  But more importantly, it sends the signal that bipartisanship, however hard-fought, is still possible in the Congress.  Far more of that will be needed in the months and years ahead to get this economy moving again and to restore confidence in American government.

Years of overspending by career politicians, on both sides of the aisle, put us in this position. This debate has been historic in that federal debt and its drag on the U.S.  economy is now a front-burner issue.  Getting the U.S. economy back on track and creating jobs must be the chief priority for every member of Congress, and, in the long-term, that will require responsible spending and balanced budgets. That is the ultimate goal, and this moves us in that direction. As imperfect as it is, I support today's deal.
Read More
Sunday, July 31, 2011
Turner's campaign says Rep. Peter King of Long Island will be endorsing him for congress this evening, citing, according to the announcement,Turner's "steadfast support for the state of Israel and his business background."
Read More
Thursday, July 28, 2011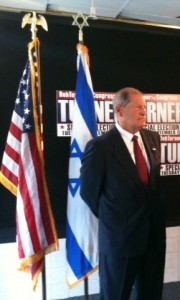 There are a couple of interesting things to note about Bob Turner. First, he's a very grandfatherly figure—which makes sense, considering his age (70) and the number of grandkids he has (13). He's about as close as you can get to a Reagan Democrat these days. He thinks the government should get out of the business of most things, but wants to keep entitlements, which he's said he would have a moral and legal obligation to preserve, in place. He doesn't seem too keen on being labeled a "quintessential Tea Party" candidate. And, right now, he believes the path to victory in the September special election runs right through the 9th congressional district's Orthodox Jewish community.
We sat down after his appearance on the "Brian Lehrer Show" to further discuss some of the issues. On air, Turner sounded unpolished—which can just as easily be interpreted as a sign of his authenticity as any detrimental awkwardness. He is, in many ways, a citizen candidate and what you might imagine when some people clamor for a non-politician to run for office. He's in the mold of, if not the less self-financed, CEO for office. He deferred on-air to questions he didn't have the answer for. He also had difficulty answering statistical questions like the district's poverty rate (11 percent according to the Census, but below the approximately 14.5 percent national rate) and its immigrant population percentage (he guessed 25 percent, but census has the figure at just over 40 percent for foreign born).
In discussing the issues in this race, Turner presented what, for many years, had been the Republican Party line on government. In a National Review article about why he's running for office again, Turner targeted the age-old villain—liberalism—and said he wanted to "dramatically" cut the federal budget by between 30 and 35 percent. His opponent, Assemblyman David Weprin, has attempted to use this stance as proof that Turner is ideologically indistinguishable from Tea Party Republicans.
In conversation, though, Turner pulled back from dramatically cutting one-third of government spending. "It's not like tomorrow we're going to chop it down," he said. "I think we need a thorough, top-to-bottom, zero-budgeting approach on the businesses we have to get into."
Turner would not start by cutting or fundamentally altering one of the single largest federal outlay—health care—as some Republicans in congress, such as Rep. Paul Ryan, have suggested. There are other places Turner says we should start first, such as the Department of Agriculture.
"Much of [the mission of the Department of Agriculture] was initiated as protecting mom-and-pop farms. That's been gone a very long time," Turner said. "What are we doing in that almost at all? Maybe that entire department should be reviewed, put into [the Department of] Interior or something."
He went on to add the Department of Education and Energy as further examples of places that deserved to be scrutinized for both efficacy and fiscal efficiency. Those three together, however, represent only about $250 billion in federal spending. With a $3.82 trillion budget in 2011, getting to that $1 billion or so third would require finding significant savings elsewhere, and doing so without touching entitlements or military spending seems next to impossible.
Jobs, too, have been an issue Turner has said is important to him. He wasn't specific about what congress could do to improve the job environment—Weprin, on the other hand, wants to revive the House Democrats jobs bill—but did lean on his background in business and in general believes that if the government gets out of the way jobs will grow. "You need a climate that works and you need incentives for that capital. There seems to be a lot of capital out there," he said. "I want to create a climate that frees that up and allows the American entrepreneurial spirit to function."
The most significant issue of the campaign for Turner remains Israel, and what he sees as the issue that could bring voters to the polls in his favor. "The orthodox [Jewish] community could be the swing in this," he said. Turner is looking to build off his 40 percent showing against Weiner last year, and his campaign believes this is the issue and population that are most likely to do that. How they'll respond to the Catholic Turner's Israel credentials over the Jewish Weprin remains to be seen, but you can expect mailings to be dropping soon arguing in Bob Turner's favor.
Read More
Tuesday, July 26, 2011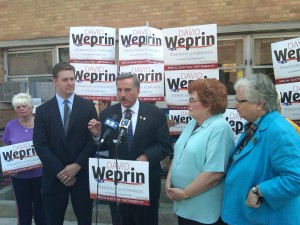 The site for David Weprin's press conference today—the senior center located behind the Forest Hills Jewish Center—gave the congressional candidate an easy twofer. It continued the counter narrative his campaign's been pushing since former mayor Ed Koch sought to make the race in the 9th congressional district a referendum on President Obama's support for Israel. But more importantly it was an attempt, the dayafter Koch announced he was backing Weprin's Republican opponent Bob Turner, by the Weprin campaign and its supporters to change the topic of conversation from Israel to the existential threat Medicare and Social Security face from congressional Republicans.
"The Republicans in the House are looking to slash Social Security and Medicare. Frankly, people are scared," Weprin said as supporters stood behind him. "I will fight to preserve Social Security and Medicare, not to privatize Social Security and Medicare."
In case you missed that: David Weprin wants you to know he's the guy who will fight for Social Security and Medicare.
Weprin was joined by nearly all of the local elected officials whose districts overlap portions of the 9th congressional district: Assemblyman Andrew Hevesi, State Senator Toby Ann Stavisky, and City Councilmember Karen Koslowitz. Stavisky, when asked, didn't down play the importance of Israel in the race, but pointed to Weprin's family and past support as clear indicators it will not be an issue voters will have to consider. "I have heard David, innumerable times, talk about why Israel is important, but it's not the only issue," she said. "Let's talk about the important issues."
The triumvirate of Queens political support will continue to be important for Weprin, as much of the congressional district lies to the south of his assembly seat's boundaries. Likewise, tying Turner to House Republicans keen on cutting back on many of the entitlements those inside the senior center count on will be an important distinction Weprin's campaign will try to make in the few short weeks before the election on September 13th. Turner has said he would fight to keep senior services in place.
One of the big things to watch for will be how much the Tea Party label being pushed by Democrats sticks to Turner moving forward, as the Weprin campaign continues to angle the discussion  away from support for Israel and towards attacks on Medicare and Social Security.
Read More
Monday, July 25, 2011
By Alec Hamilton
As expected, former New York City Mayor Ed Koch announced this morning that he is crossing party lines to throw his support behind Republican hopeful Bob Turner in September's special election for the 9th Congressional District.
Koch explained he was supporting the Republican in order to "send a message to Washington that will affect the position of President Obama on Israel and the position of the Republican Party on Social Security, Medicare and Medicaid."
Koch said it wasn't personal and pointed out that he had supported Weprin on other occasions.
"There's no question that David Weprin is a major supporter of the state of Israel and undoubtedly takes the same position I take with respect to entitlement, Medicare, Medicaid and Social Security. But if David Weprin is elected, do you think that sends a message? Do you think Obama's going to say 'Oh my god, they've repudiated me! They sent David Weprin!' No."
The endorsement was made at the Turner for Congress headquarters in Queens, with Councilmember Erich Ulrich--himself once considered a contender for the Republican nomination--and 23rd Assembly District Republican hopeful Jane Deacy in attendance.
The race will pit Turner against Democratic Party pick Assemblyman David Weprin in an election to fill the seat vacated by the resignation of former Congressman Anthony Weiner
Republican Margaret Wagner, from Broad Channel, Queens, and independent Kevin Hiltunen from Bergen Beach, Brooklyn, came out to show their support for Turner.  Warner said she was motivated to support Turner out of concern about the Health Care Reform Act and the closure of a local Rockaway Hospital.
"My plan and my husband's plan for insurance, they just gave us one less choice. So we're starting to feel the effects of Obamacare already, and that concerns me greatly for my kids and my grandkids."
Turner, a former businessman, said he would defend Medicare and Medicaid from privatization efforts.
"I will stand up for what I believe regardless of what party leaders tell me, and today that means defending Social Security, Medicare, and Medicaid against privatization and ill-conceived cuts."
Read More