Bob Hennelly

Wednesday, December 28, 2011
Even though the housing bubble burst nearly five years ago, local governments are only now beginning to feel its repercussions with significantly lower tax revenues. Many municipalities across the country have chosen to bridge this gap by cutting services, specifically in police departments. In 2011, there were fewer cops on patrol than there have been in 25 years. This precipitous drop coincided with a 13 percent increase in the number of officers killed in the line of duty.

Monday, April 04, 2011
Our population only grew by five percent over the last ten years, while the nation grew ten percent. What does that mean? It means New Jersey loses one of its thirteen members of Congress so this redistricting is going to be difficult because it means that somebody's not going to have a job anymore.
— Bob Hennelly, senior reporter for WNYC, on The Brian Lehrer Show.
Wednesday, December 15, 2010
By Azi Paybarah
Bob Hennelly emails from Albany this shot of the indicted state senator's name plate in the hallway of the capitol, which now, makes no reference to that leadership post he was promptly stripped of.
Read More
Monday, December 06, 2010
Wonder why voters seem to be coming down against big transit projects like the ARC? Over at "It's a Free Country," our colleague Bob Hennelly tallies up what local governments have spent on big projects like stadiums and shopping malls.
Much of the state and local debt can be traced to the proliferation of so-called "special district" governments like your local "economic development" or "incinerator authority."

These entities can be used to build critical transportation and water projects or to finance higher education.  But they also can provide the grease for the "private-public" partnerships  that builds sports stadiums and shopping malls for the politically connected.

In 1952, there were just 12,340 of them. By the start of the 21st century there were 35,359 of them. Eleven states each now have over one thousand such publicly-funded independent authorities.  Not surprisingly, Illinois tops the list with 3,145, followed by California with 2,830 and Texas with 2,245. Pennsylvania has 1,885 and New York has spawned 1,135.
Full story here. -- TN
Read More
Monday, September 13, 2010
By Azi Paybarah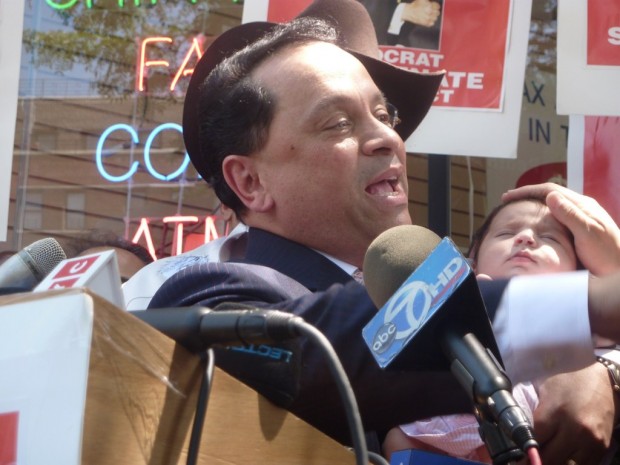 Surprising candor from embattled State Senator Pedro Espada, about the home he owns outside the district:
He does not deny he owns a home in Westchester and goes on to share some of his family's internal dynamics. "In 1991, I purchased a home in Mamaroneck," he says. "My wife was lead in that decision-making because she felt my grandchildren -- I have 10 grandchildren -- felt that they needed another educational opportunity, an outlet, and we did that and it has been a source of constructive tension in our relationship, my wanting to continue in public service and my wife wanting certain things for her grandchildren."
[via WNYC's Bob Hennelly]
Read More
Thursday, August 19, 2010
(Andrea Bernstein, Transportation Nation) Who runs transportation? In New York, it's the Port Authority, and the Metropolitan Transportation Authority, and the NY Thruway Authority, to name a few. The authorities are quasi-governmental organizations, funded by toll and transit revenue, with not much scrutiny of how they spend their money. In New York, authorities have often been run by political contributors, and have frequently given government contracts or leases to other contributors. My WNYC colleague, Bob Hennelly, has an excellent story on gubernatorial candidate Andrew Cuomo's campaign finances -- and how he takes millions of dollars from obscure business entities -- a legal, but criticized,  practice. Listen carefully for the NY Thruway connection.
Comments? Thoughts? Work for an authority and want to tell us your story?
Read More
Thursday, January 07, 2010
A bill to legalize gay marriage was defeated in New Jersey's state Senate on Thursday. The vote, 14 for and 20 against, is a blow to gay marriage advocates, who were trying to get the measure passed before Gov.-elect Chris Christie, an opponent of gay marriage, takes office on January ...
Saturday, January 17, 2009
Saturday, January 17, 2009
Thursday, January 15, 2009