Bike Share
Friday, September 10, 2010
Andrea Bernstein, Transportation Nation) I was in Montreal recently, on a family vacation. Upon arriving, I was immediately overwhelmed -- by the number of bikers. Everyone, it seemed, was riding -- families with children, young people, people in fancy suits, kids in school uniforms, hot rods in spandex. Cyclists on fancy machines with aerodynamics helmets, and hordes on the sturdy, gray-and-black Bixi bike share bikes. The two-way protected bike lanes which fill the town were full to the brim, especially around the evening commute, which is when I arrived.
Now, Montreal's outside life is a seasonal thing. The Bixi bikes are stored inside for the harsh winters, and traffic regs for bikes go out of effect November 16-March 31. But for the summers at least, Montreal seems to have achieved what many U.S. cities are after -- a division of the streets that discourages the use of personal automobiles, where cyclists are relatively safe and motorists aren't confused by looming, lawbreaking cyclists.
Read More
Friday, September 10, 2010
(Houston -- Wendy Siegle, KUHF) The City of Houston will launch a bike share program "early next year" city Sustainability Director Laura Spanjian tells KUHF. The city was awarded $423,000 by the federal EPA to reduce greenhouse gas emissions from transportation. The city will also use the grant to increase its electric car infrastructure. The full story, here.
Read More
Friday, July 30, 2010
(Minneapolis -- Madeleine Baran, Minnesota Public Radio)   Minneapolis city officials say bike lanes have made biking safer -- but cyclists say new routes are confusing, and the number of cyclists along those routes is actually down.
Minneapolis is known as one of the more bike-friendly cities in the U.S. and has the largest-scale bike-share program in the U.S.
The city's report examined data from the first six months following the changes. The report found that the number of bicycle crashes on the downtown stretch of Hennepin and First Avenues dropped from a yearly average of about 12 to zero in the past six months.
"Although a longer study is needed, the data so far shows greatly improved bicycle safety in the corridor," city officials said in a statement accompanying Tuesday's report.
Despite the improved safety record, the report found that six months after the changes, bicycle ridership on the downtown blocks of Hennepin Avenue had dropped by more than 50 percent.
Read More
Thursday, July 08, 2010
(Andrea Bernstein, Transportation Nation) UPDATED POST Charlotte is getting $24 million for a streetcar, New York City has half the funding in hand -- $18 million -- for a 34th street Bus Rapid Transit line , the only true BRT planned for New York City, (NYC DOT rendering above) and Boston's bike share gets $3 million. Those are some of the grants announced in a $300 million package unveiled by the Federal Transit Administration Thursday.
The funding comes from the federal "liveability" program. The feds say localities applied for $3 billion in funding, with $300 million available.
And it comes as localities are reeling from budget cuts. New York's MTA just cut two train lines and cut or modified 76 bus lines, and the city and state budgets aren't much rosier. So the $18 million is "huge boost" says New York City DOT Commissioner Janette Sadik-Khan. It will comprise half of New York's funding for the 34th street project, with the rest coming from the MTA, the city, and another funding stream.
The 34th Street busway, is envisioned as what Sadik-Khan has called "the first real Bus Rapid Transit corridor" in New York -- it will be the only place in the city where bus lanes will be fully physically segregated, end-to-end, blocking the usual NYC practice of just driving, walking, or biking, wherever you want, whenever.
Read More
Thursday, June 10, 2010
(Minneapolis, MN - Dan Olson, MPR News) - As of today, residents of the Twin Cities can zip around on two wheels with one of the nation's largest bike share programs.  Seven hundred "Nice Ride" bikes are available for rent at 65 locations.
Nice Ride Minnesota Executive director Bill Dossett says downtown Minneapolis office workers are among his many potential customers.  Dossett said many workers arrive downtown by transit. Instead of going to a nearby meeting by bus or train they can rent a bike for $5 or for a yearly subscription of $60.
"Another group that we've seen in other cities that really use bike share are students. So, you've got all those students at the University [of Minnesota], at Augsburg and other colleges around downtown," Dossett said. "You've got a lot of them use public transportation and having the bike as additional tool they can use with the bus is really a great asset to them.  More.
Read More
Wednesday, June 09, 2010
(Andrea Bernstein Transportation Nation) Boston's bike share was supposed to start this summer, but it's been pushed off at least until April, 2010. Nicole Freedman, Director of Bicycle Programs for the Boston Redevelopment Authority, explains "we felt like we need more time to ensure we could get the operations correct." Each city's structure for bike share is different. Montreal has contracted out operations to Bixi, Washington's DDOT has hired Alta Bike Share to run the system, and Denver and Minneapolis have non-profits setting up theirs.
But Boston is still working out the details of how its system will be run. Freedman says Boston might have been ready by early fall, but setting up a system so close to Boston's notorious winters didn't seem wise.
The news comes on the heels of announcement by New York that a major expansion of protected bike lanes, seen as a prerequisite for bike share, was being postponed.
But cheer up bike share enthusiasts. As MPR reports, Minnesota's bike share starts tomorrow. And DC's now has a name.
Read More
Tuesday, June 08, 2010
"Capital Bikeshare" it is, rolling toward 100 stations in Washington and 14 in Arlington.  DC's DOT reports that the name beat out George, GoBike, Capital Bixi and ShareCycle.  DC's SmartBike was the first big city bike share pilot, launching with a small number of bikes in 2008.  Capital Bikeshare promises more than 1,000 bikes and hopes to big biggest in the nation.  Launch date still a murky "later this year."
Read More
Friday, May 21, 2010
(Andrea Bernstein, Transportation Nation) -- "Bixi roulera de Washington a Washington" announces the website of the Montreal-based BIXI bike sharing company today.
Here's a partial (and somewhat loose) translation from the French: "The capital of the United States, Washington, District of Columbia, its neighbor, the city of Arlington, Virginia, as well as the campus of Washington State University, situated on the west coast, in the state of Washington, are adopting bike share systems like the one that made its debut in Montreal just a year ago. Starting this fall, 1,100 new BIXI's will be available in one of 114 stations that will be installed in the heart of the Washington/Arlington area, and 30 will be available to students on the campus of Washington State University."
Read More
Friday, May 14, 2010
That's right: go to Billings, Montana and the bikes, helmets and locks are free to pedal around downtown during the day.  It's a project run not by B-Cycle, or another company launching big city bike shares in the U.S., but the Downtown Billings Alliance.  Joe Stout of the Alliance says they hope locals will "think bike" for the short trips that people would usually do in their car at lunchtime.  "You don't have to be Lance Armstrong to ride your bike to the grocery store and get a backpack full of groceries," he says.  Hear more from Yellowstone Public Radio's Jackie Yamanaka.
Read More
Monday, August 03, 2009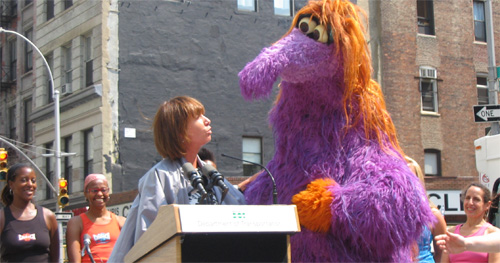 Park Avenue is filled with traffic today, but the scene will be much different on Saturday morning. The city's Summer Streets ...