Benjamin Lawsky

Monday, January 27, 2014
By Ilya Marritz
Arrests on money laundering charges come just as New York State begins two days of hearings, aimed at bringing transparency to bitcoin transactions.

Wednesday, March 06, 2013
New York Governor Andrew Cuomo announced Wednesday that the state Department of Financial Services will launch a review to determine whether large, well-known banks are reneging on a promise to provide homeowners affected by Sandy mortgage relief. The state's move comes after WNYC reported on Staten Island Sandy victims facing threats of foreclosure.

Thursday, February 21, 2013
By Janet Babin : Economic Development Reporter, WNYC News
Thousands of Sandy victims have complained since soon after the storm struck that their insurance companies were failing to help them in a timely manner.  Now, New York State's Department of Financial Services has vindicated those complaints – at least somewhat.

Tuesday, February 12, 2013
By Daniel P. Tucker : Associate Producer, WNYC News
Thousands of Sandy Victims in New York have been forced to put off repairs to their damaged homes as they wait weeks for insurance checks, according to an investigation by the state's Department of Financial Services.

Tuesday, November 06, 2012
By Ilya Marritz
With another storm on the way, New York State is changing the procedures on home insurance claims following Sandy.

Monday, December 05, 2011
By Ilya Marritz
Insurance companies have paid out more than $52 million in delayed death benefits, in response to an investigation of their practices by New York's Department of Financial Services.
Thursday, September 01, 2011
By Karen DeWitt, WXXI Capitol Bureau Chief
State Insurance superintendent Benjamin Lawsky says is office has had reports that some New Yorkers flooded during Irene are being told by their insurance companies that their flood insurance does not cover damages. He says that is absolutely incorrect.
"If you have flood insurance it applies regardless of the cause of the flooding," said Lawsky. "This is what insurance is all about. You pay these premiums year in and year out for when a disaster like this happens."
Lawsky won't speculate on whether the insurance adjusters are committing fraud or simply misinformed, but he says he intends to use every power of his office to go after companies found to be deliberately misleading policy holders.
The Superintendent says New Yorkers who feel they have been wrongly denied flood insurance payments should call the Insurance Department's disaster hotline at 1-800-339-1759.
Read More
Tuesday, January 18, 2011
By Azi Paybarah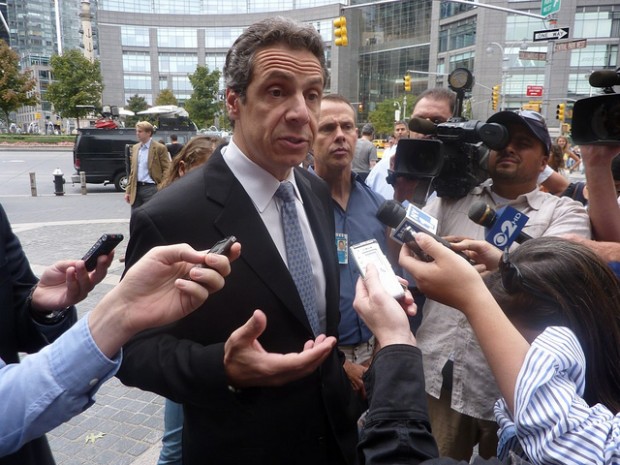 Last month, after his landslide victory in the governor's race, Andrew Cuomo's campaign
gave
tens of thousands of dollars to top campaign operatives.
On December 8, the following checks were cut:
$90,000 to Joe Percoco.
$80,000 to Drew Zambelli.
$50,000 Benjamin Lawsky.
All three now work for the administration.
Percoco is now an "executive deputy secretary." Zambelli is now "counselor to the governor." And Lawsky is now the Chief of Staff.
A Cuomo campaign spokeswoman said the payouts were bonuses.
Read More