Anna Sale

Monday, February 09, 2015
What should you cook for breakfast the morning after? How can couples share power in the kitchen? We talk food and relationships with Dan Savage and Death, Sex and Money's Anna Sale.

Tuesday, December 16, 2014
New York Public Library staffers send in their highly qualified suggestions for our death-sex-money reading list. 
Monday, May 05, 2014
Admit you're scared. Don't make excuses. Be interesting. The Grammy-winning songwriter and singer talks candidly about a life lived with intention and the beauty of the perfect rhyme.

Thursday, July 26, 2012
Anna Sale, politics reporter for It's A Free Country, continues her swing state road trip with a stop in Ohio. It's the state you have to win if you want to become President. 

Friday, July 20, 2012
Remember the huge groundswell for Ron Paul in Iowa? Well, those voters are still out there, and they're up for grabs. A recent poll has Obama leading, but by less than he was a few months ago.

Thursday, March 29, 2012
Anna Sale, reporter for our co-producer WNYC's politics website, It's a Free Country, joins us to look back: back upon days when the President of the United States found himself up against the Supreme Court in the wake of sweeping social reforms; back upon days when the country's commander-in-chief was locked in a fight with the highest court in the land, during an election year no less, with political challengers waiting to capitalize on presidential defeat. We look back upon the days of President Franklin Roosevelt and draw parallels between President Obama and President Roosevelt's dealings with the highest court in the land.

Thursday, March 22, 2012
Former Florida Governor Jeb Bush endorsed Mitt Romney yesterday, following the former Massachusetts governor's lopsided victory in Illinois. But whereas that might have been the gold-standard endorsement a few years back, the seal of establishment approval isn't so sought after these days. Anna Sale, reporter for It's a Free Country, looked into the changing face of the Republican Party and joins us to discuss these changes and the implications on the GOP as we once knew it.

Tuesday, March 06, 2012
Voters across the country, from Alaska to Vermont, voted on Super Tuesday. Political reporter Anna Sale hosted our Super Tuesday event brought to you by It's a Free Country.

Tuesday, February 28, 2012
By Justin Krebs : IAFC Blogger
Rick Santorum's "snob" comments just don't make sense. And they won't win Waitress Moms in 2012.
Read More
Tuesday, September 20, 2011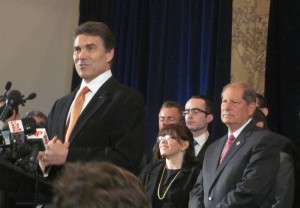 Anna Sale / WNYC
It's a Free Country's Anna Sale caught up with the newest New York congressman earlier today. Congressman Bob Turner was stumping with GOP presidential hopefully Rick Perry, who's in town doing some fundraising. Both Perry and Turner took the Obama administration to task over (what else?) Israel, as the UN gears up for the issue of Palestinian statehood:
The vote on Palestinian statehood is scheduled for Friday at the United Nations. It comes a week after Republican Bob Turner won a special election to fill Anthony Weiner's vacant seat in New York's heavily Jewish and heavily Democratic Ninth Congressional district. Rep. Turner stood with Perry, who called the new Congressman "a leading voice" on the Israeli Palestinian issue.

Rep. Turner picked up on that, explicitly warning that his victory in New York shows President Obama's position on Israel will make him vulnerable at the polls.

"The message that the voters sent is that this administration has been vacillating and at times even hostile to Israel, and it is not accepted and it is not acceptable," Bob Turner said. "And if it continues there will be a very high price to pay."
Check out the full post over at It's a Free Country.
Read More
Thursday, September 08, 2011
Anna Sale over at our WNYC sister site,It's a Free Country, posted a great piece about the news rules that require groups like unions and political action committees to disclose the money they spend on campaigns in the city. From the piece:
These disclosure rules that the public can see who's spending what, and on behalf of which candidate, in city elections, in a database like the one that already exists for candidate spending. One of the more parts of the rules is how the board distinguished between campaign activity and membership-building communications. For example, is a union mailing to members weeks before an election a campaigned expenditure that needs to be disclosed, or is it internal communication with members?
Read More