Adriano Espaillat

Thursday, June 21, 2012
While most headlines about New York's 13th Congressional district race are crowded by incumbent Charlie Rangel and State Senator Adriano Espaillat, three more candidates are reminding voters that they are on June 26 ballot.
Read More
Monday, June 18, 2012
Charlie Rangel sang the praises of President Obama's new immigration policy Monday, a week before the incumbent congressman from New York's 13th District faces four opponents in the Democratic primary.
Read More

Wednesday, June 13, 2012
Monday night turned into a game of "spot the difference" for Harlem and Bronx residents as the candidates for the 13th Congressional district primary squared off in two televised debates.
Read More
Friday, June 08, 2012
A day after accusing state senator Adriano Espaillat of ignoring its endorsement meeting announcement, the Espaillat campaign is saying they never got it.
Read More

Thursday, June 07, 2012
Read More

Tuesday, June 05, 2012
While Congress Charles Rangel was leaving city hall—sans walker—after receiving the endorsement form Comptroller John Liu, one of his opponents in the primary battle in the new 13th Congressional district, state Senator Adriano Espaillat, was in the uptown offices of Transport Workers Union Local 100, receiving his own endorsement.
Read More

Friday, June 01, 2012
The day after calling on MTA CEO Joseph Lhota to take action against a supervisor who allegedly licked a female employment, State Senator and 13th Congressional district candidate Adriano Espaillat stood with members of the transit workers union to call for stronger safeguards against harassment in the workplace.
Read More

Friday, April 20, 2012
State Senator Adriano Espaillat picks up another endorsement this week, after fashion designer Oscar de la Renta and State Senator Gustavo Rivera lent their support. The Espaillat campaign announced the endorsement of the the New York City Correction Officers' Benevolent Association in an email to reporters.
Read More

Tuesday, April 10, 2012
State Sen. Adriano Espaillat's decision to challenge Rep. Charlie Rangel most certainly came down to the rise of a singular culture in the district, which is now 55 percent Hispanic.
Read More

Friday, August 12, 2011
The city is set to host the 30th annual National Dominican Day Parade along Sixth Avenue on Sunday.

Tuesday, December 07, 2010
One crucial point has been lost in the hoopla of the Republicans recapturing the title of 'Ringmasters of the Circus' by a 32-30 majority. It is that for the first time in New York State history, there will be six Latino senators serving within the 62-member legislative body.
The number six by itself is actually insignificant. However, if these six Democrats – four Puerto Ricans and two Dominicans – unite on any one issue, they could collectively become a royal pain for the embarrassed and scrambling Democrats.
Gerson Borrero is a columnist for El Diario La Prensa and blogs at borreroreport.com.

Read More
Monday, August 16, 2010
By Azi Paybarah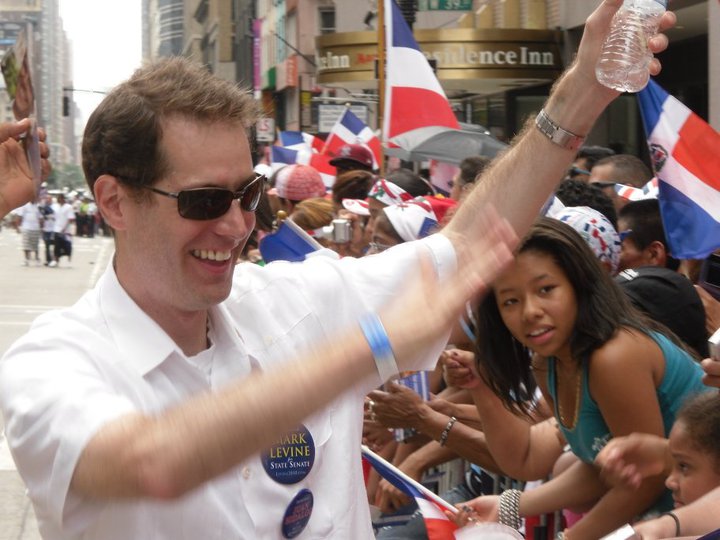 Mark Levine's FaceBook page
Here's a brief detour into one of the local races: a State Senate seat has opened up, and a chance to join the much  talked about upper chamber of the state legislature is drawing fierce competition from, among others, one of the institutional players in Albany.
Eric Schneiderman is vacating the seat in order to run for attorney general. The district goes from the liberal bastion of the Upper West Side, through Dominican-dominated areas like Inwood and Washington Heights, and extends all the way to parts of Riverdale in the Bronx.
Adriano Espaillat, is the front-runner, since he's an Assemblyman already representing part of the district. He was elected in 1996, but, in this anti-incumbent tide, having a 14-year record in Albany may not be as strong an asset as usual.
Espaillat has also hired consultants The Mirram Group (institutional players, run by the former head of the Bronx Democratic County Organization) and BerlinRosen (the powerful and well-connected, uber-progressive folks who help keep Sheldon Silver popular, and labor groups happy).
Either way, he has an impressive $104,700.96 on hand, according to the latest finance numbers released late last week.
But Espaillat doesn't have the most money in the field.
That title goes to Mark Levine, an educator, Democratic district leader and a guy who speaks English, Spanish and a few other languages.
Among the people that helped Levine raise $146,529.51are Wall Street veteran John C. Whitehead, mega donors Nina and Fritz Loewenstein and actor Ed Norton.
Also running is Anna Lewis, who's latest filing shows she has just $911.09 on hand. She ran for City Council years ago, worked for the Assembly for a few years and is casting herself as the wonky, not-too-political candidate in the race.
And lastly is Miosotis Munoz, who managed to raise $6,2400 for the race, but ended the latest filing period with $339.87 in debt.
So, practically speaking, it's mostly a two-person race (Espaillat and Levine)  with Lewis and Munoz, sucking-up some oxygen each of them: Munoz could siphon away some Spanish votes from Espaillat, while Lewis, the only woman in the race, could, theoretically, draw votes away from Levine.
Read More
Wednesday, August 11, 2010
By Azi Paybarah : author of The Empire blog
Anna Lewis is out with a statement explaining how she'd fix the state's budget if she were elected to the state senate -- she'd adjust the taxes levied against co-ops with cheaper taxes levied against condos. There's the obligatory call to reinstate the commuter tax -- which hardly seems like it'll garner support outside the five boroughs.
Lewis said the State Senate needs a more active investigate body to audit the legislature and public programs. Lewis, it should be noted, once worked as the lead attorney to the Assembly's Oversight, Analysis and Investigation Committee.
"The problem that exists in the Senate is that while it has an investigative committee, it isn't active enough in oversight, and must be strengthened," Lewis said. "It is essential that we more acutely scrutinize how the Senate spends our money, and I have the will to do so."
Lewis is one of six five Democrats running for the State Senate seat in Northern Manhattan being vacated by Eric Schneiderman, who is running for attorney general.
Other candidates include Adriano Espaillat, the local Assemblyman whom Schneiderman has endorsed; Mark Levine, a district leader, teacher and founder of the Barack Obama Democratic Club of Upper Manhattan.
Read More