2012 Primary
Tuesday, December 20, 2011
State officials made their final pitches to the Federal judge in charge of deciding when the state's primary date could be next year. Judge Gary Sharpe has said he'll make a decision by next week.
The arguments weren't new from those proposing that the state return its primary election to the pre-1974 June date. Attorney General Eric Schniederman's office put a cover letter on arguments from Democratic Assembly Speaker Sheldon Silver and the state's bipartisan Election Commissioners Association that June was superior to the August date favored by Senate (and other) Republicans.
The AG's office stated that it wasn't specifically arguing for a June date, but the direction of its statements make it clear they are clearly on the side of the June proponents:
Read More
Friday, December 16, 2011
It is a matter of fact: next year, New Yorkers will be going to the primary voting booth earlier than the September date than they've become accustomed to.
It is a matter of not if, but, specifically, when.
The man in whose hands our state's primary date rests is Federal Judge Gary Sharpe. And from reports of the hearing he held last week, it doesn't sound like he's too excited with the task. Had New York State complied with a federal law that was meant to ensure military service members overseas were given enough time to vote, we wouldn't be in this situation.
But we are, and Judge Share is currently collecting the final argumentsbefore making a ruling by December 27. In a number of documents provided to Judge Sharpe, stakeholders made their cases for the two different dates being pushed by Republicans and Democrats—an August primary or a June primary, respectively.
Read More
Tuesday, November 29, 2011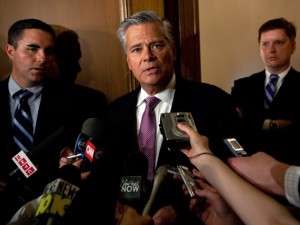 Republican Presidential hopeful Mitt Romney is solidifying his base of support in a major way today. Dean Skelos, the Republican Majority Leader of the State Senate and the highest-ranking member of his party in the state, announced he's endorsed Romney's campaign today, citing the former Massachusetts Governor's 800-plus vetoes and the "conservative principles" Romney brought to state government.
"Of all of the candidates running for President, [Mitt Romney] is the one most uniquely qualified for this moment," the State Senator said in a statement. "Mitt Romney's policies will translate into more private sector jobs and more opportunities in New York and across the country, and I am proud to endorse him for President."
Skelos is the latest New York Republican politician to throw his support behind the Romney campaign. Yesterday Queens Councilman Eric Ulrich was appointed to run Romney's campaignin New York City.
Read More
Thursday, November 17, 2011
Yesterday the Department of Defense denied the state's request for a waiver from the Military and Overseas Voter Empowerment Act. The Act says that oversees voters must have enough time to vote in the primary elections in their states, which has meant New York's September primary is too close to the actual Election Day to satisfy the 45-day requirement for ballots to be sent out.
This new development will certainly be discussed at tomorrow's LATFOR meeting in Albany. A Federal judge will now likely rule early next month on when, exactly, the new primary date should be to comply with the military voting act. Republicans are arguing for August. Democrats want to see the primary in June.
As I've written earlier, the dates matter:
f the judge picks an earlier date, it makes things very difficult for Republicans. A June primary means districts need to be in place by the end of February. This means the lines will have to be introduced and voted on sooner rather than later.

...

Republicans hope for an August date, the thinking goes, because it means they'll have more time to push the redistricting vote into budget negotiations. If they can do that, they might be able to use redistricting as leverage and force the Governor to abandon his veto threat in favor of a smooth budget process.
This is just one issue facing the committee tomorrow. The other big issue is prisoner reapportionment. There are rumors the Senate Republicans are going to say they can't completely agree with their Democratic counterparts in the Assembly on how to count prisoners. This wouldn't be surprising. It will buy the Republicans more time, as they want the judge in their case to overturn the law to make a decision before they commit to a process.
That being said, don't let the actions of LATFOR fool you. They're going through the motions. On both sides, maps have been drawn. It's just a matter of timing--when, and which maps to reveal.
Read More
Friday, November 04, 2011
This week marked the end of the first round of meetings of LATFOR, the joint legislative committee responsible for drawing New York's political lines. More than 400 people from across the state testified, providing hundreds of hours of comments for legislators to take into account.
So now what?
Read More
Thursday, October 13, 2011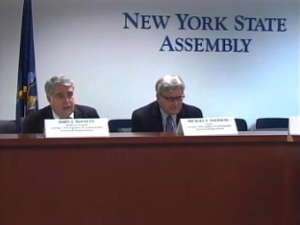 I caught up with Senator Michael Nozzolio yesterday, after I hadpublished my piece on LATFOR's progress with prisoner reallocation. Nozzolio is, of course, the co-chair of the committee, and the Senate Republican Majority's representative. In the piece I wrote about the Democratically-controlled Assembly's work to follow the current law that would count predominately upstate prisoners back in the predominately downstate communities for the purposes of redistricting.
Senator Nozzolio sent a letter to LATFOR at the end of last month instructing it to "immediately begin geocoding" the prisoner data. This, understandable, struck some on the Assembly side as odd, considering they'd already done the work and submitted it to LATFOR. Nozzolio made no mention of their work in his letter. He did, however, acknowledge receiving it when asked yesterday, saying the Assembly work deserved "great praise."
"They did a terrific job," Nozzolio said before making a clarifying statement: "They [the LATFOR staff] had a responsibility to just not accept [what the Assembly submitted] at total face value without scrutinizing the information."
Currently, the senator said, LATFOR's staff of cartographers and "census professionals" are analyzing what the Assembly staff did to see if it passes muster. So far, Nozzolio said, things were looking good.
Read More

Thursday, September 29, 2011
By Alec Hamilton : Assistant Producer, WNYC News
If the public is concerned about $2,500 going to a candidate from a particular individual, then I think they should really be concerned about, you know, millions of dollars.
— Paul Blumenthal, reporter for the Huffington Post and former senior writer for the Sunlight Foundation, on The Brian Lehrer Show.

Thursday, September 29, 2011
By Alec Hamilton : Assistant Producer, WNYC News
Well, here we go.
A year after the Citizens United v. Federal Election ruling severely relaxed any prohibitions on the use of corporate and union money in elections, the implication of that ruling for the 2012 elections is becoming evident.

Wednesday, June 08, 2011
It was hot at Ground Zero. A rally was scheduled to begin at noon, the exact moment that the sun would finish climbing over the skyscrapers and flush out the shade. Inside the Federal Building in downtown Manhattan, officials with the Regional Greenhouse Gas Inititative (RGGI, or "Reggie") were auctioning off carbon permits—the price for businesses to release CO2 into the atmosphere

Tuesday, May 31, 2011
Throughout the 2012 campaign season, It's A Free Country's political film critic Sarah Kate Kramer will be analyzing the videos released by political candidates, attack ads and other fun footage.


Wednesday, April 20, 2011
Back in 1987 he was flirting with the idea of running for president and saying, 'Of course, if I ran, I'd win.' And this is in the 1988 election, almost a quarter-century ago. Just as he's been bankrupt many times, Trump has flirted with running for president many times...If he dropped out, what would his excuse be? The boy can cry wolf only so many times.
— Kurt Andersen, host of WNYC's Studio 360 and founder and former editor-in-chief of Spy magazine, on The Brian Lehrer Show.