2012 New York State Budget
Thursday, March 15, 2012
Governor Andrew Cuomo talks about his policy program passed last night in Albany.
Read More
Friday, March 09, 2012
That's what Senate Democratic Minority Leader John Sampson asks his colleague on the other side of the aisle in a letter sent out today.
As part of the federal health reform passed two years ago--you may know it as "Obamacare"--the state's obligated under law to set up a health insurance exchange. The Assembly has already passed a bill from the Governor's office to create "market-place for the purchase and sale of qualified health plans in the State of New York."
This isn't the first time Sampson's pushed Skelos to adopt the Governor-supported health insurance exchange: "In response to my previous letter, you assert that it would be both 'fiscally irresponsible' and a 'disservice to New York taxpayers' to comply with the federal statute at this time. On the contrary, the time to act is now."
That letter Sampson refers to was sent on February 27 and spent much of the ink blasting senate Democrats over their stewardship as the majority in 2009 and 2010. Skelos also pointed to what he said were the prohibitive costs of enacting the plan, writing, "One study estimates these federal health reforms could cost New York taxpayers more tha $65 billion for the Medicaid portion alone!"
Sampson counters: "Your letter incorrectly states that setting up an exchange will drive up costs for New Yorkers. The $65 billion figure you cite comes from a report by the conservative-leaning Cato Institute, which fails to acknowledge that – because New York already offers coverage to certain expanded populations – it is due to receive enhanced reimbursements once the law is implemented."
And that's not the half of it, he goes on to say. Sure there are what he sees as the--more affordable rates, an easier to understand system, etc.--but do you really want the feds making this decision for us?
"[I]f New York does not have a health exchange up and running by January 1, 2013, the federal government will establish one for us. I cannot imagine that you would prefer that option. Simply put, time is running out for New York to have the mechanism in place to comply with the federal mandate," Sampson writes. "I am sure you agree that New Yorkers, rather than Washington, D.C. bureaucrats, should be making these decisions for our state."
Health Exchange Letter to Skelos 3 8 12 Final 1
Read More
Wednesday, February 29, 2012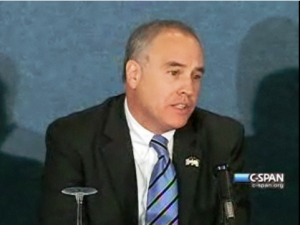 Courtesy of CSPAN
New York State Comptroller Thomas DiNapoli released a report today highlighting the shrinking profits of Wall Street. According to the report, upcoming bonuses are projected to decline by 14 percent, as brokerage profits were less than half of what they were in 2010.
In a sit-down interview with WNYC's Empire blog, the Comptroller said the good news was that the state and city had both planned for decreased revenue from the financial industry in their budgets. But more importantly, DiNapoli said, the shrinking of Wall Street profits could be a good thing.
"As we move towards more implementation of federal regulatory oversight, where the emphasis will be on transparency, accountability in compensation, tying it to long-term profitability, less leverage, higher cash reserves--all of that adjustment, which we're seeing the beginnings of in terms of impact, that's probably going to continue," he said. "If that produces an industry that is profitable, at a sustained level, we may not have the peaks we had a few years ago ever again but if the tradeoff is that we won't have the kind of valley that we had in '08 and '09 i think that's good for everyone--certainly from the point of view of planning for city and state budgets; it will make it much easier."
DiNapoli said he couldn't say for sure if the trend on Wall Street was "the new normal", but he did note that just like this month has seen an improvement in the markets—the Dow hit 13,000 for the first time since 2008 this week—last February started the year out strong.
""That's not how the rest of the year played out," he said.
From the government spending side, he said both the city and state budgets have already started responding to the possible permanence of a smaller Wall Street.
"I think we've already anticipated this trend," he said. "We just have to continue to monitor carefully where it's all headed."
Read More
Thursday, February 23, 2012
The calls for austerity and sacrifice have been woven into politicians' speeches on budgets for the past five years. The Black, Puerto Rican, Hispanic & Asian Legislative Caucus, in its "People's Budget" released today, pushes back on some of the arguments--and actions--made by those in favor of a cutting-and-gutting, budget-crisis approach.
The Caucuses' analysis notes that "New York's move to austerity budgeting in its 2010-11 budget
and even more so in 2011-12 budget appears to be having a negative impact on New York's
relative performance in terms of private sector employment."
They point to the state slipping from 4th overall in national job growth to 25th in the last year.
Additionally, the analysis argues that the state doesn't have a spending problem as much as a revenue problem. Over the past 20 years, the report says, the state has given large tax cuts, while at the same time taken on "important new spending commitments" in the form of property tax exemptions, Medicaid programs and cost growth, and new court-ordered school spending.
"By adding these important new commitments to the state budget without adding revenue to pay for them, the state was on course to face large projected budget gaps unless the revenue produced by the existing tax system were to grow fast enough to cover both the ordinary growth in the cost of existing programs and the cost of these new commitments," the report says. "Not only did revenues not grow fast enough to accomplish that feat but the meltdown of the finance sector and the subsequent Great Recession resulted in actual year to year reductions in state revenues."
While the budget analysis doesn't go so far as to suggest a different approach to closing the current budget gap of $1.1 billion, it does focus in on education as the area of greatest concern. In particular, the Campaign for Fiscal Equity, which won a court case against the state for underfunding minority school districts in 2006, has been hurt by recent budget cuts, the report found.
"[I]n 2012 there is an opportunity for restoring some of these classroom cuts. The Executive Budget will restore $805 million in school aid; however, this amount of money does not begin to put our schools back on track to restore the quality programs that our students lost in the past two years," it says, calling for the Governor to fund the state's obligation before any general funding formula gets enacted.
The People's Budget
Read More
Tuesday, February 07, 2012
New York State Comptroller Thomas DiNapoli gave Governor Andrew Cuomo's proposed executive budget a mixed review today. DiNapoli applauded the Governor and state legislature for making "progress toward aligning state spending with revenue" but criticized Cuomo for proposing changes that would give him and future governors "greater powers that would reduce long-established checks and balances".
"This year's Executive Budget proposal continues that trend and substantially reduces out-year deficits," DiNapoli said in a statement. "However, this progress should not be made at the expense of transparency, appropriate checks and balances, and the realistic and necessary safeguarding of public dollars."
DiNapoli has warned before of the threat the sluggish economy poses to the state's finances. He reiterated his concerns over tax receipts, the potential for a global economic slowdown and the potential for decreased federal funds "that could make achieving the expected level of revenue or savings challenging" in this year's budget.
He also took Cuomo to task for a number of proposals in his executive budget plan:
Allow the Executive to move spending authority from one agency to another with minimal oversight, or legislative input, and without regard to the original intent of the funding in the Enacted Budget as approved by the Legislature.
Strips the Comptroller's office of its power to review and approve contracts issued by state agencies.
Doesn't put a price tag on the implementation of a Tier VI pension plan, which would give state employees the option of enrolling in a 401(k)-type plan.
A request for comment was put into the Governor's office.
Here's a statement from Budget Director Robert Menga, in a somewhat oblique response to DiNapoli's criticism:
We can no longer abide by the Albany status quo that allows for out of control spending and contracting that wastes taxpayer dollars. To avoid cuts in services, local aid or tax increases, the Executive Budget directs State agencies to be more efficient and focuses resources on their core programs and services. The flexibility language will allow for a range of operational measures and will improve functions such as procurement, real estate, and information technology.
Read More
Tuesday, January 24, 2012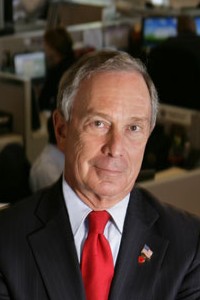 Courtesy of the mayors office
"Good morning. I want to thank our committee chairmen, Denny Farrell and John DeFrancisco; the ranking minority members of the committees holding this hearing, Assemblyman Robert Oaks and Senator Liz Krueger; and all the members of both the Assembly Ways and Means Committee and the Senate Finance Committee for this opportunity to testify today.

"Seated with me this morning are Mark Page, the City's Director of Management and Budget, and Micah Lasher, our Director of State Legislative Affairs.

"I've come to Albany this morning to express my strong support for many elements of Governor Cuomo's executive budget and reform plan for 2012 and 2013, to indicate where and how the Legislature can improve that budget and plan and to present elements of the City's own legislative agenda for this session.
Read More
Friday, January 20, 2012
Today on "The Capitol Pressroom":
Analysis of the Governor's budget address featuring AP Capitol Editor Michael Gormley & Bloomberg News' Freeman Klopott.
Prison guards are not feeling the love from taxpayers these days. Donn Rowe, the president of the union that represents them, NYSCOPBA, joins us to discuss the groups new public awareness campaign as well as how the closure of upstate prisons is effecting safety.
According to attorney Michael Kink, it's not only the millionaires who are getting away with paying less than their fair share: It's the corporations too. We speak with Kink, the Executive Director of the Strong Economy for All Coalition about specific corporate tax loopholes he would like to see address during this session, and which legislators he will be holding accountable.
Read More
Wednesday, January 18, 2012
By Karen DeWitt, New York State Public Radio Capital Bureau Chief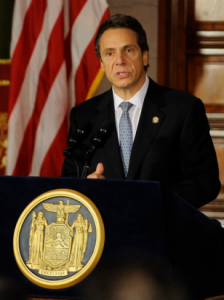 Courtesy of the Governor's office.
Governor Andrew Cuomo is for the second year in a row asking the state legislature to enact some changes that promise to shake up business as usual at the Capitol. While, the governor was successful in persuading the legislature to adopt his ideas during his first year in office, it's not yet known whether he have as much luck in the second year.
Cuomo's budget plan contains at least two major policy shifts that the governor admits "pose dramatic change" that will unsettle the "big players" in Albany: pension reform and statewide teacher evaluation systems.
In both proposals, Cuomo is taking on powerful unions of state workers and teachers, who have long been allies of the Democrats who lead the Assembly and even Republicans who in charge of the state Senate. It's an election year for all 212 members of the legislature, and unions often provide support for field campaigns in the form of volunteers to staff phone banks and to drop off campaign literature door to door.
Despite that, legislative leaders did not rule out backing Cuomo's plans.
Senate Republican Leader Dean Skelos worked cooperatively with the Democratic governor last year to enact a property tax cap. He also permitted the historic Senate vote on gay marriage, even though Skelos personally opposes same sex marriage. The Senate leader predicts that the budget will once again be on time, and that the legislature will ultimately approve Cuomo's proposal for a new pension tier with fewer benefits for future workers.
"I believe there will be a three way agreement on pension reform," said Skelos. "Which is significant."
Assembly Speaker Sheldon Silver, who made a point recently of speaking to a rally organized by a group allied with the teachers union, says he thinks Cuomo's plan to force teacher evaluation agreements makes sense.
"He's on target," said Silver. "It gives the incentive to both sides in the collective e bargaining process to come to an agreement."
Although the governor's policies, if enacted, will likely anger many established groups in Albany, lawmakers may conclude that they are taking an even greater chance if they alienate the extremely popular governor.
Read More
Wednesday, January 18, 2012
Today on "The Capitol Pressroom":
Reaction to the Governor's budget address from Majority Leader Dean Skelos.
and
Senator Liz Krueger, ranking Democrat on the Senate Finance Committee
Eric County Republican Senator Pat Gallivan has been pushing an incremental freeze to the local share of Medicaid. We'll hear his thoughts on the Governor's plan.
And how will any shifts from localities to the state be paid for? It's a concern to advocates for long-term care. We speak with Joanne Cunningham of the Home Care Association and Bill Ferris of AARP.
Read More
Tuesday, January 17, 2012
Downstate lawmakers, both state legislators and city elected officials, are reacting positively, generally, to Governor Andrew Cuomo's budget speech given today in Albany. The biggest pieces of the Governor proposed—pension, education and Medicaid reform—took center stage.
They all could have significant impacts on the city's finances and public workforce. The Governor's pension reform would affect all future new public employees, including New York City first responders, while his teacher evaluation proposal could affect the ongoing battle between the city and teachers. And with billions being spent by the city on Medicaid each year, any change in the payment process is significant for the city.
"Governor Cuomo put forward a budget that demonstrates a bold commitment to tackle some of the toughest challenges facing our great state. He has my strong support," Mayor Michael Bloomberg said in a statement. Bloomberg has been a strong support of much of what the Governor proposed for education and pensions. The Mayor also said he supported Cuomo's plan to "reduce onerous local Medicaid costs."
Council Speaker Christine Quinn signaled she, too, supports the Governor's plan:" This is the strongest state budget that New York City has seen in a long time. With this new budget, Governor Cuomo is establishing a stronger financial basis for a more vibrant and healthy New York."
Up in Albany, city lawmakers signaled both support and concern for what they heard from Cuomo.
Read More
Tuesday, January 17, 2012
Today on "The Capitol Pressroom":
Andrew Cuomo knows how to generate political capital and use it sparingly. According to state financing expert Robert Ward of the Rockefeller Institute, last year the Governor "didn't use the extraordinary language--in-appropriations powers" created by Robert Megna and used by former Governor David Paterson, "but still achieved an incredible array of successes". Today, Ward joins us with analysis of the budget process and Cuomo's expert use of it.
Larry Levy, Executive Dean at Hofstra's National Center for Suburban Studies, will be here with analysis of what the particular demographics around the state want to hear from the budget.
Pentecostal preacher & the lone standing member of the 4 Amigos, Senator Ruben Diaz is a well-known contrarian who stands firmly against the Governor's call for expanded casino gambling. He will share his budget views with us.
And we meet Tom Allon, CEO of Manhattan Media, which publishes City & State Allon was picked by the Liberal Party to run as their candidate for NYC Mayor in 2013. The Liberal Party has been dormant for a while, not running any candidates for either state or citywide office since 2005.
Read More