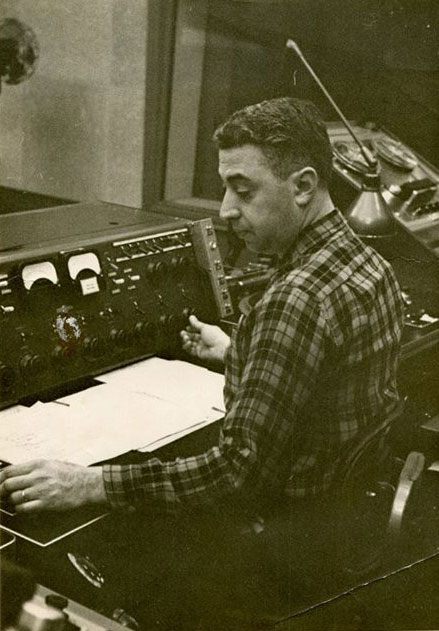 With sadness we note the passing on October 11th of former WQXR Chief Engineer Zaven "Doc" Masoomian. Doc had visited us here recently and was always available to answer questions about WQXR history. He joined WQXR in May, 1941 as a studio engineer before serving as a B-17 bomber pilot and enduring a German POW camp.* He returned to WQXR after the war and worked tirelessly through till 1986 when, after 44 years at the station, he retired as WQXR's Chief Engineer.

'Doc,' as he was usually known, was involved with many of the station's major technical milestones. These include the relocation of the FM transmitter from Long Island City to the 54th floor of the Chanin Building at Lexington and 42nd Streets in Manhattan in 1941, and the relocation of WQXR AM and FM from West 57th Street to The New York Times Building at 229 West 43rd Street in 1950. In October, 1952, Doc worked on WQXR's experiments in binaural broadcasting with the use of both AM and FM stations simultaneously in a concert broadcast to simulate stereo. The AM station broadcast the right channel and the FM station broadcast the left channel. In March, 1956, Doc was involved with the installation and implementation of WQXR-AM's new 50,000 watt transmitter, a five-fold increase in power. In 1961, Doc helped make WQXR-FM the city's first station to broadcast in stereo. Four years later, he was a critical part of the team that moved the FM signal to the Empire State Building.
Doc was made WQXR's Engineering Supervisor in February, 1960 and Chief Engineer on June 1, 1971. On February 8, 1979, the Society of Broadcast Engineers (SBE) awarded Doc a certificate of merit in recognition of his engineering services to the New York Philharmonic and "his advancement of the image of the broadcast engineer." A year later the membership of the SBE elected Doc to the SBE's national Board of Directors for a two-year term.
Radio engineers are seldom heard and almost always behind the scenes. But it is what they do that makes possible all that the producers and programmers hope to achieve. Doc was a radio engineering pioneer who helped to make WQXR stand out in the crowd for his willingness to try new things, take risks, and produce technically superior broadcasts. 
*For Doc's amazing wartime story see: Zaven "Doc" Masoomian - WWII Veteran, Prisoner of War Survivor and Purple Heart Recipient by Charles Masoomian.
Doc in a 1942 flight school photo, courtesy of Charles Masoomian.