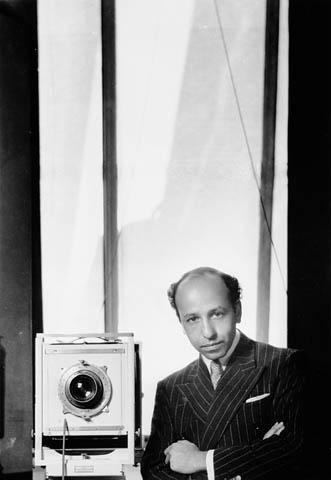 Summary
This episode is from the WNYC archives. It may contain language which is no longer politically or socially appropriate.
Yousuf Karsh, Armenian-Canadian photographer, discusses his career and recent autobiography.

Cornelia Otis Skinner, discusses her recent book "Elegant Wits and Grand Horizontals" about La Belle Epoque.

Finally, Francis Biddle speaks of his book and political career.
Audio courtesy of the NYC Municipal Archives WNYC Collection
WNYC archives id: 71186
Municipal archives id: LT9502
Transcript
This is a machine-generated transcript. Text is unformatted and may contain errors.
A sixteen year old I mean Ian boy arrived alone in a new world on the first day of a new year to begin a new life the place was kind of him here was nineteen twenty five boy with years of God behind him in the land of his birth oppression starvation violence and death before him an unknown destiny but one that he could seek in circumstances of freedom the story of that search at its achievement is told in his autobiography in such a great place beginning as an assistant in his uncle's photographic studio and chair but for back given the opportunity to serve as an apprentice to John H. Gallo Boston when he describes as one of the greatest photographers in the history of the art later setting up a studio of his own and all the last years of conscious one for himself and I'm rivaled eminence in the art of portrait photography an art in which he has used the techniques of the beast for other arts use the techniques and follow the ideals of four of us the art of the painter of the flight of the psychologist and of the historian his collected work provides a unique album of the twentieth century is portraits of greatness and faces of destiny titles of two of his books of photographs in which he is captured not on the like this is but the personalities of many of the key figures of our time men of war men of peace the one subject to appears in both categories is Winston Churchill who is in cautious view of the greatest man in a thousand years is because quotes Bennett Shaw's statement that even a genius is ninety eight percent ordinary and then he adds the task of the photographer is to bring out the remaining two percent there is a brief moment when all that is in a man's mind and soul and spirit may be deflected through his eyes his hands is attitude this is the moment to record the elusive moment of truth the recognition of that moment. It's a part of the genius of the man whom I present you now called a bottle. Up on. The door here Madam Chairman distinguished guests ladies and gentleman not going to go I photographed the competence of Saudi Arabia and after having sat through many major speeches of the different delegates in The Right Nation I demand I reminded the crown prince How was it that all delegates had made major speeches but not his royal highness and he delivered himself with this typical Oriental. Observation friend making public speeches is like the sand of the desert with the blows constantly without doing any good. So that at present I would only want to share with you some of my experiences which has been my unique creditor privilege to photograph the great and the near a great in the War of the world but first that let me comment upon how gay this room is and how delightful This gathering is the last time I was in the presence of a very distinguished gathering was the second time I had the great fortune of photographing Wiston Churchill serviced and then and I turned to the beadle of the famous Draper hall I said this must be the greatest gathering you have had said no sir no sir but the most distinguished and so I find myself among very distinguished gathering in the a little biography of my life must be subject for sight card first Very The fact is I was I witnessed the trust that is of the Turks inflicted upon the Armenians during the First World War. In spite of that I still feel that. That historian and all I mean is believe that we were born within a walk in the stillness of the Garden of Eden and ever since I have learned to dislike snakes and avoid happens. I remember how from school back and forth I was invariably running for a way for my life because I was thrown stones at one of the Muslim children and they invariably wanted taken a little bit only you may have been martyrs and so forth and I ran to my remarkable mother and bleeding I said this is what they did but next time they would not get me I'm going to hit them now she said you think they know any better otherwise they would not do it I would say however if you have to defend yourself is self preservation if you have to throw a stone next time be sure you miss so I psychiatry's might wonder what it was in this childhood of mine which caused me to pursue my profession a portrait photographer what I remembered of my childhood should be used by any psychiatrist I'm sure either to excuse or to explain my choice I had hoped that this letter will be a little lower so I don't have to but use my glasses but I now have. I was born within a day's walk of the place where some archaeologist called. The Garden of Eden but however. Complex my feelings for the life I left behind me as a fifteen year old immigrant certain lay my every thought about the new world since that time has been colored by a deep and overwhelming sense of gratitude for in the New World I first experience the sunshine of freedom one of my first important for pocket photograph was to be made of the Governor General of Canada and his lady can add up and I remembered after having photographed his Excellency I was anxious to make a separate photograph of his statuesque wife and so I said in my best I mean in English your excellence please recline in the reception room with my secretary. I am assured by my wife recently while in Rome Up till a few days ago I wrote her many letters and in one of them I was told that this was a magnificently tender letter and I concluded my letter as follows I alone. Look forward to hold you in my arms and embarrass you. So. Some people will never learn. But as the years passed many important people have come before my lens and one of your distinguished guests Mr France is one of them have proven challenging stimulating and frustrating this does not apply to survive. How many times has a head of state disappointed me at the eleventh hour because of a world crisis. How many times have I set aside some hours for a leisure list session with a famous person only to have him rushed into the room looking desperate that is why as he looks sorrowfully at the camera and many lights I have spent the previous hour setting up he says I'm terribly afraid I must leave for Timbuktu in two hours hence I am compelled to spare you only five minutes therefore you can see readily that the photographing of famous people is not necessarily a passport for longevity my personal attitude towards my subject and this is with reference to take importance of true greatness although I do not the strict by photography are only two great people is pretty complex something that is very difficult for me to explain especially as far as my feelings before the sittings are concerned I approach a great personality with a deep sense of appreciation of the accomplishments of the way the ways in which they have reached the lives of all of us my temperament my nature demand and compel me to approach all people with consideration nothing diminishes my genuine curiosity about the personality I'm about to photograph and my desire to learn more about that personality People often ask me Does a person's face really reflect his true personality this is an absorbing question I flatter myself on being able to read the characters of most persons by looking at their faces but certainly on a patients I have been very wrong indeed I sometimes have. I have had conflicting impressions of people on first meeting them and change my ideas before I photograph them later a man may exhibit an emotional image in emotional distance as I begin to converse with him but as I grow aware of the richness of his personality and character I begin to see the strength and beauty in the face in a sense a face can be a light but it a personality and I would be the first to admit this what people think what they say how they react the quality of their voices these are the things that impressed me and helped me to portray the personality the question that more often arises for me when I photograph when I'm photographing world famous figure is whether I should record the legend or the public image of the man or whether I should forget all about his accomplishments and portray him as just another ordinary person all men no matter how great are not grade twenty four hours a day and I feel that no constructive purpose would be served if I were to deliberately search for the weak link in the personality such moments are not worth of recording I meant that I am influenced by the legend that surrounds a great person is owned by the living legend that he has created so it was when I photographed Albert Schweitzer. A man of many gifts who could have been a famous and prosperous doctor or surgeon or one of the world's great musical artist but who had chosen instead a lifetime of selfless devotion to the sick my conversation with the ground up there at his home over his dinner table were doubtless calculated by me and consciously perhaps to help me interpret the predominately good in my subject however I do not accept the legend surrounding a personality in thought for the blending of the good and some other human frailties is what makes for a real human being the question has sometimes been put to me what do people think when they look at the portrait you have made it is true that I cannot always satisfy myself much less everyone who looks at my work but I would say that in the ideal situation I should like an understanding viewer to feel that he has the see the most graceful and intimate introduction possible to a great personality he has been introduced to Winston Churchill to having way to Helen Keller to public office and that once he knows the essence of these great personalities very recently it was my privilege to be in Rome during the Second Vatican Council and I thought what a field day for the photographer here were men of all races and colors gathered together to explore and really evaluate read the role of the church and how twentieth century. At about twelve thirty today with the exception of Thursday on Sunday the gates of the greats and Peter's would open and there would stream forth the most colorful procession of humanity imaginable black men dressed in purple the bearded Patti yards in gold and blue yellow. And red men in violet forgettable seen a brilliant pageantry with this solid unchanging massive structure and Peter is as a backdrop this was inspiring sight and one which led me to feel that perhaps. Universal Brotherhood was on its way to being for it but even the I have a professional photographer can sometimes be influenced by excessive exposure to color in the room I photographed a large number of Cardinal with splendid in their red drops and up on the first day of my return to my home in Ottawa Do you know what I did I went through a red light. And how I knew that there was someone behind me to gentle remind me I had broken the law so I looked innocent and then here the traffic officer with compassion he said happily surprised me said Mr Carr I would not present you with a ticket this time let it be a belated wedding gift to you. And as a welcome change of pace I photograph Italy's current symbol of sex a surprisingly wholesome young actress named cloud cardinal and as we left her home. My assistant who is an Argentinean. Look. Here is one cardinal. As a good Catholic for the rest of my life. To be associated. With should. I have illustrated books with him for the last forty years this is the this is wrong. And this. Parted with this story to my wife and myself he said he had a long discussion on a train with our. BISHOP And they discussed the sacrament and they. Reminded me said. I can do everything you can do certain that. I can. I can. Write and I can bury the child so subject but discussed but Bishop had to leave the train to the. Anglican bishop he said. There is one thing. You cannot do that. I can kiss your wife but you cannot. Pope Pius the twelfth and Pope John the twenty third to have had the supreme honor of photographing both this great man but they are both men of have been Pope John strikes me as being perhaps a little closer to Earth because of his determination to learn that first time as much as he can of the workers of the world the prisoners in jail and of all those who seem to be unkind. It was my pleasure to be in presence of His Holiness for the second time and he turned towards one of the high clergy and said to them pray he said you know the Almighty God knew seventy seven years ago I would be a pope would it not have been nice had made me more photogenic. And when he was asked solicitously how many people work in the Vatican Your Holiness he said half of them. And typical of his wisdom is something I read in the current magazine. John advises see everything overlooked a great deal correct a little People asked me Are you as a photographer fond of painting as well I can best answer this by the following story once when my plane was delayed in Paris because I'm favorable weather I took advantage of the inconvenience to spend some additional hours in the loop. The loop was very tough for me and when I entered I did not from my heavy winter coat. This car about my leg. For two or three hours. About one of the meanings of this glorious music then on myself in a small room one that works from. It is a tool of a room containing many small canvases by the great master I saw I looked I felt a little chill about the ears it was then I discovered I had to move my. I would criminal element with that delightful little observation while photographing one of the great human one of the great women of all times Helen Keller a bun I've been introduced being introduced to this lady who was born minus the scent blind deaf and dumb the emotional was altogether too great she placed her fingers on the lips and feet more or less photographed feeling her mind and I reminded her this is not the first time I meet Mr Keller for I know how to throw her writing and one of the first articles I read in the English language was how to appreciate the beauty of sunset by telling color I said now being in your presence I no longer think of you in terms of sunset but rather something to which yes or how I wish the United Nation organization take that as their slogan sunrise and forget the shadows of sunset behind. Thank you very much for listening on the honor of being with three fatty. From coast to coast along the coaxial cable. Master is introducing risk and I have established a tradition that is very challenging a very difficult follow she was the call for In Style The Broadway pleasure of his company a woman who apparently never has an idle moment and we're delighted to have the pleasure of her company. This is the door in the sting which guests ladies and gentlemen Mr. Rowan's my introduction. Because birds story with which I usually begin and I can however I would like to say in regard to Mr he came up to my apartment a few weeks ago but to