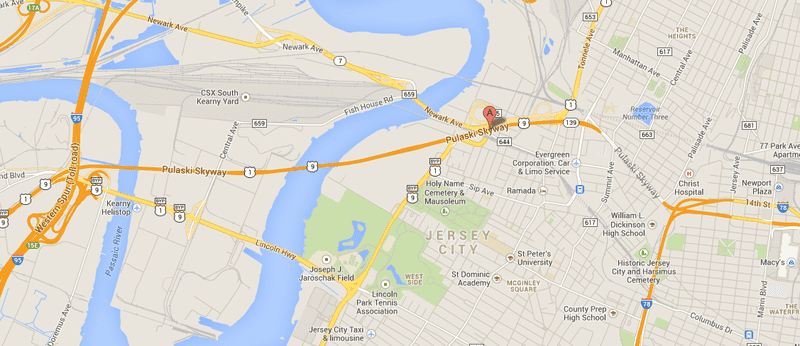 What is the Pulaski Skyway?
It's a 3.5 mile-long stretch of road (also known as Route 1&9) that runs through Newark and Jersey City and bridges the Passaic River. It serves in part as a feeder to the Holland Tunnel — a major Hudson River crossing between New York and New Jersey.
It's closing!? When? And why?
The whole thing isn't closing, but the two northbound lanes, which head toward the Holland Tunnel, are. The work will begin on Saturday, April 12. The 81-year-old bridge is "structurally deficient" and functionally obsolete — meaning it's not up to current design standards. The entire deck has to be replaced, and it will take two years and $1 billion.
I have a follow up: Why does it have to close for two whole years?
It's a lot of work. "The bridge is a D-minus," DOT commissioner Jim Simpson said this week. "We don't have the time to [do the work] on weekends and nights. You wake up one day, you've got an 'F' situation." In other words, it's a way to front-load the pain: the state estimated that doing the work on nights and weekends would have taken six years.
I use the Pulaski! What am I going to do?
Try and avoid it altogether. Here's how:
NJ Transit has increased rail capacity on its Raritan Valley, Morris & Essex, and North Jersey Coast Lines to Newark Penn Station during rush hour, and has begun operating a new bus route (the #95) between Watchung and Newark Penn Station.
The PATH train has also increased capacity in and out of Newark, adding about 6,000 extra seats each morning.
Suburban Transit, a private bus company, is operating new park-and-ride service between a parking lot near Newark Airport and two PATH stations in Jersey City. According to the DOT, "free parking is available for 650 cars, and the bus fare, subsidized by NJDOT, is just $2."
Seastreak is also operating ferry service between Atlantic Highlands, N.J., and Jersey City/Hoboken. Fare: $12 each way.
If you need to drive, the NJ Turnpike, a toll road, is serving as a detour route. The state is adding a lane during peak hours to accommodate more cars, and has set up car pool information here.
How bad is it really going to be?
"We recognize that there is going to be a tremendous amount of pain for everyone who lives and travels in this corridor," said Simpson. Having said that, we bet the first few weekdays will be the worst — and then traffic will adjust as people figure out alternatives.
Is there a website for the project?
Yes: www.pulaskiskyway.com, not to mention a Twitter account and a video about the work.
Who was Pulaski?
Casimir Pulaski (1745-1799) was a Warsaw-born military commander who went on to fight for America during the Revolutionary War. ("I came here, where freedom is being defended, to serve it, and to live or die for it," he wrote to George Washington.) He's known as "the father of the American cavalry," and there are hundreds of bridges, streets, parks, memorials, and other public places bearing his name.