The Takeaway
Characters of all Shapes, Sizes, and Colors Flock to New York Comic Con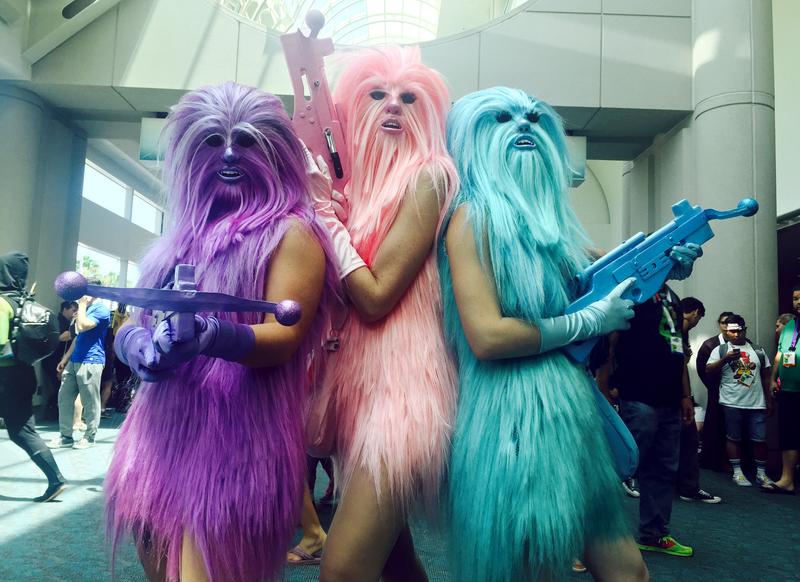 Click on the 'Listen' button above to hear the full segment.
Pop culture geeks from near and far are gathering at New York Comic Con this weekend. While it's not as big as sister show San Diego Comic Con, the event is still jam-packed with panels and tributes to characters from comic books, anime, movies, and TV shows ranging from Superman to The Walking Dead.
Takeaway Culture Reporter Melissa Locker was on the scene during the first day, chatting with uberfans paying homage to their favorite characters, like The Corpse Bride and The Flash. She joins The Takeaway to recommend panels to checkout and explore the evolution of this mega event, which has changed in recent years.
Takeaway Producer Isabel Angell has witnessed these changes firsthand. She was also in attendance at New York Comic Con, where she talked to people about cosplay. Cosplay is signature part of convention culture where die-hard fans try to become their favorite characters, often spending hours creating elaborate costumes. But even in the world of geeks, acceptance has come late to some groups — particularly people of color.
But there's a strong, unified group working against these biases, and they say it's getting better. This solidarity is especially important when people question whether Superman should only be played by white people, or that only skinny women should emulate Wonder Woman.
While at Comic Con, Angell caught up with Hilton George, a black cosplayer and self-described "blerd" (shorthand for black nerd) from Washington, D.C. He was dressed as the antihero Deadpool, a Special Forces Operative turned mercenary with accelerated healing powers and a thirst for revenge. She asked him about his experience with cosplaying as traditionally white characters.
"Sometimes people want to draw these artificial lines and say, 'Oh, because you're black, you cannot play someone who is overtly or openly white.' For Deadpool, I kinda get a pass because you can't really see my race, so it doesn't really play into this particular one," he says. "But if I wanted to be Superman or Aquaman, or play a character that is known to be a non-black character, there are some in the community who feel that you have to be so accurate, and it's somehow doing a disservice to the character if you're playing someone who you either look look like, are shaped like, or sized like."
Standing next to Hilton was friend and fellow cosplayer Viva "Tina" Valentina from Virginia Beach, Virginia. Dressed as Psylocke, a superhero from X-Men, she says that racism and sexism should not be tolerated at Comic Con.
"Nowadays, the community has come together to speak out against those micro-aggressions and those phrases that really alienate other people in cosplay," she says. "That's just been really encouraging to see that we're not OK with racism or sexism in the cosplay community ... The number one rule about cosplay is you can cosplay whatever you want, regardless of age, race, body type, physical capability." 
This is especially important for Valentina, who is half white and half Filipino. She says cosplay helped her find friends and self- acceptance.
"Growing up, I kind of had that mixed kid displacement, not really knowing where I belong," she says. "Cosplay allowed me to build my own wolf pack."    
George is also hoping to use BlerDCon, a new D.C.-based convention he's organizing scheduled to take place in summer 2017, to highlight diversity within the cosplaying community.
"I have kind of a corporate job," he says," and there's not a whole lot of people in my world, in my regular community, who really understand my 'geekdom,'" he says. "So this gives me a great outlet without my parents calling the paddy wagon on me or my neighbors calling the cops when I'm out playing around with my costumes and stuff."
Check out some photos from New York Comic Con below, and click on the 'Listen' button above to hear our full dispatch from the event.