Yemeni Businesses Shut Their Doors in Protest of Trump Policies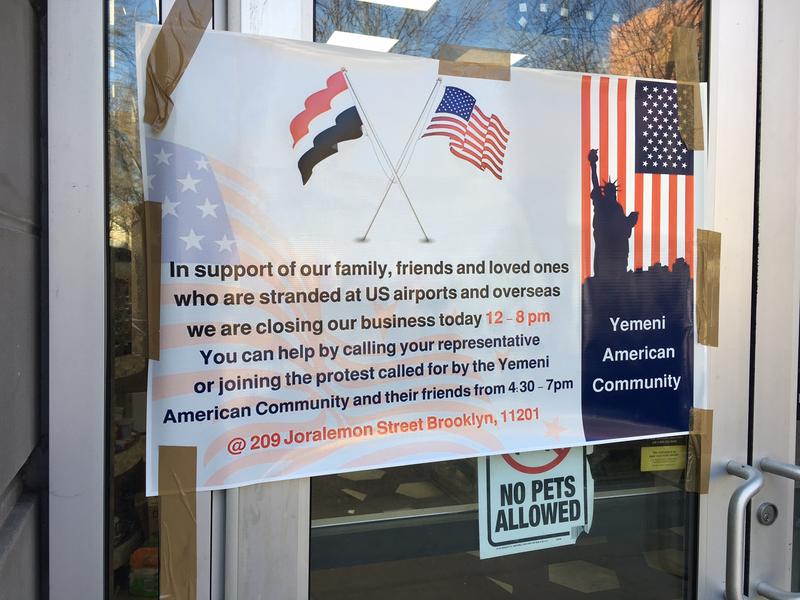 Sulaiman Al-Audi, who works as a cashier at Best and Tasty Grocery on 143rd Street in the Bronx, was born in Yemen but has been in the U.S. since 2002. But now, he said, he feels unwelcome here.
"We've been here over a decade, and we've never posed a threat to anybody," he said. "We're just here to make a living."
Al-Audi has already begun the application process to bring his wife and baby in Yemen to the U.S., but now he doesn't know what happens next.
Best and Tasty Grocery is just one of hundreds of Yemeni businesses shutting their doors for eight hours on Thursday in protest of President Donald Trump's ban on travel from seven majority Muslim countries. 
As the shop finished preparing its last orders of salads and sandwiches just before closing time at noon, customers expressed their support. Outside, some regulars were confused about the closure, and stood reading a sign placed in the window:
"In support of our family, friends and loved ones who are stranded at U.S. airports and overseas, we are closing our business today."
Alina Barbar, a regular customer who works at a nearby hospital, said she understands the strike. "I think that it's brave of them to take a stand, and I think they have every right to do it," she said.
Instead of working in their shops, owners and employees mobilized for a rally in front of Brooklyn Borough Hall. The afternoon included a public prayer at sunset; hundreds lined up across the plaza. 
Melissa Roldan, a Muslim who grew up around many Yemenis, was at the protest. She grew up in the United States, but says she doesn't recognize it as the country she thought she knew. 
"I don't know whether these are its true colors, but the things I'm seeing are completely un-American, inhumane, and very upsetting," she said. "I'm furious, to say the least."