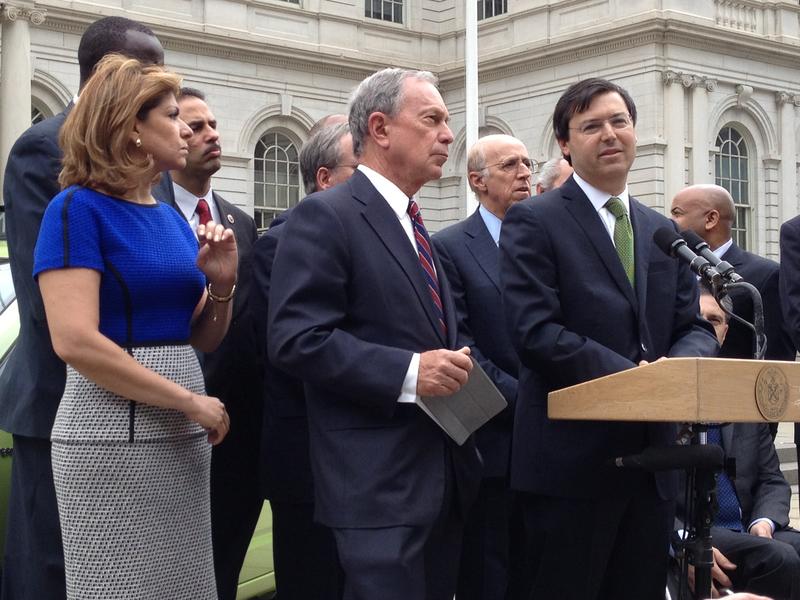 The Chair of the New York Taxi and Limousine gets it. He's out. So in an email to staff he's pretty direct: we "want to work like the dickens to finish as much of our projects as we can in the remaining 100 days."
David Yassky has pushed through a lot of changes in his tenure including: 5-boro street hails, Taxi TV, Taxi of Tomorrow. Not everyone in a notoriously contentious industry -- where yellow cab owners have hundreds of millions of dollars in assets -- has been pleased. And both of the mayoral candidates have made it clear: they will not re-appoint him.
Yassky isn't playing coy.
Here's an email he sent to staff last month -- forwarded to us by someone not entirely pleased with the Yassky/Bloomberg cab legacy.  "Transitions are often a little chaotic," Yassky told Transportation Nation in a phone call.  "I want to make sure everyone at the TLC working full steam ahead up to and throughout the transition."
By the way, Yassky and Bill de Blasio served on the City Council together, and represented adjacent districts.  
Colleagues --

You may have heard (or read in the newspaper) that yesterday both Mayoral candidates said they would want to appoint a new Commissioner for the TLC.  While TLC Commissioners serve for fixed terms (unlike most City Commissioners), I believe the next Mayor is entitled to have his own person head the agency, and I will of course follow his wishes.  So the TLC (as you've probably been expecting anyway) will have a new Commissioner sometime early next year.

I want to assure you that the transition, when it comes, will be smooth.  Thanks to all of this hard work, and all this success, the TLC is held in higher regard today than at possibly any point since the agency began.  The next Commissioner will find, as I did, a capable and dedicated staff, with a deep commitment to the agency's mission.  He or she will assume command of an agency with a long string of recent accomplishments: the historic borough taxi initiative; a huge build-up in our enforcement capacity; creating a self-service opportunity for licensees online; a big drop in wait time at the LIC Licensing counter; a complete overhaul of our passenger complaint process; for the first time ever, a good process for getting taxi to wheelchair users; a fare increase that brought drivers to a living wage; continued, efficient operation at the Woodside garage; creation of a disability insurance program for taxi drivers; the development and deployment of handhelds; and much, much more.  (Oh, I almost forgot: the first ever custom-built taxicab -- safer, more spacious and comfortable, and with more amenities than any cab that we've ever had.)

To be sure, even these successful ventures  yield many question: how do we handle the continued phase-in of boro taxis?  How do we make further progress on wheelchair accessibility?  How to strengthen enforcement both to keep the boro taxis out of forbidden neighborhoods and to prevent unlicensed operation in the boros?  How do we manage our new license classes and keep giving customers more opportunity to interact with us online?  Do we continue to increase support for taxi-hailing apps?

In addition to all these questions, and many more, the new Commissioner will surely bring his or her own agenda - his or her own perception of the set of problems to be tackled.

What all this means is two things:  First, we want to work like the dickens to finish as much of our projects as we can in the remaining 100 days, and to put the agency in excellent shape for transition.  Second, as much as we have worked to push forward our agenda over the past few years, you should get ready to work even harder when the next administration arrives, with all of its new priorities.  I have no doubt that the next Commissioner will build on our work and take the TLC to even greater heights -- and I am so confident of that, because I know the quality of the professional team that he or she will be joining.

I hope everyone had a terrific -- and productive! -- week.

David

Sent from my iPad