Soundcheck
Wye Oak: A Bold Reinvention, Sans Guitar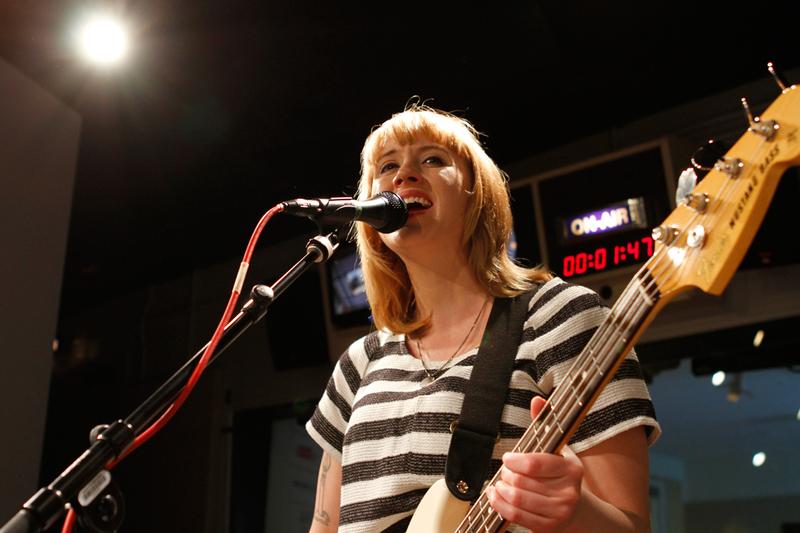 Last fall, Wye Oak revealed that their new record had no guitar -- leaving many of us guessing what the Baltimore duo might sound like without one of its most important core elements. The delight in Wye Oak's music has always been the interplay between Jenn Wasner's blustery voice, her glorious cyclone of guitar riffs and screaming feedback, and skillful multi-tasker Andy Stack, who plays drums and keyboards -- and on stage, simultaneously. But after relentless touring behind 2011's Civilian, it's understandable they'd feel creatively restless and need to blow it all up to start anew.
Now with its transportive fourth full-length album, Shriek, Wye Oak flips the formula: Wasner sets aside her signature axe to hold down the bottom on bass, and Stack takes over the melodic and harmonic duties, triggering layers of synths and electronics that skitter around the periphery. At the heart, as always, is Wasner's powerful, haunted vocals. But this is essentially a new band with the same members.
Throughout the record, there's an undeniably funky thread that connects strains of early '90s R&B ballads ("I Know The Law"), synth pop ("Shriek"), and laptop electronics ("School Of Eyes") -- while moodier tracks like "The Tower" or "Glory" are more introverted, off-kilter, and syncopated. It's clear that Wasner and Stack are rejuvenated by this new material, and have rekindled the joy in playing together again. Equally lavish and minimal, Shriek presents the kind of stunning, bold reinvention that makes getting lost in Wye Oak's charms all the more enticing.
For more photos, visit Soundcheck's Tumblr page.
Set List:
"Before"
"The Tower"
"Logic Of Color"