Soundcheck
Before Banksy, Graffiti Was A 'Write Of Passage' In New York City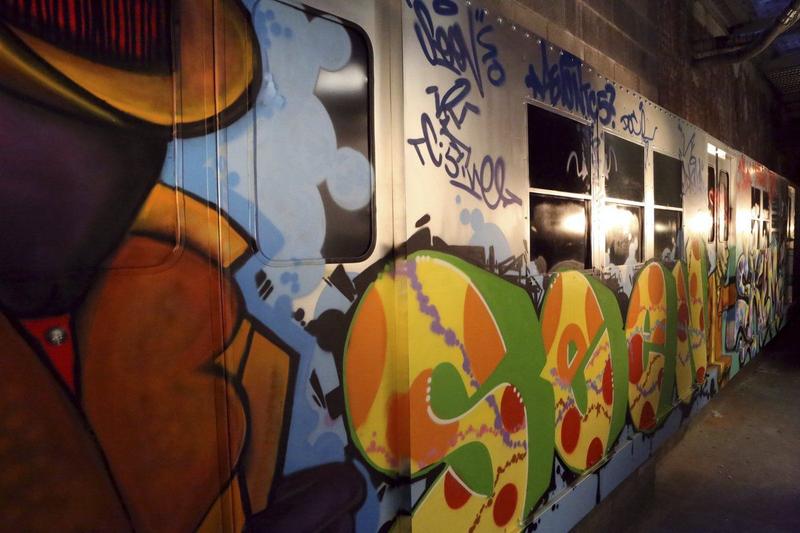 British street artist Banksy has spent the month of October here in New York City, leaving his literal mark all over the city in the form of much-ballyhooed public art projects. Banksy may be the most recognizable name in the form currently, but the idea of graffiti as art has existed here in New York long before he arrived on the scene. It's the subject of a new exhibit that recently opened at Red Bull Studios, called Write Of Passage. The exhibit focuses on "writing" — the aspect of graffiti which stresses the importance of letters, rather than pictures.
Exhibit curator Sacha Jenkins and legendary street artist David "Chino" Villorente discuss Write of Passage. 
Sacha Jenkins, on the difference between writing and street art:
People in the writing subculture get upset because writing is about letters. You can have a character or some rainbows and umbrellas if you want to incorporate it in your overall presentation. But the overall focus is on letters. Folks in the graffiti community or the writing community — that's what separates them from Banksy.
Jenkins, on how graffiti got lumped in with hip hop culture:
The attitude [and] idea of, "This is who I am, I'm here, I'm saying things, recognize me" — that's what rappers do. I think the energy of what writing is and graffiti is predates hip hop…. Break dancing and graffiti and DJing were all happening independently before [1980], but the common thread was youth and energy and the climate in New York City that created this youthful reaction to what was going on [at the time].
David "Chino" Villorente, on the influence of rock on graffiti:
Most of my friends break danced at school, or were b-boys rather. Some of the guys I went to school with were MCs…. But talking to some of the pioneers of the culture, they were listening to Led Zeppelin and Jimi Hendrix and Black Sabbath and all sorts of other things while they were painting trains. I understand how it's lumped in with hip hop, but I also understand that it has its roots outside of hip hop.