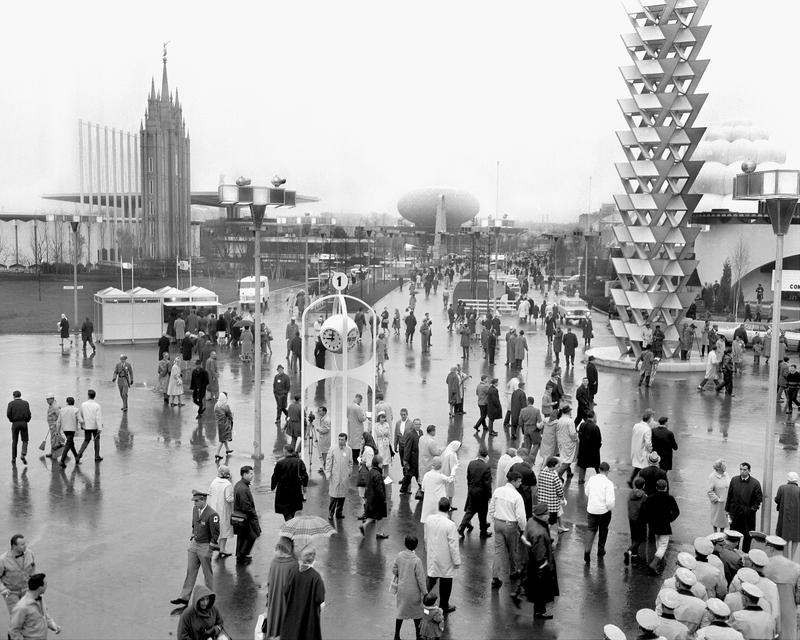 Summary
This episode is from the WNYC archives. It may contain language which is no longer politically or socially appropriate.
Introductory speaker explains how the New York World's Fair came to be. (4:00 - 6:00) Host Thomas J. Deegan Jr. (Chairman of the World's Fair corporation's executive committee) introduces Moses.

Moses references the absence of Kennedy, welcomes the audience, encourages the promotion of peace.

Truman speaks about the United Nations building, which he wanted to be built in Missouri.

Wagner talks more about the idea for the fair.

Johnson talks about foreign relations and the Cold War, the impact of this fair on the reputation of the US: "this fair shows us what man at his most creative and constructive is capable of doing."
Audio courtesy of the NYC Municipal Archives WNYC Collection
WNYC archives id: 70311
Municipal archives id: T283
Transcript
This is a machine-generated transcript. Text is unformatted and may contain errors.
Distinguished guests friends of the fair Mr and Mrs America and peace loving people throughout the world Good morning and welcome to the fair by now the story has been told many times but it is worth repeating on this historic occasion that it was five years ago in the spring of one nine hundred fifty nine that a handful of men with an idea and an abundance of enthusiasm matched with unrelenting persistence put forth the magic legend a New York World's Fair in one thing sixty four and nineteen sixty five today the eyes of the world are focused on this audience as that dream becomes a reality those two sentences represent perhaps one of the great oversimplifications of all time for into those five years there have been compress. And on dying creative spirit political sagacity. Diplomatic guile administrative genius architectural wizardry financial skilled and construction mastery and as an associate of mine present here on the platform today like to say a lot of skill and a lot of shovel but this is the nature of ideas and there fulfillment and the history of the world is crammed full of such stories of driving energy imagination frustration and finally gratification guided by faith and matchless fortitude our hardy little band of initiated and lifted the interest in what has proved to be the unflagging support. Mayor Robert F. Wagner. And so it was in August nineteenth fifty nine that he stepped forward and proclaimed to all that there would be a New York World's Fair. Five years hence and that meant today April twenty second nineteen sixty four New York's governor heartily concurred and the White House through two administrations and three presidents blessed the effort they demonstrated absolute faith but what is faith without good works for the past five years the two have gone hand in hand and the evidence of such good works is shouting loudly around in about us for all the world to see here today we confidently expect that that world here at Flushing Meadow pock will be not less than seventy million persons and more likely a hundred million in the two years of the say five years ago that would have sounded like big talk but as recently as March second I had the honor of announcing that we have sold in advance twenty eight million tickets for thirty five and a half million dollars The greatest advance sale in history for anything anywhere this morning it was my privilege to make it to twenty eight million and one by selling the first tickets at the main gate. The motivation of the founders of this was totally unselfish and nonprofit It was predicated on the honest hope that such an undertaking would bring the peoples of the world a little bit closer together thus it was in this context that we produced a rather simple but fairly adequate theme which has been the watchword of this world exposition pace through understanding the nonprofit New York World's Fair co-operation. Chartered in the state of New York is confident of making enough millions of dollars to pay off our obligations in full with interest and on time perhaps even ahead of time to then restore Flushing Meadow talk as the greatest of its kind anywhere in the world and to hand over to the Board of Education of the city of New York a rather handsome bounty now we didn't do this alone nor did we do it with a single administration of government or a traditional banker this New York World's Fair has been the finest example of an interdependent operation ruled by no political ideology except that of freedom and peace and offering no special privilege our aristocracy has been the aristocracy of achievement setting forth competitively the greatest talent and products anywhere on earth this day and this great International Exposition would not be right if we didn't stop for a moment to consider the two most important words in any language please and thank you for five years we have been saying please today we say THANK YOU THANK YOU to government to finance to exhibit or US labor builders created was communicated to our executive committee to our Board of Directors was to our staff to our families and our loved ones thank you and come to the fair. I think if I am I rise to a personal point for a moment. The next day an introduction is the one that. Is To me the most satisfying. And at a late hour last night I was reading a book in bed and I came upon a passage which covers the subject infinitely better than I could and I'll quote the passage and then introduce my Kali I shall always look back on the years I worked with him as some of the most difficult and trying ones in my life for all that I thank God that I was given the opportunity of working alongside of such a man and having my eyes opened to the fact that occasionally such soup and then exist on this area Bob most of. My friends. Know let me express first. Our sorrow. Of the chief executive who inaugurated this fan is not here to give us his blessings that may offer also our testimony to the universal respect and affection in which his memory is held and the prayer of that Almighty God may protect and strengthen his successor who is our chief guest here today. On the status of the fire expresses today deepest thanks to all of come here to open the big show we have done our best by ingenuity and hard work to implement ambitious slogans and colorful promises and we particularly welcome those who had faith in us through our early trying days. We invite visitors from every state in the land so listen friendship and evolve me hope that in presenting here this Olympics of progress we shall draw them closer together in our shrinking glow and awesome the end promote peace. Ladies and gentlemen the former president of the United States Harry S. Truman. Of the THANK YOU THANK YOU. Thank you. Mr Chairman of this meeting is Excellency the Governor of the great state of New York His Eminence Cardinal Spellman and all these distinguished guests so many that I wouldn't like speeches by name them all. Very respectfully addressed by myself I appreciate the privilege another and a courtesy of being asked to help welcome the opening of this great institution you know the this are going to say Sion along with the United Nations and any other organization of this kind that has or a lot of effect. MEK the greatest contributions to peace that can possibly be made United Nations are set up for that purpose. The United Nations has ever to and ever to act on the basis that they are the source of the peace of the world at the present time I have to be the present the United States of the first meeting of the United Nations in San Francisco on the charter was adopted I happen to be the president the United States when you adopted it. Dedicated the building this house of the United Nations here in New York City they finally decided to place the headquarters of the United Nations here in the United States and they decided eventually to place it here in New York City I want to put it in the story but of course I didn't have much luck. There seems durians the center of the United States from any direction you want to go and I thought maybe that is the good place for the United Nations but they inform me very pointedly that the United Nations had to be accessible to the whole world and the greatest seaport and the greatest business center in the whole world was right here in New York City and I didn't have a Chinaman's chance to get a lot of water. Because I didn't want it either but this is a great event. As I said to begin with I'm as happy as I can be to have had a part in it you're as kind as you can be to ask an old has been to come here and help you on an occasion of this con and I'm glad that you remembered what I have been and not what I am today but next me much faster. I am also exceeding and I happened to be asked to appear on the platform with these distinguished guests particularly Is it an honor to me to be asked to appear on the same platform with the president of the United States and he asked me in self if I would do that and that's been unusual in my case. Is a great man and I wish he were here and I know he will be here if this were left up so I can. All these people that are taking a hand in this are great people the man who is the engineer and their Ranger for this fair is in a class by and sell some of his I wish he had moved to Missouri and. We're going to use him out there there is only one Moses and that's not the one that's mentioned in the Bible he's right here. I thank you most sincerely for bringing me here and I hope that you'll ask me to come back at a later date when you are furnished with much better weather. The city of New York. Robert F. Wagner. Very much Mr. President and members of the clergy. Governor Rockefeller Moses all of the distinguished gentlemen here today this glittering occasion made resplendent by the presence of so many eminent people and headed by our great president of the United States provides a sufficient commentary on the importance of the event we celebrate we are the first of millions who will follow us here. Our eyes today will be seen by more eyes than we'll have ever seen a similar spectacle in the same period of time New York is one of the most renowned cities in the world and this year we mock three centuries of the existence of this city as New York this World's Fair will survey these three centuries of our history in a sense this is much more than the opening of the World's Fair today we may well be marking the end of one era and the beginning of another struggle is in the air even as we celebrate the world's fair peace through understanding but peace too is usually one through struggle today although the world moves toward peace there is not enough peace although the world moves toward understanding there is still far from enough understanding as this fair reflects the world in our country and I city as they are today the family become involved in and become part of the chief struggle of this A In the beginning the fair was only an idea it was the idea of many people. Recently my memory was refreshed by seeing a copy of an announcement made from City Hall dated August tenth one thousand nine hundred fifty nine on that day I announced the support of the city of New York for the organization of the World's Fair in one thousand nine hundred sixty four and in that announcement it was stated that the theme of the proposed failure would be peace through understanding so we see that from the beginning the fair was an idea strongly urged by a number of people in the ones I remember most clearly from that time when my friend Tom Deegan Charley crew C. and Bob Koppel now they have seen their idea and I hope I can say our idea become a glowing and resplendent reality throbbing with vitality in the beginning there was only this idea we put our most renowned builder an organizer in charge of that idea we gave the fan the benefit of other talents to we have spared the failure nothing that it really needed today the ferry was just with its attractions and its achievements and rewards us with its readiness miracles have been performed so that we could celebrate this occasion today indeed the fair as a whole is a kind of miracle it is a miracle in creation in very practical and realistic terms the fare represents the object of many of us cities hopes it is the domain of the World's Fair corporation but it is the New York City's World's Fair hopes pinned on it our interests bound up with it we pray for its success we count on it to bring us visit is we count on it also to bring us revenues. We count on it to establish a new high watermark of cultural and educational contribution to the riches of America we count on it to enrich the memory of each and every person who comes to New York to see the fair let this be the event by which not only this year but this generation. I thank you and as mayor of this city I welcome you. And to this historic occasion. I am. Ladies and gentlemen the president of the United States. Mr Mayor your reverend clergy your. Guest Mr Moses ladies and gentlemen I understand that at the close of this fire a time capsule placed in the ground every possible precaution has been taken to make sure that it will be opened several thousand years from now special. Record job its location will be stored around the world they have only neglected one vital precaution they do not have an advance commitment from Robert Moses that when the time finally come he will let them take it up. By New Amsterdam. New York and sixty four. The governor of Connecticut John once wrote a relative I believe of the lodge is. Right Mr Stuyvesant telling him not to the fair chance. They consequence would be he said that the good people of your nation may enjoy the happiness tender and more than you can imagine that promise has more than been fulfilled by the abundance and the might represented here far beyond the vision of those early settlers and America has been transformed from an outpost of the edge of the world or next to one of the great nations of the world the number of people who visit your affair will be seventy times the entire population of North America when New York was born the last time New York had a world's fair we also tried to predict the future a daring exhibit proclaim that in the nineteen sixties it would really be possible to cross the country in less than twenty four hours flying as high as ten thousand feet that an astounding thirty eight million cars would cross. There was no mention of outer space our comic power our wonder drugs that could destroy disease these were prophecies back there in one thousand and thirty nine but again the reality has far outstripped of Asia there were also other protection for protection that were not made at that fair. No one prophesied that half the world would be devastated by war or that millions of helpless would be slaughtered no one foresaw all power that was capable of destroying man our cold war which could bring conflict to every continent our pride and accomplishment must not ignore the fact that our progress has had to face in its final direction abundant our. Development our desolation that is in your hands and that is in the hands of the people around the world this fair represents the most promising of our hopes it gathers together from eighty countries the achievements of industry the health of nations the creations of man this fire shows us what man at his most creative and constructive is capable of doing but unless we can achieve the fame of this fair peace through understanding unless we can use our skill and our wisdom to conquer conflict as we have conquered SA then our hopes of today these proud achievements will go under in the devastation of tomorrow I have prophesied that peace is not only possible in our generation I predict that it is coming mu