Opening Day Ceremonies for the 1964-1965 New York World's Fair
Presidents Lyndon Johnson, Harrry Truman join Mayor Wagner and Robert Moses
Wednesday, April 22, 1964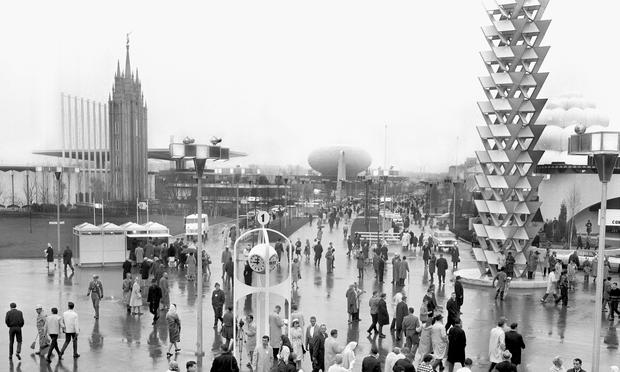 (Ed Giorandino, NY Daily News Archive via Getty Images)
The sounds of a city and a nation are captured through nearly a century of transformations, tribulations, and triumphs.

More
This episode is from the WNYC archives. It may contain language which is no longer politically or socially appropriate.
Introductory speaker explains how the New York World's Fair came to be. (4:00 - 6:00) Host Thomas J. Deegan Jr. (Chairman of the World's Fair corporation's executive committee) introduces Robert Moses.

Moses references the absence of former President Kennedy,  welcomes the audience and encourages the promotion of peace.

Former President Harry S. Truman speaks about the United Nations building, which he wanted to be built in Missouri and how he's like to get Robert Moses to move to Missouri. References the rainy weather.

Mayor Robert Wagner talks more about the idea for the fair.

President Johnson talks about foreign relations and the Cold War, the impact of this fair on the reputation of the US: "this fair shows us what man at his most creative and constructive is capable of doing."
Audio courtesy of the NYC Municipal Archives WNYC Collection
WNYC archives id: 70311
Municipal archives id: T283
More in: