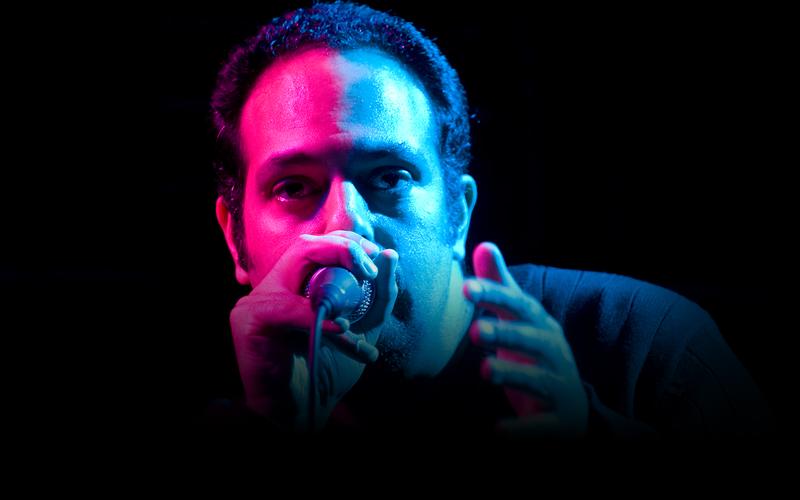 For this New Sounds, hear music from Brazil, Finland, Ireland, Iraq, Romania meets Appalachia, all with a rhythmic bed of beatboxing.
From Brazil, listen to the music group from São Paulo, Barbatuques, who specialize in body percussion, but who also employ beatboxing. Then, hear Finnish vocal folk-hop, from the a cappella group, Tuuletar; yes, one of those voices is a beatboxer accompanying Finnish folk harmonies. Listen to Appalachian music in the Carolina Chocolate Drops together with Romanian-rooted Luminescent Orchestrii, which features beatboxing by Adam Matta.

In fact, Matta, a prolific beatboxer, has worked with Hungarian musicians, Iraqi musicians, and Rhiannon Giddens (and he's on Sxip Shirey's new record too.)  Listen to a few of Adam Matta musical collaborations: together with folk musician/singer Rhiannon Giddens on "Black is the Color," in Turkish music (with beatboxing) in the project, Çark, and teaming up with British-Iraqi singer and composer, Alya Marquardt and the New York-based ensemble Shamash. On their record, "Chai Party," Alya Marquardt & The Shamash Ensemble fuse Iraqi folk music, contemporary jazz, human beatbox (courtesy of Adam Matta), improvisation and Arabic maqam.  Plus, listen to an archival performance by guitarist/composer/improviser Vernon Reid and beatboxer Kenny Muhammed from 2000 at Merkin Hall, and a "Wicked" surprise in music featuring beatboxing from Hungary. 
PROGRAM #3935,  Beatboxing Around the World (First Aired 1-11-2017)          
ARTIST: Slick Rick /  Doug E. Fresh
WORK:  La Di Da Di, excerpt [:30]
RECORDING: The Art of Storytelling
SOURCE: Def Jam / RAL 558 939
INFO: Available at Amazon.com 
ARTIST: Barbatuques
WORK: Baiana [4:39]
RECORDING: Ayú
SOURCE: mrbongo.com
INFO: barbatuques.com.br/en
ARTIST: Tuuletar
WORK: Tuu Keraa (kick) [4:12]
RECORDING: tules maas vedes taivaal (On Fire And Earth, In Water And Air)
SOURCE/INFO: tuuletar.com
ARTIST: Carolina Chocolate Drops & Luminescent Orchestrii, with Adam Matta, beatboxer
WORK: Hit 'Em Up Style [4:54]
RECORDING: ep
SOURCE: Nonesuch 526130
INFO: nonesuch.com
ARTIST: Vernon Reid Ensemble, with Kenny Muhammed
WORK: Mysterious Power [5:17]
RECORDING: NYGF, Live from Merkin Hall, March 2000
SOURCE: This performance not commercially available.
INFO: kennymuhammad.com & Vernon's Twitter @vurnt22
ARTIST: Rhiannon Giddens
WORK: Black is the Color [3:46]
RECORDING: Tomorrow is My Turn
SOURCE: Nonesuch 541708
INFO: nonesuch.com
ARTIST: Çark (Nihan Devecioglu, voice; Cenk Erdogan, acoustic fretless guitar; Adam Matta, beatbox)
WORK: Yağmur yağar taş üstüne [3:56]
RECORDING: Çark
SOURCE: Anason Records
INFO: nihandevecioglu.com | adammatta.com
ARTIST: Alya Marquardt & The Shamash Ensemble
WORK: Khadri El Chai [6:26]
RECORDING: Chai Party
SOURCE: Two Rivers Records
INFO: tworiversrecords.bandcamp.com
ARTIST: Matthew Olwell
WORK: Stormness Head  The Friendly Cephalophore [4:06]
RECORDING: CyberTrad
SOURCE/INFO: matthewolwell.bandcamp.com
ARTIST: Matisyahu & Aaron Duggin
WORK: Shade from the Sun, excerpt [1:00]
RECORDING: Live, the Greene Space, 12/12/16
SOURCE/INFO: youtube.com
ARTIST: Bjork
WORK: Pleasure Is All Mine [3:27]
RECORDING: Medulla
SOURCE: Elektra #62981
INFO: bjork.com
ARTIST: Zuboly
WORK: Masfelmillio tepes Magyarorszagon/One & a Half Million Rips in Hungary / Wicked Game [4:44]
RECORDING: Ertem A Kujonsago
SOURCE: Megadó Kiadó
INFO: Available at iTunes