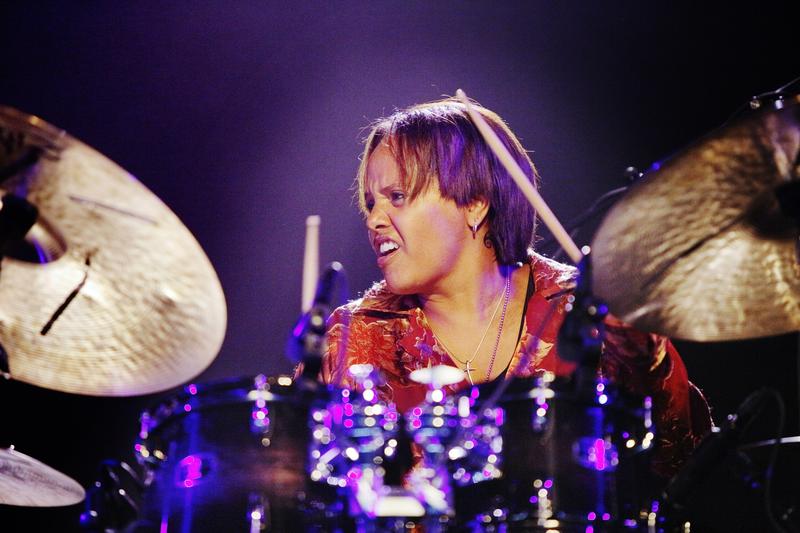 Clark Terry, the late legendary trumpet and flugelhorn player and educator, had a three-stage approach to teaching improvising:Imitation, assimilation, innovation. That taxonomy reflects the art of listening and learning from other artists' style; then connecting to these approaches, riffs, beats, or techniques; and then knowing when/where to use them.
That last step, "innovation" is where a player creates a fresh, personal take on or approach to the music. When it comes to my own drumming, I'm still in the "imitate and assimilate" period of learning. I have definitely not yet achieved "innovate." I spend my copious free time trying to improve my drumming chops; I take more lessons and go to clinics now and again. Like other drummers, I seek out knowledge so I can grow musically from websites and books. And subscribe to many magazines.
In my previous post, I discussed Tony Barrell's recent book Born To Drum, which observes that women "make only occasional appearances in mainstream drum magazines. And there are whole books on drumming that entirely ignore the existence of female drummers." This is especially true in publications like Modern Drummer, DRUM! Magazine, as well as U.K.-based publications Rhythm and Drummer Magazine, and something else called Drumhead Mag.
During my early years as a drummer, I would sometimes check out these mainstream drumming magazines. There were at most a dozen female drummers occasionally featured -- but it always felt like gender-tokenism. Once a year, a magazine would have a profile of a woman drummer, but it would be buried deep. Cover stories were even rarer.  
Maybe it's a case of wishful thinking, but it does seem like over the past five years, there's been progress: two of these traditional publications more frequently mention female or non-binary players, do a feature, include some kind of advertisement art featuring a woman, or even run a cover story on their pages. To me, this increase in visibility is worth celebrating. But I decided I wanted to explore that hunch.
I contacted DRUM! Magazine co-founder and editor-in-chief Andy Doerschuk first via an email (a thank-you note for the noticeable representation of women players; it was later published as a letter to the editor in the June 2015 issue). "I am beyond thrilled to see that many of your recent issues have featured at least one, if not two players (who happen to be women) that I can look up to. From Stefanie Eulinberg to Koko Jones, Beverly Johnston [et al.] Thanks so much for that! Thanks even more for Hannah Welton's cover this month."  Then, I asked him during a phone interview whether there has been a more conscious gender-balance within the pages of their publication.
"Well, when you don't think about it, the opposite is obvious," said Doerschuk, referring to what might make for still another all-guy issue, should female players fail to make the cut. Over the past year, the magazine has featured Prince and 3RDEYEGIRL drummer Hannah Welton on the cover, as well as an article about percussionist Koko Jones -- who has performed with Whitney Houston, and The Isley Brothers. Jones recently came out as trans and Doerschuk says he was "really proud" it got included, especially considering the industry might not have been ready for an article about her 10 or 15 years ago. DRUM! magazine also recently showcased Canadian percussionist Beverly Johnston, Mona Tavakoli (who has performed with Jason Mraz, Sara Bareilles); and the "New Blood" column has featured drummers Samantha Bishop and Mari Voiles. And since 2012, the magazine has co-sponsored an annual online contest, "Hit Like A Girl," to help find up-and-coming female players.
Percussionist Koko Jones:
  
None of these players are part of the established and most frequently featured non-male drummers like Cindy Blackman Santana, Sheila E., Terri Lyne Carrington, Samantha Maloney, Janet Weiss, or Kate Schellenbach. And all were featured within the past six to 12 months.
To its credit, Modern Drummer Magazine has also featured many not-yet-household-name players within the past 6-12 months: Chloe Saavedra (Chaos Chaos, ex-Smoosh), Brittany Brooks (Cee-Lo Green, Kelis), German drummer, producer and educator Anika Nilles, and Hojozi Matheson-Margullis (Helms Alee). But compared to DRUM!'s awareness of gender balance, Modern Drummer Editorial Director, Adam Budofsky says that while they are covering a cross section of all drumming styles, there has not been conscious decision to focus on gender or genre balance. 
"It's not something that we're thinking about," Budofsky explained in a phone interview. The reason for the perceived lack of women players in their pages, he says, is that "not many ladies are playing at a high enough level to cover them."
Budofsky went on to mention female drummers who have been included over the years -- Moe Tucker (Velvet Underground,) jazzer Terri Lyne Carrington (pictured above), and Sheila E. The magazine aims to look at the "more interesting players." In the last two years, Budofsky says, "there are a lot more players [who happen to be women] setting themselves apart." He said that it's more of a "badass drummer factor," pointing to Warpaint drummer Stella Mozgawa. "She's an accomplished player," he explained. "The fact that she's a woman -- it doesn't matter."
Warpaint (ft. drummer Stella Mozgawa):

And then there's Tom Tom Magazine, the Brooklyn-based print publication and web site built around female drummers and percussionists from around the world -- specifically showcasing players of various races, class levels, skill levels, abilities, sexualities, and all body sizes. (Full Disclosure: I am an occasional contributor to Tom Tom, and co-edited the "metal" issue.) But it's unclear whether this perceived increase in visibility in mainstream media is a reaction to the reach (or threat) of Tom Tom, which just celebrated its fifth anniversary, or a result of the fact that women drummers now make up much more than just three percent of Modern Drummer subscribers -- and possibly as many as 15 percent of the drummers out there (according to one bizarre YouTube comment), or simply that these female players also have some purchasing power.
Tom Tom is also a real-life community -- one that provides more voices to the conversation on this visibility issue. So I contacted some other players who happen to be women, but not all of whom I know through Tom Tom. Most said that with the exception of the coverage in Tom Tom, women are still mostly marginalized in the pages of most mainstream drum magazines and media.
"Besides Tom Tom, I've never seen a woman of color represented in a drum magazine or drum ad of any sort," wrote Cici Harrison, who plays with Kid In The Attic and Heliotropes. "You hardly see any women represented, let alone women of color." Zaneta Sykes, the USC-trained percussionist, composer, and devoted educator, says in an email, "I don't usually see too many [female percussionists of color] in drumming magazines. [We]'re usually treated like an exotic bird or something rare." And Tom Tom Magazine's creator and editor-in-chief, Mindy Abovitz  sums up: "I stay away from most other drum media because I notoriously have not found myself in their pages."
Harrison also added, "I think a lot about pretty well-established female drummers I admire, relentless in their talent and skill, who are never represented. I hope there's more inclusion someday -- and not in a 'sexy female drummer' kind of way."
On this desire of wanting to be recognized for one's talent, Rae Amitay, a touring drummer and vocalist, who plays in Immortal Bird and Thrawsunblat, wrote in an email: "Occasionally, someone will express enthusiasm over my playing drums because there 'aren't a lot of women drummers out there.' I try to understand where their excitement is coming from and usually give them the benefit of the doubt. However, a lot of the time a comment like that is followed up by, 'It's so hot to see a chick drummer' and then I just have to take a deep breath and calmly explain that I'm not doing this because I want to have a 'sexy little hobby' for someone to find charming or cute."

A drum cover by Rae Amitay:


Sykes also weighed in on the topic, saying "If there is representation of women playing as professionals, it appears in extremes, often hyper-sexualized or hyper-masculinized." It happens across the board. In the video included below of a drum solo by Hannah Welton, and in so many of her videos online, inevitably there seems to be more focus on the fact that Welton might be nice to look at, as opposed to the fact that she's a precise player, passionate about hitting stuff, dramatic and creative with her well-chosen musical space and now plays with Prince.
What to do? Sykes offered some deep wisdom that might put in perspective the "sexy" issue.
"Playing music isn't just about looking hot or looking tough, it's about spirit and human connection."
So why does this matter? To imitate, assimilate, and innovate.
To revisit my earlier reference to Clark Terry, his philosophy can certainly be applied to all areas of coming into one's own as a musician. To give all credit where due, I first heard about Terry's three step process at a Tom Tom Academy drum clinic given by one of my favorite teachers, La Frae Sci.
La Frae Sci drum solo:
The first two stages of this learning are absolutely crucial as a player finds her own way. "Coming of age," Sykes explains, "if you don't see people like yourself represented in publications touting to be authorities on all things drumming, it probably feels like there's no place for you." It can be hard to find inspiration in endless instructional videos and drills by old, famous, white dudes.
Harrison doesn't pay that much attention to traditional drum media. "If I have a question or need advice, I often just ask my drummer friends. I'm not sure whether growing up as a female drummer and realizing I wasn't the key audience for a lot of that stuff turned me off or what. It's not really intentional, but I'm sure some of that early experience is ingrained in me."
Kiran Gandhi, who has played with MIA and Thievery Corporation and contributes to Tom Tom, agrees: "I think we look to people who have similar backgrounds to us and we try to relate so that we have a path to follow. Seeing all of those guys, it feels far away and distant. So unless the viewer is someone who doesn't mind working the extra steps to visualize themselves in that person's shoes, which is hard when their stories are so different than ours, then you kind of lose interest immediately."
It seems like the visibility and coverage of female players does matter, a great deal. Again, Abovitz gets the final word: "In terms of every girl or woman who sits at a kit, every one of them has inspired me to play and reminded me that I can."
Drummer, beatmaker, and Harvard MBA grad Kiran Gandhi:
Okay, maybe I'm the only one who thinks that features on women players are becoming more prevalent. The thing is, no matter what my hunch is or other drummers' perceptions might be when it comes to coverage in a technical magazine or online media, the representation of female players in the advertisement art that goes into a print magazine or online has such a long way to go. In any publication or online site, there will still be maybe one product with Hannah Welton or Kim Thompson (Seth Meyers Late Night house band, ex-Beyoncé drummer) every other issue or maybe one in 20 sidebar ads.
"Women drummers are still largely ignored [for] endorsement[s] and by the [drum/cymbal/gear] companies when it comes to marketing," says DRUM! Magazine's Doerschuk. "[Advertisers] recycle the same people: the drum veterans, who are an old boys club." Tom Tom's Abovitz agrees: "I think that they can do a way better job in their ad art. It's a huge risk not to do that, include women in the art." Abovitz says they exclude so much of the industry "with a celebrity white guy in their ads. I don't think that most companies are doing a good enough job."
One of the few women represented in advertisement art, Hannah Welton:


For my part, and I don't think I'm alone in this, I'm much more likely to try out a Gretsch drum kit if I see a drum heroine playing it or support a company if I have contact with a female endorser. It makes a difference. I use and consume these products (full disclosure: I am aligned with Dream Cymbals), and I want to see someone like me playing them. (PS - I am especially turned off by some famous dude's kit with an air-brushed naked female image on the kick drum.) Why is that so hard? This is something that Abovitz is working to change from the inside: "I know companies [are] open to it, and working on it.
One of the missions of Tom Tom Magazine is to work with our supporters and act as a consultancy for major drum companies' marketing teams. We began by demanding marketing material that had just product or actually featured a woman or girl in the ad," said Abovitz. Since that initial request, she adds, "we have seen ads specifically created for Tom Tom running in the other main magazines. Ideally, the market will open more and more and we won't be talking about this in 15-20 years from now."
Upon further reflection, perhaps I'm writing to accelerate the change I would like to see. It would be great to think that women players have come far enough that their inclusion would just be an every-issue occurrence at Modern Drummer; they tend to continue to feature innovators and accomplished players in many styles and genres. Then again, it might be up to me to pitch stories to that magazine and do the features I want to read. DRUM! Magazine is likely to keep on striving for some gender balance, and supports giving space to women; they're currently running a four-part series dedicated to the historical role of women in drumming. And, as always, I continue to cheerlead for and learn from Tom Tom Magazine. No surprises there. 
As this change continues at a glacial pace, other players and I will continue to seek out publications, websites, and videos for technique, style, or how-to pointers for learning about what's come before, and happening now as well as inspiring stories or shared experiences, so that we can grow as musicians. These magazines I've mentioned might be making some headway into lowering their dude-coverage quotient, but even with an intentional focus on balancing coverage, some female drummers still feel like it's not nearly enough, or whatever is out there just doesn't appeal to them. So in the absence of anything more satisfying, magazines and movements like Tom Tom Magazine (and She Shreds for guitarists, as well as worldwide Girls Rock Camps) have been created, growing to fill that need. At least it's a start, and wouldn't it be great for the more traditional outlets, not just drummingly, perhaps in all kinds of music media - technical and fan magazines alike, to contribute more and more often to the progress of balancing out coverage to appeal to, discover, and amplify more voices previously unheard.