Women Reporter & Staffers Barred From Lhota Event at Synagogue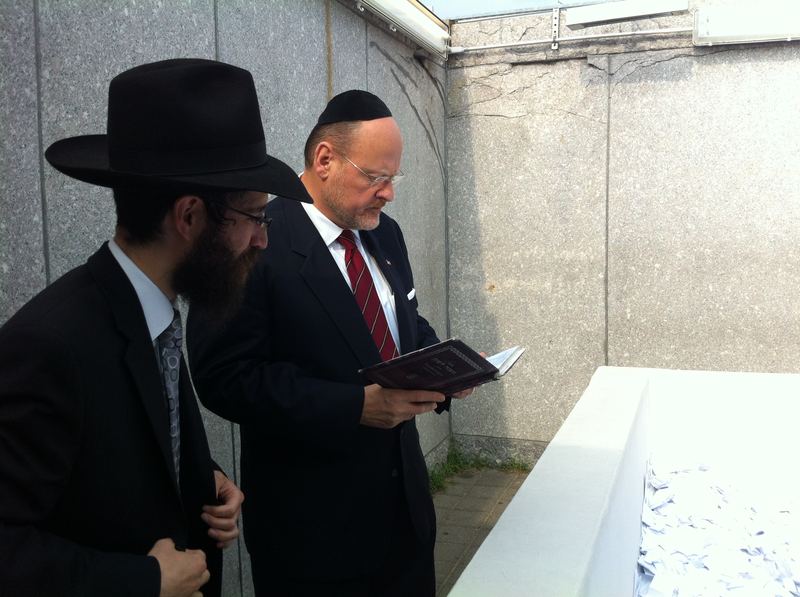 UPDATED Male reporters were allowed to cover a Joe Lhota for Mayor tour of a Hasidic synagogue Tuesday afternoon, but a female reporter and staffers were not. It's not at all unusual for candidates for public office to court the influential orthodox community.  But meetings are usually kept private, and it's rare to invite the press along and then have women escorted out.
Word came from New York Daily News City Hall reporter Erin Durkin, who tweeted Tuesday afternoon: "Female reporters and staffers ejected from @joelhota4mayor event at Borough Park synagogue."
Carl Paladino, a Tea Party candidate who ran against Democrat Andrew Cuomo for Governor in 2010, also once barred women reporters from an event in the orthodox Jewish community. So did Rick Lazio in his doomed 2000 race against Hillary Clinton for U.S. Senate in 2000.
But beyond that, a number of knowledgeable journalists and political sources could not recall a candidate for mayor attending an open press event that excluded a class of reporters in 40 years.
When asked if Mayor Michael Bloomberg had ever done so, Mark LaVorgna, Bloomberg's spokesman answered, via email, "Positive. NEVER."
Cuomo's spokesman did not respond.
Dan Levitan, Bill de Blasio's spokesman, declared "He's never invited the press to a place where only some reporters would be allowed."
In a text message, Lhota's spokeswoman, Jessica Proud, said "This was not a planned stop on the schedule, but they were walking through the neighborhood and Joe was invited into a synagogue to look inside. They were having a service and he just popped in to see. He only stayed for a minute along the way to the next event."
The News headlined its story: "Joe Lhota Does Nothing As Women are Kicked Out of Brooklyn Synagogue"
About a half dozen reporters were following Lhota at the time including Ross Barkan of the New York Observer. In a phone call, Barkan recounted: "Lhota was walking from block to block and he got to this big synagogue in Borough Park. He went inside and the rabbi asked asked the females to leave." Durkin of the News and two female Lhota aides, including a press aide, were expelled, in Lhota's presence. Barkan said he and about five other male reporters followed Lhota into the synagogue, which was holding services at the time.
"A synagogue official hurried over to the three women in the group," Durkin wrote. "A Daily News reporter, a Lhota campaign aide, and a member of his security team — and asked them to leave while the men were allowed to stay."

Barkan said Lhota was asked about it later, and that Lhota defended the Rabbi's actions. "He didn't back off, Barkan said,  "He said it was their first amendment right to their religious beliefs."
"Throughout the Orthodox world, the Orthodox Jewish world as well as the Orthodox Muslim world, there are certain places that women are not involved in," the News quoted Lhota as saying. "I will not as mayor violate their First Amendment constitutional rights for their religious practices."

Jacob Kornbluh, a reporter for the Yeshiva World News, said "it wasn't a planned event but a spontaneous entry as Mr. Lhota was asked by a rabbi to enter the Shul - which is considered to be the most famous Shul in Borough Park."  Kornbluh said the tour was brief, and included Lhota's making a charitable donation.
WNYC was not at the event.
Women reporters, including those in the WNYC newsroom, couldn't remember a similar event. Neither could long-time women political reporters from the New York Times.
Joyce Purnick, the former New York Times City Hall bureau chief and author of "Mike Bloomberg: Money, Power, Politics," answered in the affirmative when asked via email if this had ever happened to her. "Yes, when Beame met with a Hasidic rabbi, a Bubov rabbi, I think. 1973. I prepped by wearing long skirt and sleeves, but neck not deemed high enough. Also a Catholic dinner at Waldorf. I forget which one. About the same time."
Beth Harpaz, an Associated Press reporter and author of the book "The Girls in the Van" about the 2000 Senate race, sent this helpful recollection when she saw our original story. "The same thing happened during Hillary's first Senate campaign when her opponent, Rick Lazio, visited a Hasidic group in Brooklyn in 2000 and they failed to make arrangements to accommodate women in the media. I had covered the Orthodox community for AP for many years before that and had never, ever been excluded from an event before so I was very angry that night. In all my other experiences, arrangements were made that respected the gender separation rules but allowed access for women in the media - for example, an area could be set up with a small curtain but where we can see and hear without sitting among the men - just like you would have at an orthodox synagogue or wedding." The incident is documented in Harpaz's book.
But no else has come up with a similar example. Other than the Paladino event, the ubiquitous Azi Paybarah of Capital New York, also could not remember a similar occurrence.