Women Rally, Wear Red in Support of Equal Rights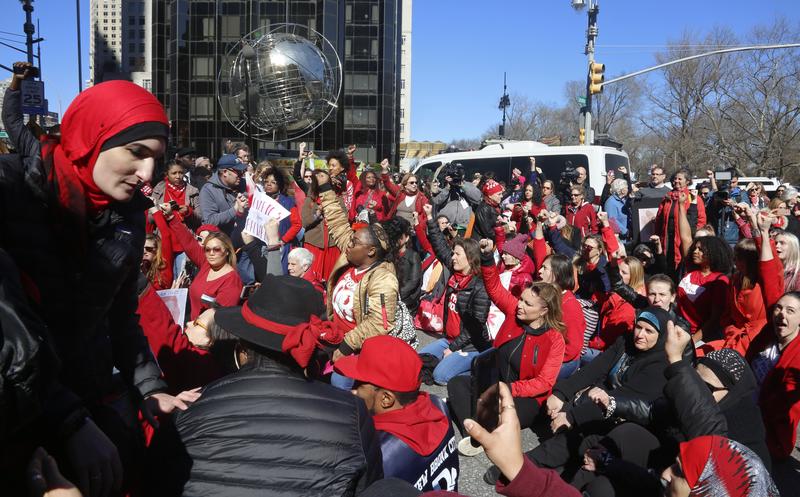 Women — and those who support them — rallied around New York City on Wednesday for A Day Without a Woman, to draw attention to equal rights and women's issues. Many took off work to protest, and others wore red in solidarity.
At City Hall, dozens of women gathered with signs, then broke out into working groups to talk about future actions on issues impacting women, like education, LGBTQ rights, and access to healthcare, including reproductive rights.
 Public Advocate Letitia James said women will continue to rally for their rights for as long as they need to do so.
"We have fought long and hard to get where we are today," she said. "And we have no — no intentions, Donald Trump — of going back. None!"
The crowd cheered speakers from groups including Planned Parenthood and the New York Civil Liberties Union.
Women also gathered near Central Park on 59th Street and 5th Avenue.
Alexandra Borelli, wearing a red beret, came to Manhattan from Astoria. She brought a sign that read: "I am no longer accepting the things I cannot change. I am changing the things I cannot accept." Among those, she said, are actions taken by the Trump administration, including efforts to repeal the Affordable Care Act. 
Borelli said she was grateful to have a supportive workplace that let her take the day off.
"I just let my boss know and she said, 'Good for you, have fun,'" she said. Borelli added that she hoped to "amplify" the voices of other women who couldn't not take the day off work to attend the rallies. 
Across from the park, Rose Brunette and her family were enjoying the sunshine. She brought her two sons, her daughter and her niece to Manhattan for the rally. She said her kids are starting to become aware of current events, and are asking questions — especially her 7-year-old daughter. 
"She was shocked to learn that women and men get paid differently," she said. "That's the big talk in our house right now."
Brunette said she felt it was important for her kids to see that they can't just sit back and complain about things that aren't fair, and that it takes mobilization and action to affect change. She said she was inspired by the turnout Wednesday, and happy to see a younger generation stepping up to fight for equality.