Women Only 'Wonder Woman' Screenings Cause a Stir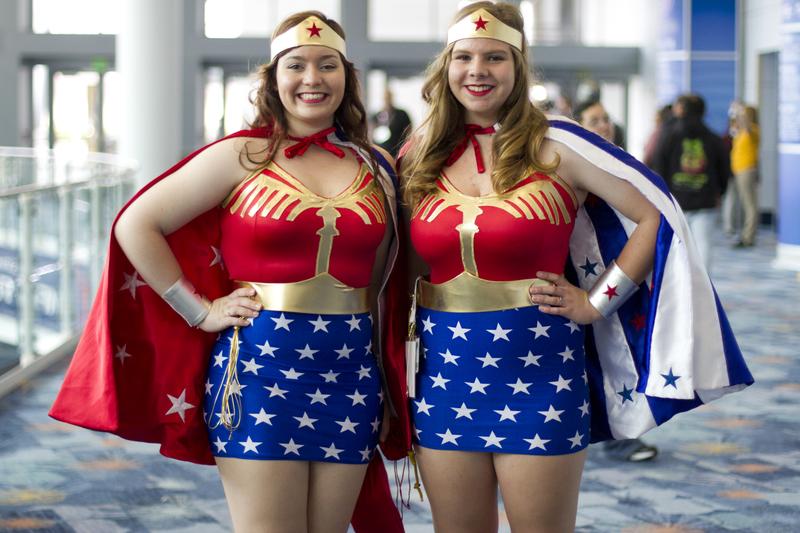 After an explosive weekend at the box office, "Wonder Woman" is taking off. Alamo Drafthouse is capitalizing on the enthusiasm by hosting women-only screenings in New York and Austin. The three showings in New York all sold out in less than an hour after being posted online.
Women decked out in Wonder Woman gear flooded the lobby of the Alamo Drafthouse in downtown Brooklyn at the first screening Sunday. Some had tiaras on their heads, while others wore shirts with their favorite feminist slogans (e.g., "Nasty Woman," "Toxic Masculinity Ruins the Party Again"). When they explained why they attended the gender-specific screening, ticket-holders used words like "solidarity" and "community." Most said it was a rare occasion that women get to celebrate a movie about a woman, directed by a woman, along with only women.
Moviegoer Stephanie Billman said events like this aren't only celebratory, they're safe — which she says is not always the case, especially when she goes to comic and video game events.
"I think, 'Is this going to be OK for me as a black woman?'" she said. "But here I don't have that fear."
But the screenings, which benefit Planned Parenthood, have also generated controversy, especially among men who say they're discriminatory. Albany Law School professor Stephen Clark filed a gender discrimination complaint last week against the theater's parent company in Texas. Clark said the screenings exclude male allies and people who are gender non-conforming, gender fluid and transgender — even though the theater welcomed people who identified as women. Clark added that the showings set a dangerous precedent for businesses excluding certain customers.
"I have heard repeatedly in connection with this, 'Just go to a different theater,'" said Clark, who has a background in lesbian, gay, transgender and bisexual rights. "Well, that's exactly what the pharmacist wants to say when he doesn't want to fill the emergency contraceptive prescription."
Clark said if the company had promoted the events differently, without exclusionary language, it would have been received better. He also said most importantly, it would have been legal. You can listen to a extended interview with Clark on WNYC here.   
Clark's argument doesn't carry much weight with Anna Davenport, who traveled from Trenton to Brooklyn to see the movie. She said men who complain should think about all the places where women already underrepresented.
"When they can help us make sure the NFL, NHL, Major League Baseball, NBA, Congress, Senate and board rooms have as many women in them, then they can worry about the movie theater at 3 o'clock in the afternoon on a Sunday," Davenport said.
In a statement Alamo Drafthouse said, "Obviously, Alamo Drafthouse recognizes 'Wonder Woman' is a film for all audiences, but our special women-only screenings may have created confusion — we want everybody to see this film."