WNYC's Snowpocalypse Boredom Survival Guide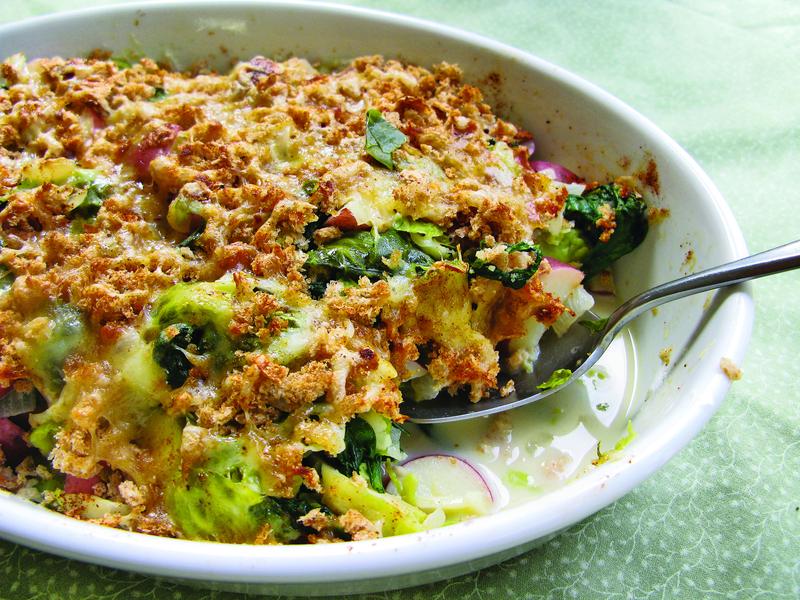 Snow days can be fun--or incredibly boring. If you find yourself stuck inside on Friday, here's how to make the most of it.
Stock up for snacking: Two essential keys for storm-prep are a stocked pantry and a wealth of activities. In fact, a little mandatory confinement might be just the opportunity to try out some recipes from past Last Chance Foods that will help keep you warm, entertained and well fed. Consider this a pre-storm shopping list of sorts.
Attempt the world's most... involved chicken recipe: Michael Ruhlman, a chef (and frequent Leonard Lopate guest), raised some eyebrows earlier this year with a very-specific recipe for rotisserie chicken that included some interesting instructions for how to use your downtime. It even inspired some loving mockery from satirist Ruth Bordain.
Get esoteric: You know those stunningly symmetrical, glittery snowflakes you see everywhere at a certain time of year -- hanging from streetlights, stitched on sweaters, and sprinkled all over tv? Those perfectly-etched pictures are all a big lie. Let Radiolab explain.
Master snow driving (at home): If you're inclined to throw caution to the wind (and ignore Gov. Cuomo) by going out on the roads, you might want to thumb through The No-Nonsense Guide to Blizzard Safety. It "also contains several useful appendixes that include a suggestions about driving in treacherous winter weather and skidding protocols, a list of useful weather-warning smartphone and computer apps, and a detailed description of the various stages of frostbite." Yikes.
Put on a snowday playlist: Do you need some music to help wile away the hours when the roads get icy and the temperatures drop? The Brian Lehrer Show has a playlist of the best songs for a snowy day, and team Soundcheck made a playlist of songs inspired by the cold, snowstorms, and more.
Scour the internet for time travelers: Our pals at TLDR found a story about a team from Cornell Michigan Tech who're looking for evidence of visitors from the future all over the web. They haven't found anything yet, so they could probably use your help.
Get organized: From cleaning out closets and clearing clutter to the tangle of wires behind your television and stereo, Maxwell Ryan, CEO and founder of Apartment Therapy, gives advice and answers questions about how to get organized for the new year. Now you have no excuse!
Dig into a great book: The saavy readers at the Leonard Lopate Show have created a great selection for you of the best books of the past 12 months, so you can pick one of these, or dig into the next Book Club selection, Random Family.
Write a letter to the editor: Hate or love something you heard or read in your favorite magazine, paper (or radio station?) Tell 'em! We're not advising that you take it as far as this cat-hating (and misogynist) NYT reader did 100 years ago, but get creative!
Brush up on your card skills: Itching to play poker, but short on people? Good news, you only need two people to play Gin Rummy or Spit, and they're both easy to learn in an afternoon. If you're feeling mean or dealing with little people, we suggest WAR or 52-card-pickup.
Read (and share) the best #Longreads: Check out some of the best storytelling on the web - both nonfiction and fiction - and nominate some of your own favorites by hashtagging them #Longreads. The catch - they've gotta be over 1,500 words - but we suspect you'll have time.
Speaking of little ones... here's some ideas just for you (and them): 
Teach 'em about the classics! Of music, that is. Social Media Editor Julie Whitaker has started giving her nephew two albums each Christmas of her favorite albums of all time, one male. "Maybe he won't listen to or like some of the albums for years—or ever," she says, "but at least he'll have had the opportunity to hear them."
Get 'em into lit! If they've read that classic children's novel, The Giver, you can play them this: It's a Studio 360 interview with Lois Lowry about how she didn't expect the controversy surrounding the book, and why she was prompted to write a sequel, called Son.
Build the perfect snowman/woman: For the family who likes following a LOT of instructions for the Platonic ideal of a snowperson, follow this guide for a foolproof experience. 
Family dance party: Put on some kid-friendly jamz with the Brooklyn band the Dad Beats! and wile out with your little people. That'll tire them out for a few hours, at least.
Cook together: Find some easy peasy recipes for gingerbread snacking cake, pretzel bites and hummus, all ideal for the culinarily inexperienced. And if you need some extra inspiration, Leonard Lopate hosts famed chef Bill Telepan as he cooks up a menu of healthy eats, and a panel of young tasters judges his creations.