WNYC's Annual Pie Contest: Chocolate-Swirled Cheesecake Pie Wins Top Honors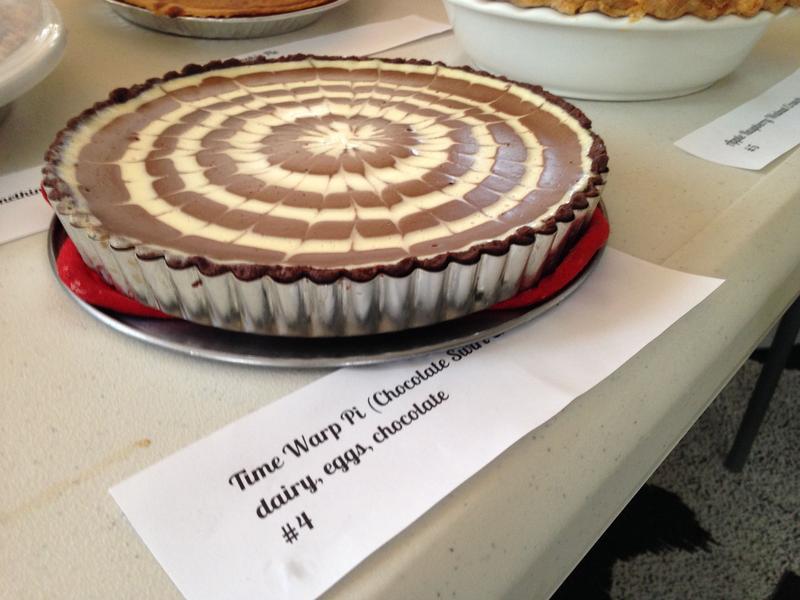 Thanksgiving is more than two weeks away, but that's close enough to justify a pie-eating frenzy at WNYC.
Our annual employee pie throw-down took place Tuesday and drew a record 16 participants. Rising to the top, like cream, was "Morning Edition" engineer Liora Noam-Kravitz's chocolate-swirled cheesecake pie.
She called it "Time Warp Pi."  
"It kind of looked like something you jump into right before you travel in time," she said.
Noam-Kravitz adapted it from her favorite cheesecake recipe, made from a white cheese from her native Israel called gvina levana. Americans know it as quark.
"It's the one cheese that every kitchen in Israel would have," she said. "It's a basic cheese that kids grow up on. It's a dinner thing. You eat it with your omelette or your salad."
She prefers it over cream cheese because it's not as heavy.
"It's only 5 percent fat as opposed to 30 percent fat like regular cream cheese, so it's much lighter," she said. "You can actually have a slice and not die after."
No fatalities or injuries were reported in Tuesday's contest, just sugar headaches.
"The sugar rush was a little intense," said Studio 360 Senior Editor David Krasnow, one of the judges. "But I did not lose the ability to discriminate amongst the pies. It did not cloud my taste or my judgment. It just made me go a little crazy."
Winner Noam-Kravitz almost didn't enter the contest. But an e-mail last Friday notifying the staff that pastry great and WNYC neighbor Jacques Torres would be on the judging panel made her reconsider.
"I thought, 'This is upping the level.' Jacques Torres! Okay, I'm gonna do it!"
But first, she had to find her Israeli white cheese. Her usual go-to supplier, Costco, didn't have it. Neither did any of the small, Orthodox Jewish groceries she looked up on the Internet. She and her husband were stumped. They eventually found a retailer by searching on the key words "big, Jewish grocery store" and bought the four cheeses left in the dairy case.
Chef Torres gave Noam-Kravitz' pie high marks for how beautiful it was, with its swirls of dark brown chocolate against the soft white of the cheesecake.
"I'm not an expert on cheesecake, but it's very, very good," he said, between bites. "The balance of flavor is very good." But he thought the crust needed more crunch. He thought it was a tad soggy, even though Noam-Kravitz had blind baked it to hold up against the moistness of the filling.
"It's almost non-existent," said WNYC news reporter Arun Venugopal. He had some nerve, chiming in. He wasn't even supposed to be judging. But Chef Torres had urged him to sample the pies with him, and Venugopal cheerfully obliged.
"He is so hands-on, literally," said Venugopal of the experience of judging with pastry greatness. "He's not some frou-frou Frenchy guy. He's actually using his hands, breaking apart that crust, almost sifting through it to get a sense of that texture."  
"Wait, Arun, you ate Jacques Torres' leftovers?" said Krasnow.
Chef Torres said the key to a good pie was balance. "If you put two ingredients, one has to support the other," he said. That means one has to play a supporting role, and not go toe-to-toe with the other element of the pie. "People have a tendency of putting too much of everything, not let one ingredient win, and then it doesn't really work. Then, you don't know what's going on in your mouth."
Torres also advises the home cook to seek balance in texture. "Texture cannot be the same everywhere. Then there's no surprise. You want surprise. You want crunchiness, you want softness, you want acidity, you want a little bit of sweetness. You want all of that together."
Torres noted a chocolate pie laced with chili pepper, a signature move he made famous with his chocolates and "Wicked" spiced hot chocolate drink. But Torres' judgment was not swayed by Tova Genesen's ingenious ploy.
Chef Jacques had special praise for a lemon pie that he and Arun had gobbled up so that just a speck of it remained on the plate. It came at just the right time in his judging experience, about halfway through the pie samples. Its fruity brightness, he said, broke up the relentless march of cinnamon, nutmeg and chocolate across his tongue.
"MY PIE, Y'ALL," Tweeted WNYC Internet analytics guru Jacob Kramer-Duffield.
He'll have to try again next year. His Lemon-Lime Curd Pie didn't even place. Nor did his Ginger Maple Pear effort, proving once again that two wrongs don't make a right...or a winner. 
Second place went to Khrista Rypl, part of the team at Soundcheck, for her Cranberry Apple Pie.  
"I've never actually made the pie before, but I like that it's not too sweet. And I like how the sugar on top gets crispy-crunchy," she wrote in an e-mail.  
In third place was Christine Herskovits, with an Apple Raspberry Walnut Crunch Pie. She got that sweet-tart, crunchy-soft interplay that Torres said was key.
Congratulations are in order for all the brave-hearted, hard-working bakers who entered, and to the fearless organizers who dared to kick me out of the WNYC Café while I was eating lunch in order to set up for the contest.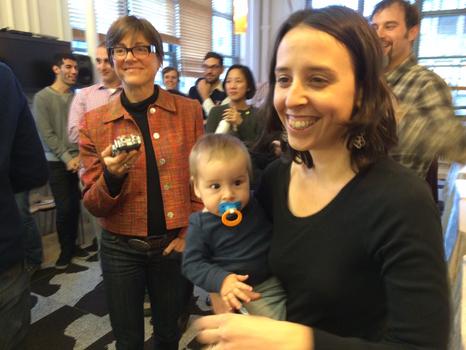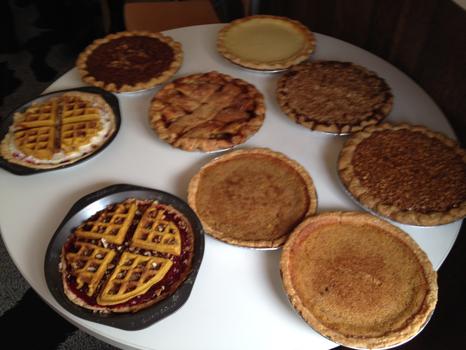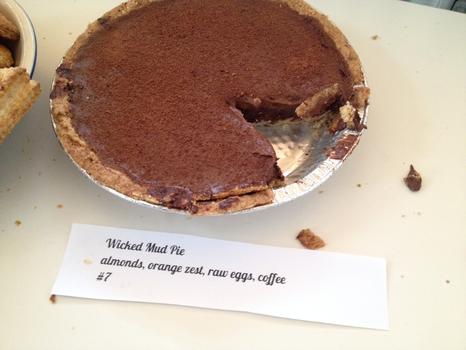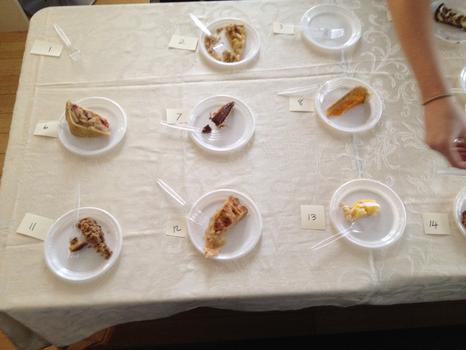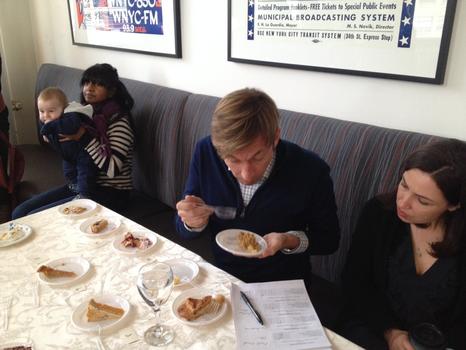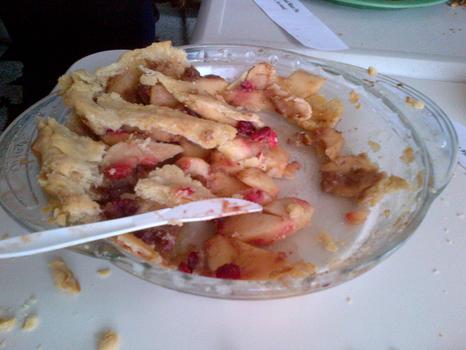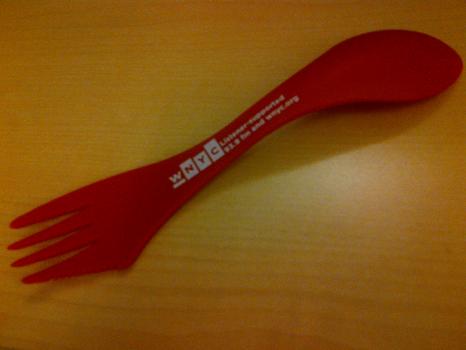 of