WNYC to DC: Donald Trump 'Understands Me'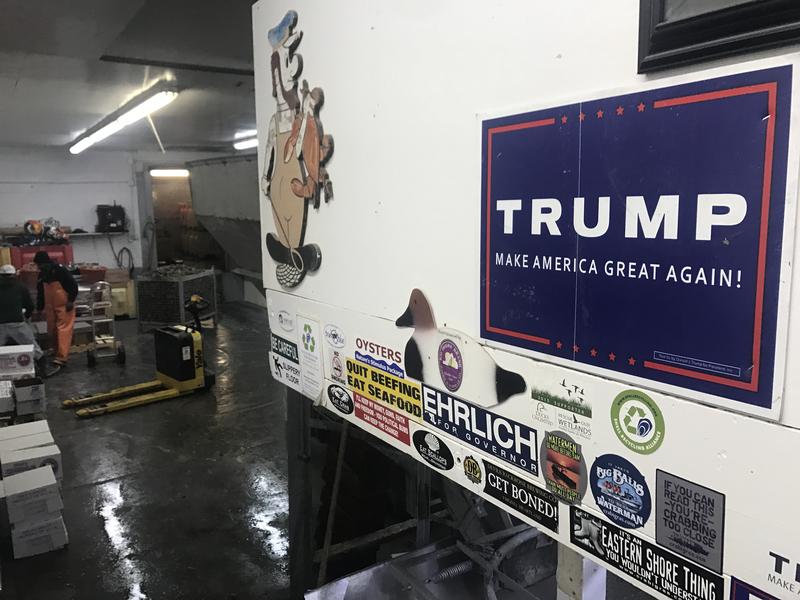 For day three of WNYC's road-trip to the inauguration reporters Arun Venugopal and Matt Katt visit Maryland, starting at a bar in Centreville to talk with locals about Russia over drinks. They've been on the road all week, leaving from Trump Tower on Tuesday, then New Jersey and Philadelphia on Wednesday.
Good morning Maryland! You're pretty. #WNYCtoDC pic.twitter.com/ibTESX24HD

— Matt Katz (@mattkatz00) January 19, 2017
Centerville is a tiny rural community that made headlines last month when the Obama Administration shut down a Russian compound there in response to allegations of Russian interference in the U.S. presidential election.
The next stop on the Maryland itinerary was Grasonville, where Matt met seafood company manager Jenny Griffin. She's a big fan of Donald Trump and finds some of the stigma that comes along with that to be unfair.
"One of the things I take issue with as a conservative is [the assumption] that I'm supposedly not going to respect people who are different," Griffin said, adding that her staff is diverse and that they all get along. "The idea that conservatives are not inclusive is ridiculous."
Reporting road trip to inaugural takes us to Eastern Shore of Maryland, where I hear love 4 Trump & watch 'em clean oysters. #WNYCtoDC @WNYC pic.twitter.com/hd3t4iec0f

— Matt Katz (@mattkatz00) January 19, 2017
Arun decided to visit Montgomery County, which has seen a recent spike in hate crimes despite its diversity. Mikey Franklin, told Arun he felt some of that tension after he and his wife hung a Black Lives Matter banner outside their condo. They later woke up one morning to find their car had been vandalized. 
On the car was a note that read: "Your lack of care and racism is very annoying. And disgraceful. And for this we would like to award you a gold star. Enjoy the mayhem."
Last day preview: Arun and Matt head to D.C., Prince Georges County — the wealthiest black-majority county in the US. — and then to check out Donald Trump's inauguration. 
Signs you're approaching DC. #WNYCtoDC pic.twitter.com/y9UqdKzjhm

— Arun Venugopal (@arunNYC) January 19, 2017