WNYC Black History Month 2014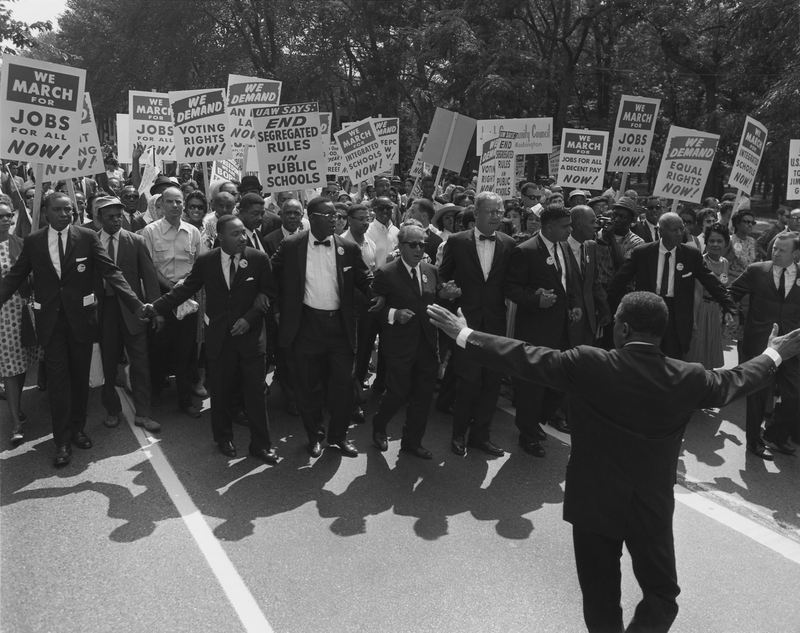 WNYC celebrates Black History Month with special programming throughout February.  We will feature specials every night at 8PM on WNYC FM and AM during the week of February 10th with additional specials on the weekends. The complete list of specials and their air dates are listed below.

The New York Public Radio Archives has pulled together some of the department's leading preservation work concerning African-American history. Listen to previously unreleased interviews with Dr. Martin Luther King Jr. and a rare 1965 interview with Malcolm X, plus much more. Explore the Archives here.
Broadcast information and details below.
---
As Black As We Wish to Be
Visit a tiny town in the Appalachian foothills of Ohio where, for a century, residents have shared the common bond of identifying as African-American despite the fact that they look white. As a result, everyone's asking: Am I black? Am I mixed race? Or, am I white?
Airs Saturday, February 8th at 6AM on 93.9 FM and at 2PM on AM 820 and Wednesday, February 12th at 8PM on 93.9 FM and AM 820
---
The Price of Admission: A Musical Biography of Florence Beatrice Price
Florence Beatrice Price wrote more than 300 musical compositions. Some of her works have been lost, others are unpublished, and some of her piano and vocal music is still being heard in concert halls. Learn more about the mind known as the first African-American woman in the United States to be recognized as a symphonic composer.
Airs Sunday, February 9th at 7AM on AM 820 and Thursday, February 13th at 8PM on 93.9 FM and AM 820
---
The Autobiography of Malcolm X
When Malcolm X was assassinated at 39, his book nearly died with him. Today, The Autobiography of Malcolm X — a favorite of President Obama and Justice Clarence Thomas alike — stands as a milestone in America's struggle with race. Public Enemy's Chuck D tells us, "This book is like food. It ain't McDonalds — it's sit down at the table and say grace."
Airs Monday, February 10th at 8PM on 93.9 FM and AM 820
---
RE:Defining Black History
During a month selected to celebrate "history," we are treated to a lot of the same familiar civil rights stories. In this special, you can hear some alternate narratives, ones edited out of the mainstream imagining of Black History.
Airs Tuesday, February 11th at 8PM on 93.9 FM and AM 820 and Saturday, February 15th at 2PM on AM 820
---
New Leaders
In this special, the next generation of grassroots leaders in the African-American community are spotlighted. Most of these men and women are on the front lines of their communities, diving in to what can be very unglamorous work with little to no mainstream recognition.
Airs Friday, February 14th at 8PM on 93.9 FM and AM 820
---
Going Black: The Legacy of Philly Soul Radio
Starting in the 1950s, Black radio stations around the country became the pulse of African-American communities, and served as their megaphone during the Civil Rights and Black Power movements. "Going Black" examines the legacy of Black radio and its influence in progressing the African-American community.
Airs Saturday, February 15th at 6AM on 93.9 FM and Sunday, February 16th at 7AM and 8PM on AM 820
---
BBC Witness: A Black History Month Special
The BBC World Service highlights incredible interviews looking at the African-American experience as told by the people who were there. Six narratives will be highlighted, including the controversial moment when Petula Clark touched Harry Belafonte on live television, and the story of John Howard Griffin, a white journalist who attempted to change the color of his skin in the 1960s.
Airs Saturday, February 22nd at 6AM on 93.9 FM and at 2PM on AM 820 and on Sunday, February 23rd at 7AM on AM 820
---
The Tavis Smiley Show: Memories of the Movement
The years of the Civil Rights Movement are counted among the most volatile, yet vibrant, in American history. In this two-part Black History Month special, several of the men and women who served on the frontlines or behind the scenes share their painful, poignant and personal memories of the Civil Rights Movement.
Part I airs Friday, February 14th at 11PM on AM 820; Part II airs Friday, February 21st at 11PM on AM 820
---
Remembering Jim Crow
For much of the 20th Century, African-Americans in the south were barred from the voting booth, sent to the back of the bus, and walled off from many of the rights they deserved as American citizens. In this documentary, Americans—black and white—remember life in the Jim Crow times.
Airs Sunday, February 9th at 8PM on AM 820
---
Say It Plain - A Century of Great African American Speeches
This program highlights a selection of landmark sermons, speeches and broadcasts by African American orators over the past century. From Booker T. Washington and Marcus Garvey, to Shirley Chisholm and Julian Bond, listeners will hear the words of African-American figures as they call for action on civil rights.
Airs Sunday, February 23rd at 8PM on AM 820