WNYC Audio Tour of the 9/11 Memorial Museum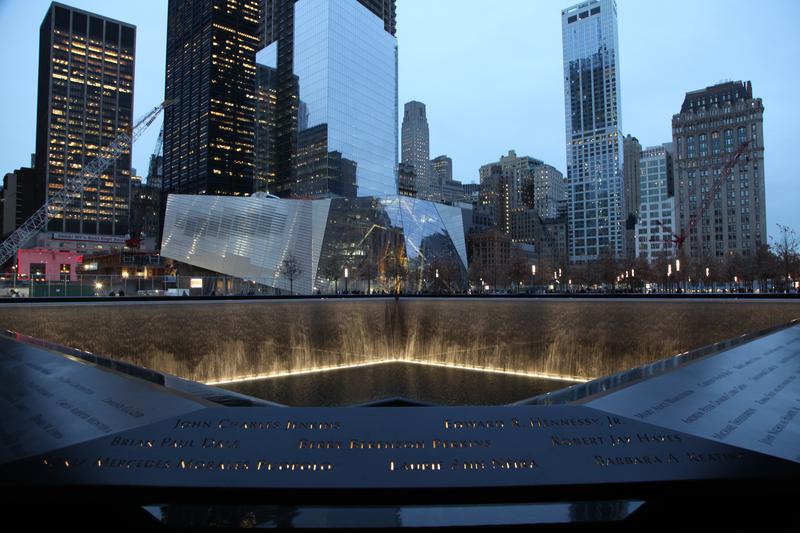 More than 40,000 people, mostly family members of victims, survivors and first responders, have visited the 9/11 Memorial Museum this past week.
What did they see? And what will the general public see on Wednesday, when the museum opens to all?
WNYC toured the museum recently to find out. It's a massive space — 110,000-square-feet — with about 15,000 objects, 23,000 images and 500 hours of film and video.
Walking through the space is an intense and moving experience. The below-ground area, designed by architects at Davis Brody Bond, goes down seven stories and takes visitors through ramps and tall observatory decks that allow for contemplation of the footprints of the twin towers, and the slurry wall that held them.
Slurry Wall (Jin Lee)
The staircase that thousands of people descended to safety is also displayed. Alice Greenwald, director of the museum, explained that the general public walks on new steps built next to the staircase, walking in the same direction. "So in some level, we are kind of suggesting we are all survivors of 9/11, we live in a world that was defined in so many ways by that event," she said.
The historical area is divided in three parts: The day of Sept. 11, 2001; the history that led to the attacks; and  the recovery and events that followed.
A separate area called "In Memoriam" commemorates the lives of the victims and includes pictures of almost 3,000 victims, as well as testimonies about their lives.
'In Memoriam' walls (Jin Lee)
WNYC invited two critics to walk through the museum with Morning Edition host Soterios Johnson: WNYC's art critic Deborah Solomon, and architecture critic James Russell, who reviewed the museum for The Wall Street Journal.
In this audio tour of their visit, Solomon said that when she thinks about 9/11, she often thinks about the people who did not know the end of their life story. "I feel like the primary task of the museum is to allow us to finish the story for them," she said. "Does the museum resolve any issues? I would say no, but it's probably too soon to resolve any issues. I am glad it's here as a repository of all the artifacts of 9/11."
Russell said a visit to the museum is a very powerful experience, but not a cathartic one. "The objects are very spectacular on some level, and powerful and wrenching on another," he said. "There is a certain sense of, 'OK, we have committed these enormous resources, now what does it mean?' And in fact we don't know what it means yet."
Both the museum and the memorial — the two reflecting pools formed in the footprints of the towers — cost a total of $700 million.
Trident Projection Steel (Jin Lee)