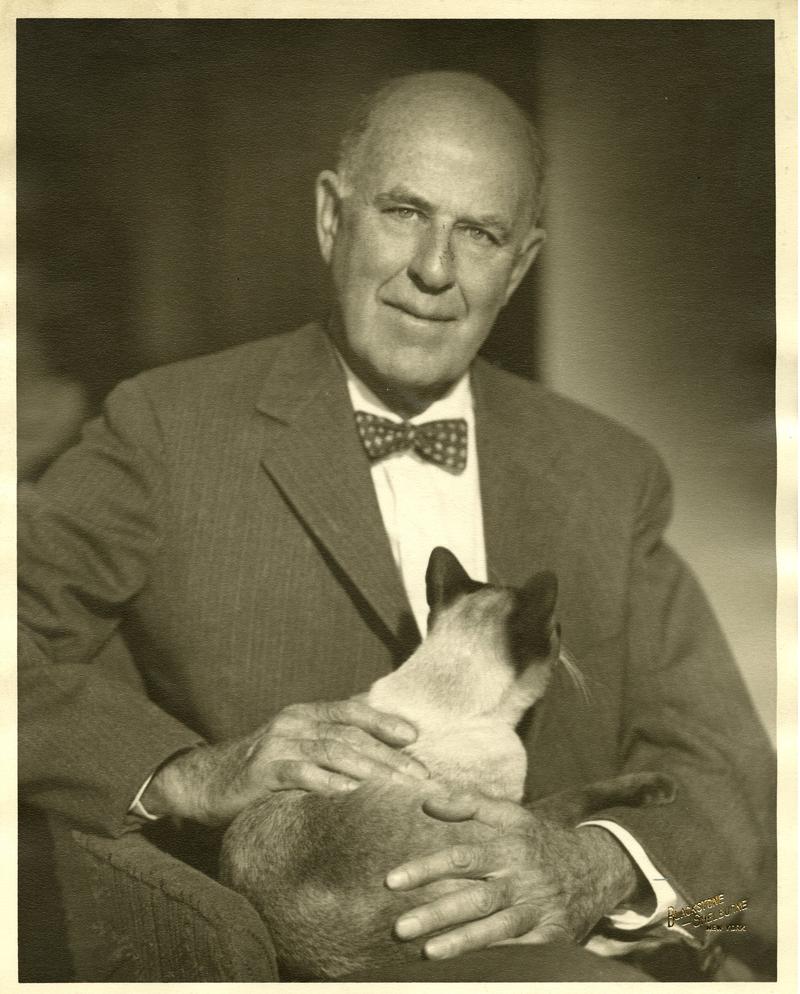 It began at WNYC as the program South American Way (November 4, 1940 edition above) and ended up at WQXR as Nights in Latin America. Through it all, the source collection of recordings remained the same (and grew) as the show passed from one family member to another.
Evans Clark - South American Way

Evans Clark was a writer, largely on social and economic issues. He was also a teacher, foundation executive, health care official, housing expert and on the editorial board of The New York Times. But it was during his tenure as Executive Director of the Twentieth Century Fund (1928-1953)  that he was able to indulge his love of Latin American music by building a unique collection of more than six thousand discs of both commercial and one-of-a-kind transcriptions containing native folk and popular music from every country south of the U.S. border.  He put this collection to good use by sharing it with WNYC listeners from 1940 to 1946 on the weekly program South American Way. [1] The title and theme music were taken from the popular 1939 song of the same name usually associated with the Andrews Sisters and Carmen Miranda, who sang it in the stage musical Streets of Paris and then on-screen in 1940 for the film Down Argentine Way.

Clark had become interested in Latin American music because he loved dancing and reportedly found Latin American rhythms fascinating. At one point as a member of the Music Committee of Nelson Rockefeller's Office of Co-ordinator of Inter-American Affairs, a federal agency promoting economic cooperation with Latin America in the 1940s, Clark made a series of short trips to Latin America and wrote up his musical findings. Here he emphasized his focus on popular music.
"It appeals to almost everyone instead of to a few sophisticates and, therefore, has a far greater influence. Also, it reflects national traits and characteristics--it gives the 'feel' and atmosphere of a country as concert music never does--even when the latter is based on 'indigenous themes.' " [2]
 January 13, 1941
  January 26, 1942
Pru Devon - Nights in Latin America
Born in Wales in 1908 and raised in Devonshire, Prunella Bodkin was the daughter of English Shakespearean actors and sang at the Welsh Eistedfodd. She
described it as, "that fabulous gathering of bards and minstrels imbued with the same earthy exotic quality that you might today find in a remote village in Mexico, in Paraguay, or in a distant gathering of Gauchos far off in the Argentine Pampas."[3] Her training was certified by London's Royal Academy of Music. She came to the United States with her mother and brother at the age of 15, settling in San Diego, where she continued her education and discovered Mexican folk music, becoming a devotee. In 1930 she married Karl Kirchwey, the brother of
Nation Magazine
editor Freda Kirchwey. Freda, it turned out, was married to Evans Clark. They met and remained in touch after Karl's death in 1943. Acknowledging a mutual appreciation for the music and his own growing work pressures prompted Clark to pass the show on to her, along with access to his unique music library. Devon described a pivital lunch with him to a
Times
reporter.
'I remember how we both laughed when I off-handedly asked whether I couldn't take over'...'On further thought the possibility didn't strike her quite so funny; she auditioned for the station and consequently not only took over Mr. Clark's show but originated two of her own.'[4]
The WNYC programs aired in 1946 and included a children's show, and a weekly broadcast of 'nostalgic' songs presented under the title of That Reminds Me, in addition to the the program of Latin and South American music. All were done under her maiden name, Pru Bodkin. But, as she explained, it was the Latin American music that sparked the most interest. "I was surprised and delighted at the response and interest of listeners...This naturally encouraged me to develop the program further, and subsequently, when I was invited to present a program of Latin American folk music on WQXR, Nights in Latin America was born."[5] The show shifted to WQXR in January, 1947 and she adopted the radio stage name of Pru Devon. The program was a regular feature until June, 1971. Over the show's more than twenty-year run, Devon added tremendously to the Clark Collection with a particular emphasis on the folk content.
The program's primary sponsor was Panagra Airlines and, for a period, Savarin Coffee. The shows were painstakingly researched and produced reams of fan mail, a sampling of which is in the slideshow at the bottom of the page. But first, a typical program from June 25, 1948 by Devon, opening with her standard, "Saludos, amigos!"
Pru Devon performing in the WQXR studio. (Courtesy of Alister and Wendy Sanderson, WQXR Archive Collections)
 ___________________________________________________________
[1] Based on scripts on file, it appears that Evans Clark's program also appeared on WQXR for a brief period between Novemeber, 1943 and March, 1944. We're guessing this was a trial of sorts. (Thanks to appraiser Daniel Langan)
[2] Clark, Evans, Brief Notes on Music in Eight Countries of Latin America : A Report of a Flying Trip to Brazil, Costa Rica, Honduras, Guatemala, Mexico, Nicaragua, Panama, and El Salvador for the Coordinator of Inter-American Affairs, 1941, pg. 2.
[3] Devon, Pru, unidentified magazine article from 1950s.,
[4] Hift, Fred, "Latin American Radio Showcase," The New York Times, November 12, 1950, pg. 113.
[5] Ibid.
Special thanks to Alister and Wendy Sanderson and Matthew Barton, Curator at the Library of Congress Sound Division.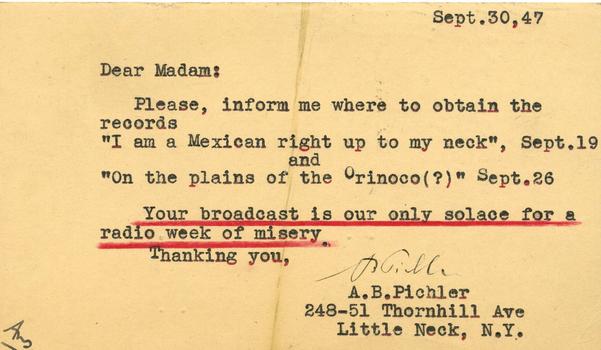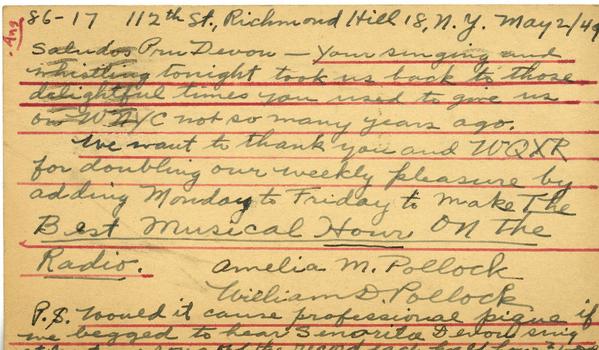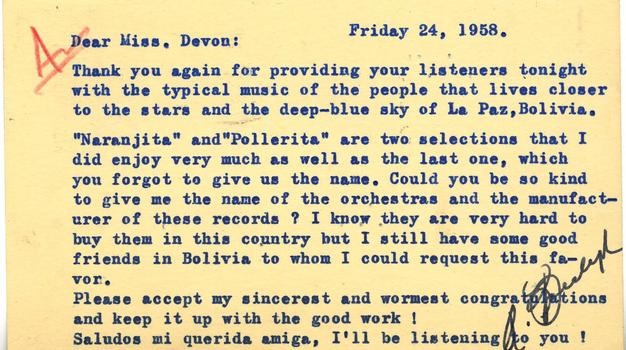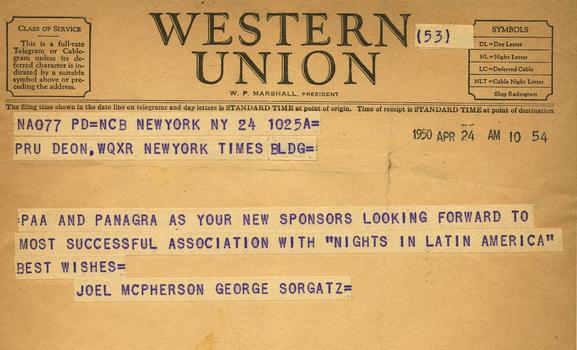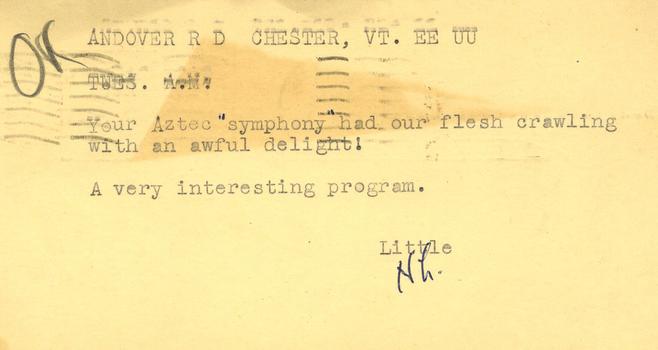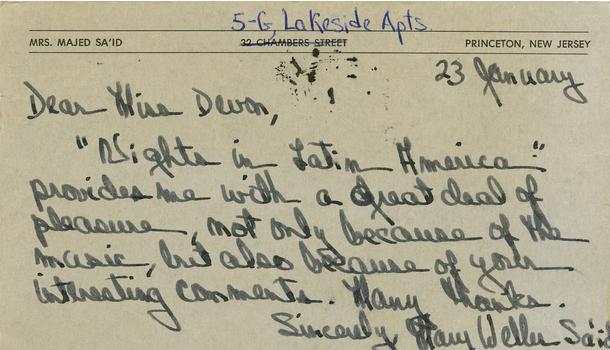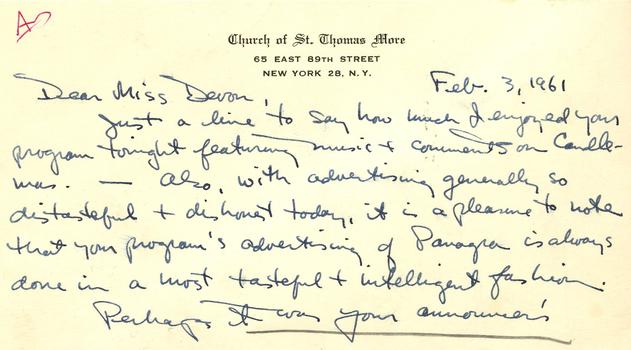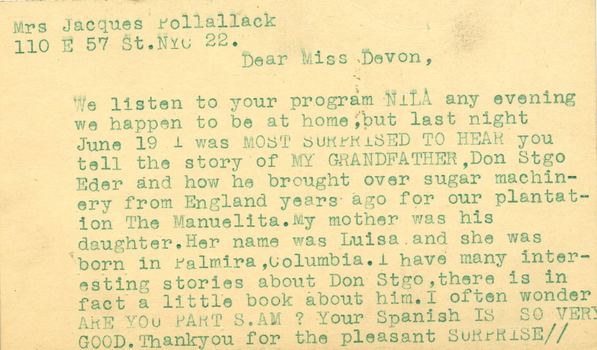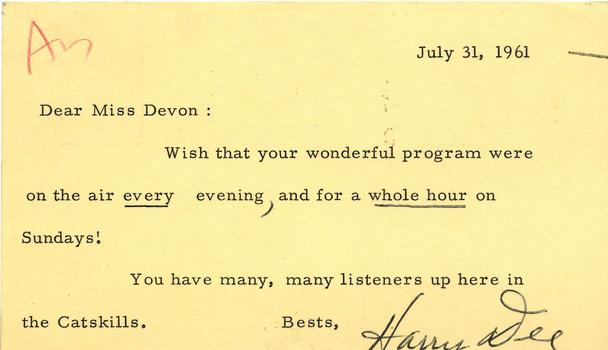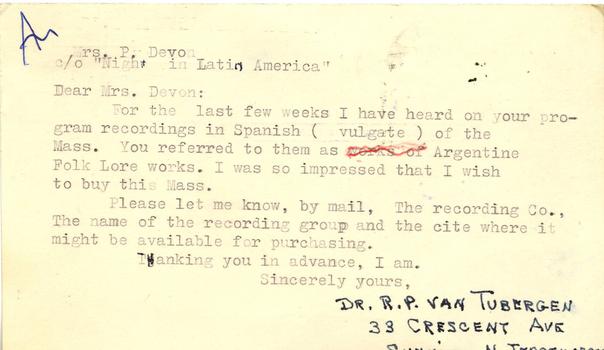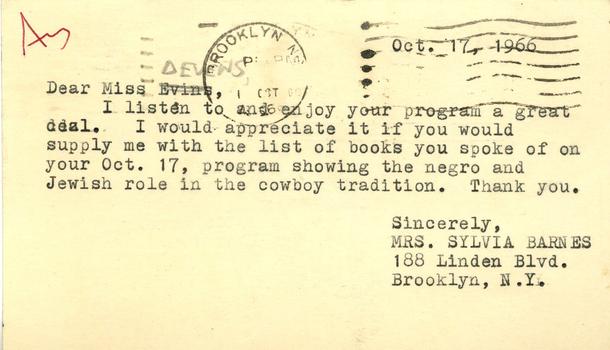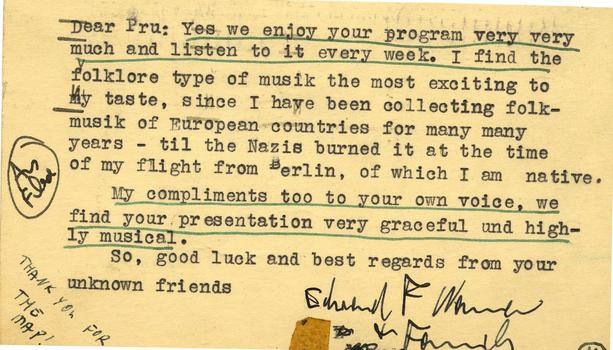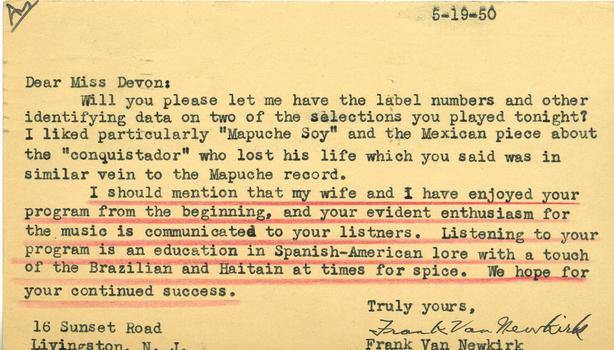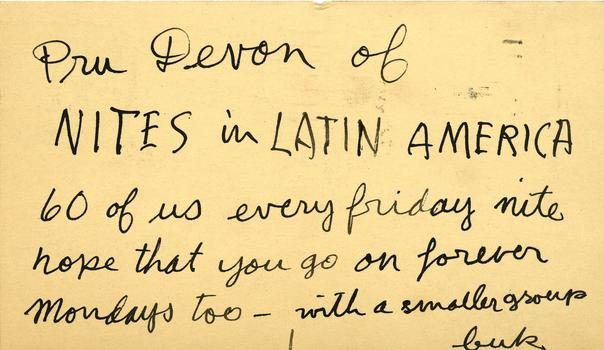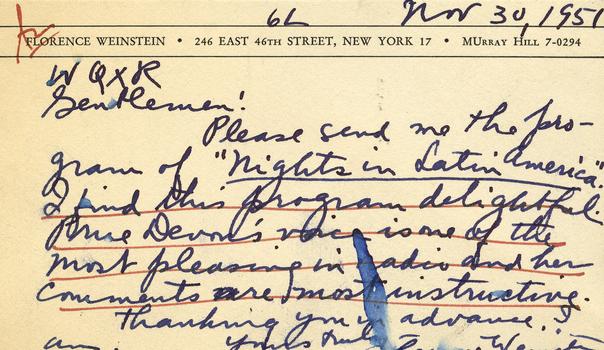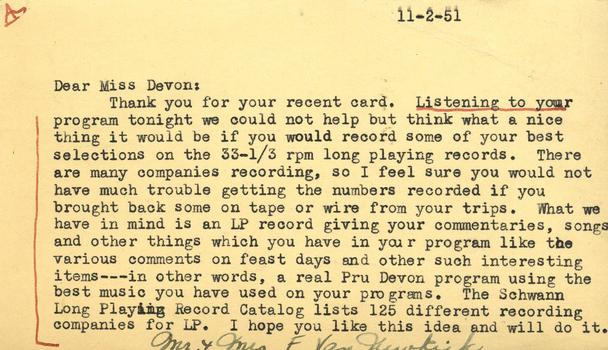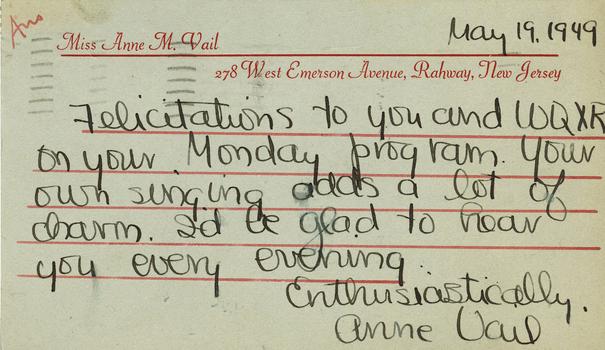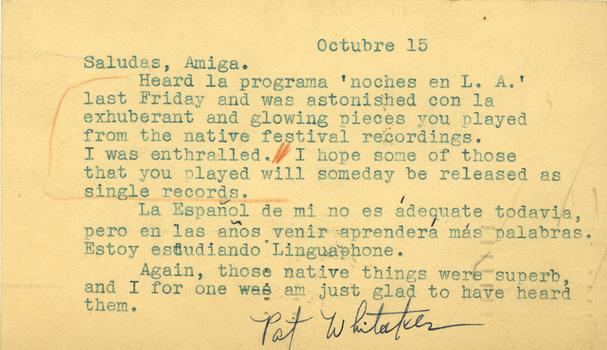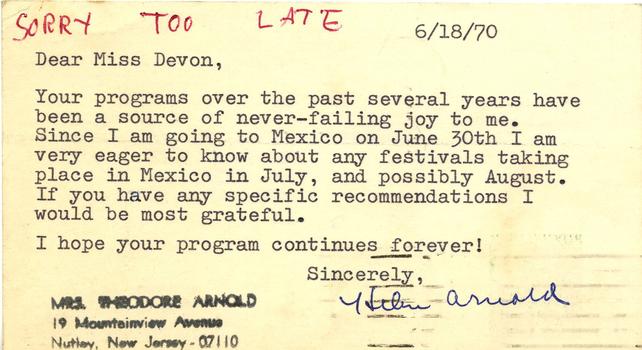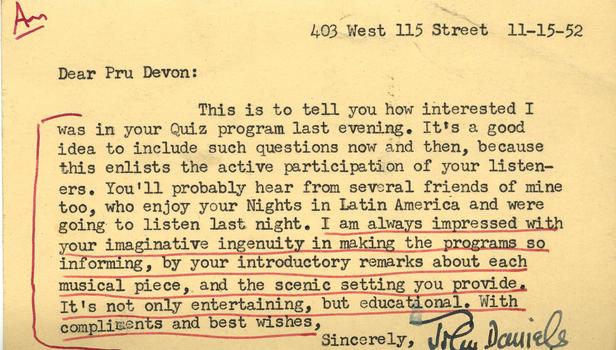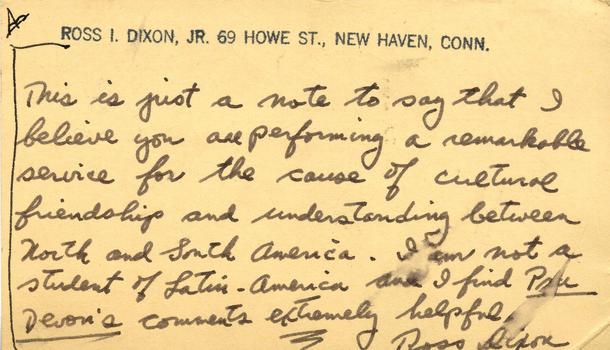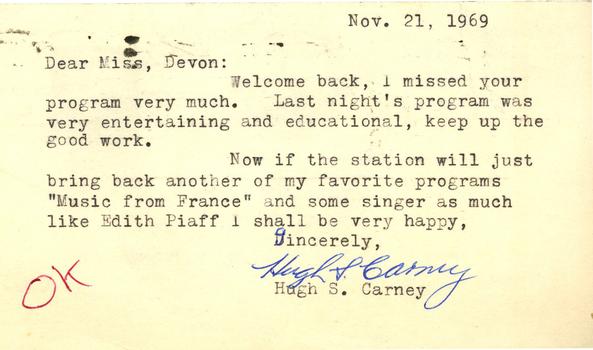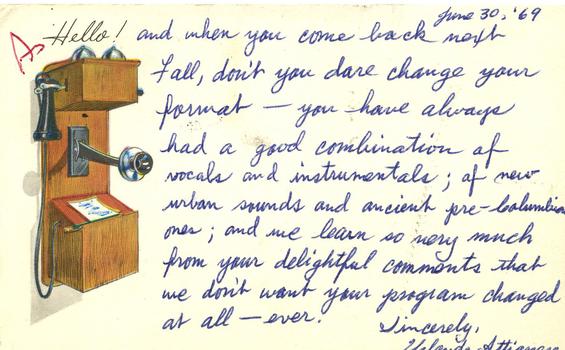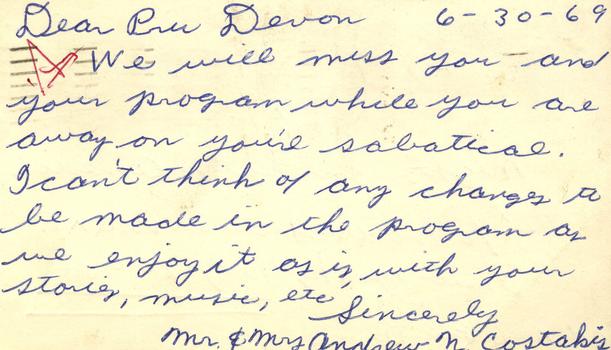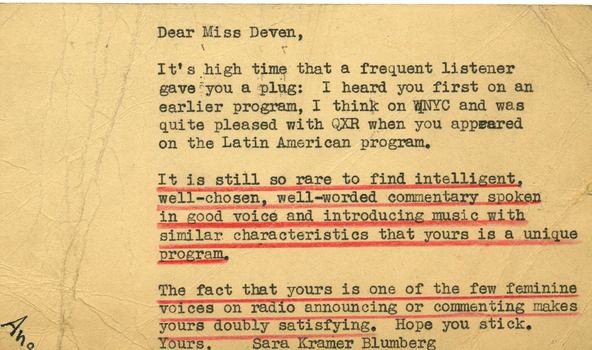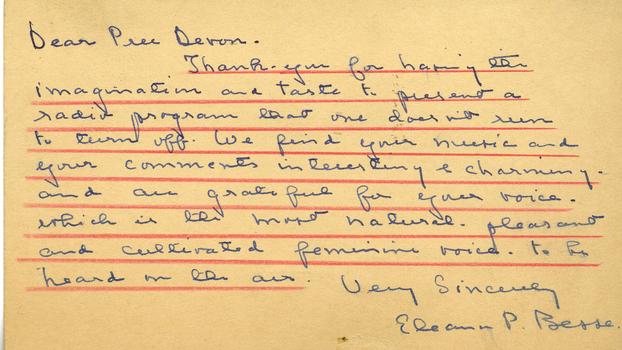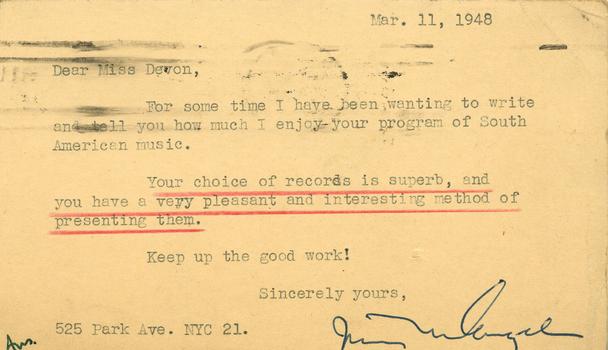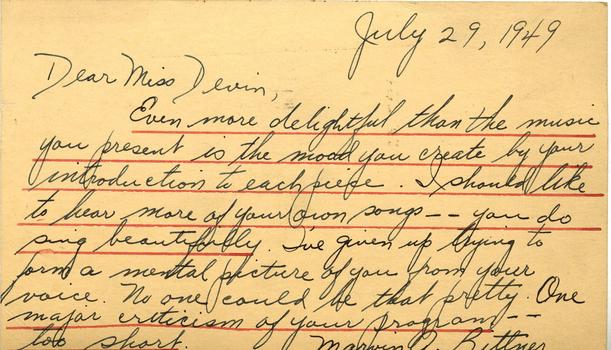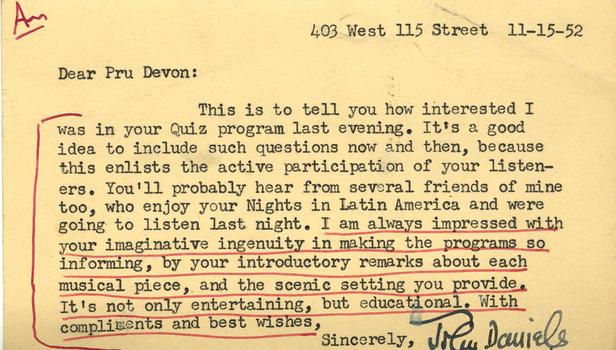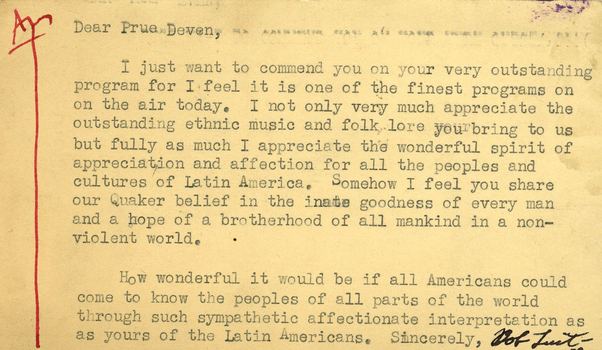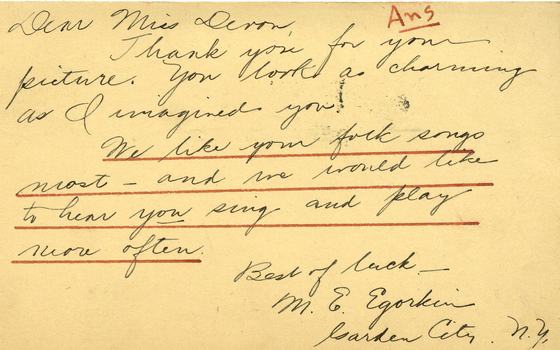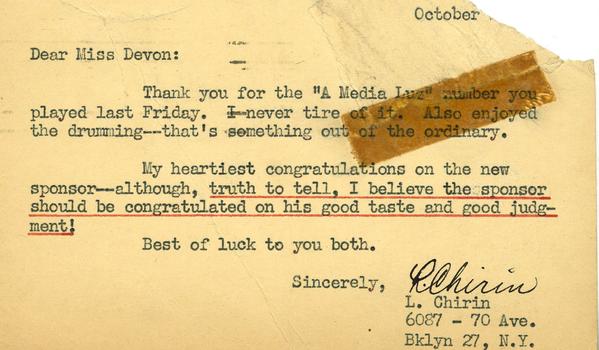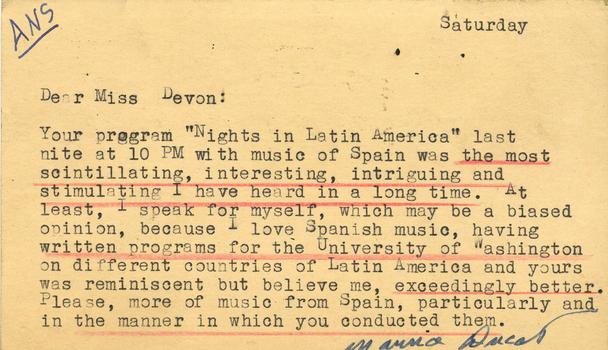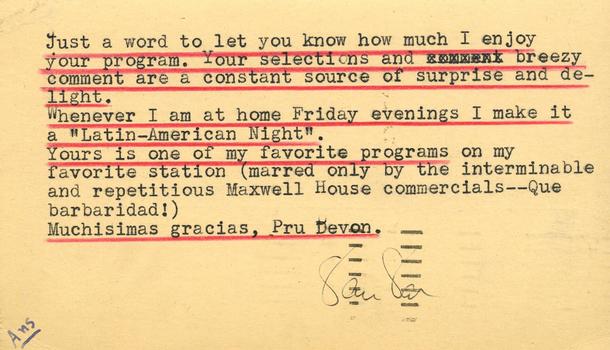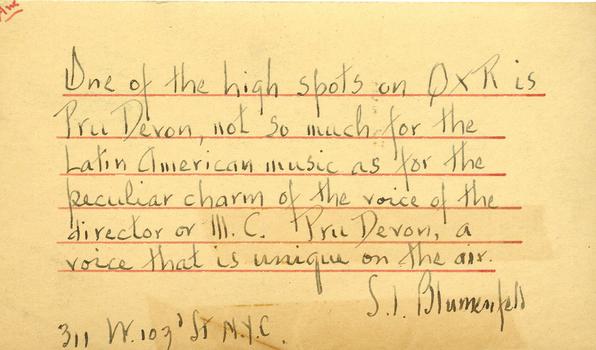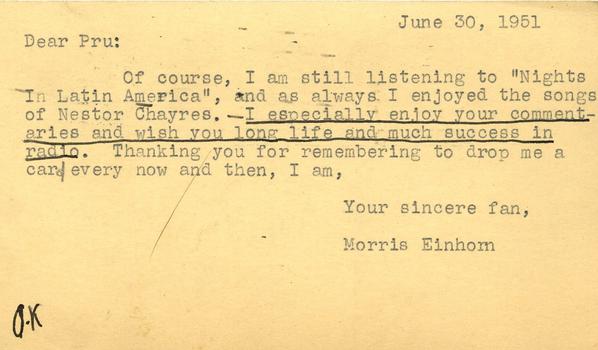 of