A Winter of Backbreaking Work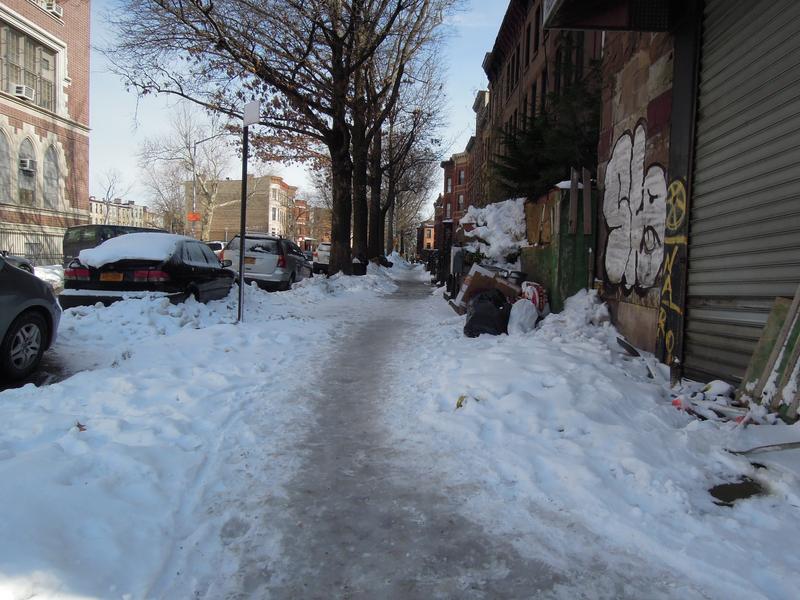 Even on a day when the winter sun is shining, temperatures are somewhat reasonable and the sky is snow-free, New York City is not such a beautiful place these days from at least the ankles down.
Snow, slush or hardened ice have made sidewalks difficult and even dangerous to navigate. On Sunday afternoon in Bedford-Stuyvesant, Maggie Baker, donning a long fur coat and turquoise headscarf, trudged in the middle of the road on the way to her car after church services to avoid the icy walkway.
"You have to clean your sidewalk," she said, and added that as a building-owner herself she understands her duty. But not all property-owners seem to be keeping up, she said, as she pointed to the walkways around her.
Indeed, property-owners are responsible for clearing sidewalks within four hours after the snow stops, if the storm happens during the hours of 7:00 a.m. and 5:00 p.m. If a winter storm strikes during the evening and overnight hours, then they must clear sidewalks by 11 a.m. If not, they could face a penalty or even jail time.
The rules are laid out on the city's website and in the New York City administrative code.
If the ice is too hardened to clear, as is apparently the case in many neighborhoods, property-owners should throw down salt, sand, saw dust, ashes or kitty litter to help make the walkways passable.
Anyone can report a complaint about snow or ice removal by calling 311 or texting 311-692. You can also view a map of how many service requests are adding up in each community district.