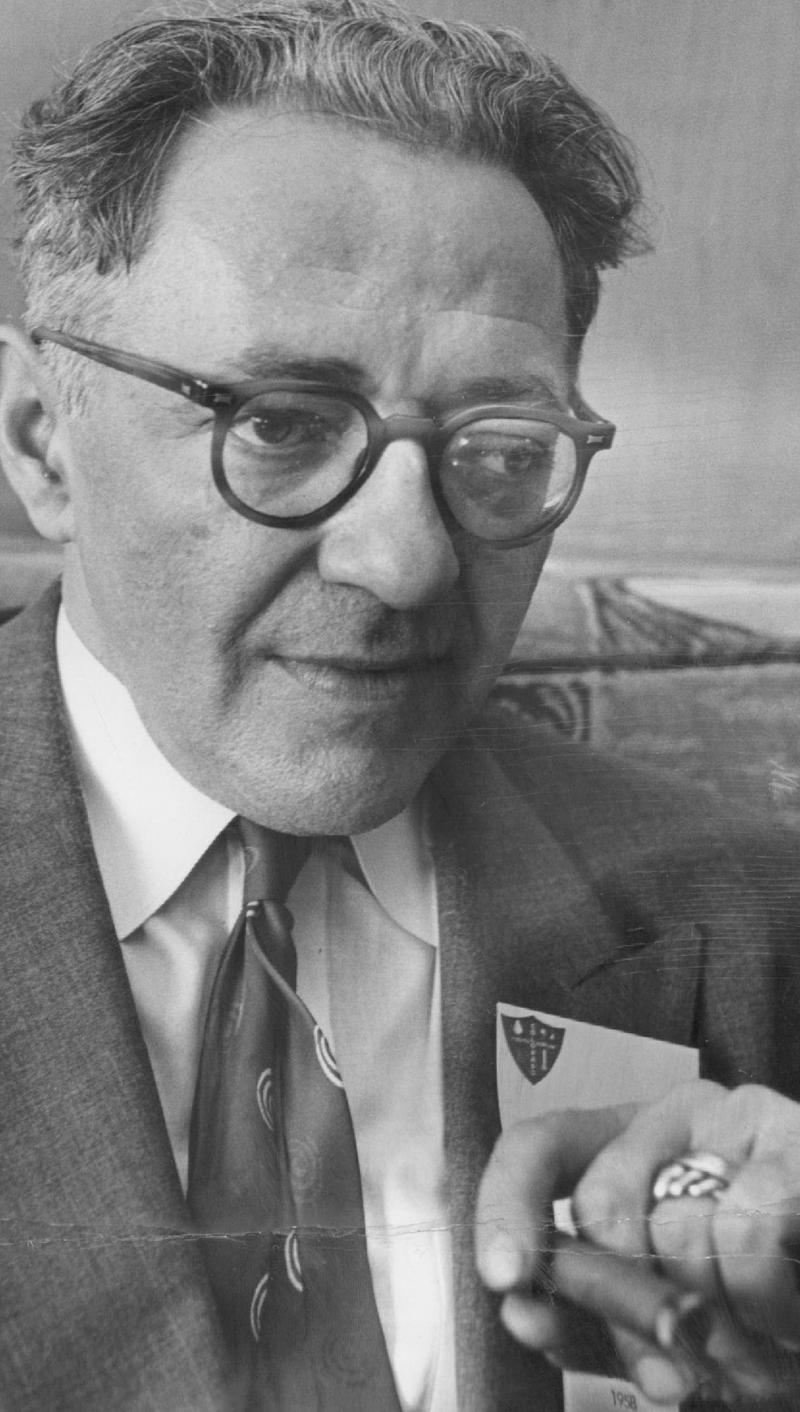 Summary
This episode is from the WNYC archives. It may contain language which is no longer politically or socially appropriate.
Irita Van Doren introduces German-American science writer Willy Ley, author of "Rockets, Missiles and Space Travel." He discusses the developments in space travel that had taken place previous few months - the succesful launch of the satellite Sputnik.

Van Doren next introduces Eleanor Robeson Belmont, and speaks highly of her charity work and career in the theater. Belmont tells some short anecdotes from her memoir, particularly related to her relationship with George Bernard Shaw.

Finally, Van Doren introduces President of Yale University Whitney Griswold. He discusses history, education, and the future.
Audio courtesy of the NYC Municipal Archives WNYC Collection
WNYC archives id: 71214
Municipal archives id: LT7763
Transcript
This is a machine-generated transcript. Text is unformatted and may contain errors.
Let me introduce to you our first speaker today. He's a man with a lively sense approach of the romance as well as of the importance of science twenty will lay became excited by the idea of space and with other young German scientists he formed the Society for space travel they got their first fuel rocket off the ground in one thousand nine hundred thirty one. And among the proud inventors was a young man whom Willie Lay had introduced to the others man whose name becomes every day more prominent and more familiar were enough and Brown will a came to America in one thousand thirty five and tried hard to interest people here in rockets only science fiction addicts paid any attention to make a living he turned to other scientists zoology for instance and wrote the long fish the dodo and the Unocal a fascinating book containing as large a collection of zoos of zero logical art it is as you are likely to find anywhere so I can see severance giant sloths and the like. He published some articles about rockets and was consulted by the government now and then but there was no serious interest and no money for research until the lead to began to fall on Britain then the Rocket Boom was on and ever since Mr Lay's knowledge has been so greatly in demand that his life has been spent largely on phones and trains and planes. He's found time however for writing and research even for a book for youngsters engineers dream which one the teenager world in the one nine hundred fifty four Herald Tribune children Spring Festival contests. He's also written with his old friend when Evan Brown a book on the exploration of Mars this came out about a year ago when Mars Bars and it's closest to there is only thirty five million miles of Alice space between them. Rockets missiles and space travel is Mr Lay's most important book and the story of that book is really the story of the development of the whole theory of space travel first published in May nineteen forty four just a few weeks really a few months preceding Yemenis be to lose naturally events moved on so fast from then on that authority vision revision had to be made this was done in forty six with the addition of two chapters on World War two rockets and in its new farm it was called rockets and space travel by fifty seven new missiles had been developed and many new rocket fueled so far a third time the book had to be revised rewritten corrected and expanded and we have it now in a revised edition with the title rockets missiles and space travel and Mr Lay tells us still another edition is in preparation for the same book but with a chapter on Sputnik. It is interesting however as an indication of will ace for a site and vision that in the very first edition of that book he stated that it should be possible to build a very large liquid fuel rockets that such rockets would be useful for carrying scientific instruments into the upper atmosphere. That one rocket might be used as a payload for another rocket you know to climb beyond the fringes of the atmosphere and finally that it should be possible to put a manmade structure a satellite into and out of it around it a. This remember was in forty four today. That satellite is an official project in this country and Sputnik is circling through space let me introduce to you the leading popular historian of rockets and space travel a profit to be honored among us really. Ladies and gentlemen. Before I tell you what I'm going to speak about here today it might be just as well so to speak to a. Skype thing to tell you what I'm not going to speak about it I'm not going to talk about educational problems this will be handled by another man oh man. By the panel and I'm not going to speak about the trials and tribulations of the book author you know about this politics this hour so this least takes me to a science and specifically. To this scientific events in space travel during the last few months. And even worse this ability to lead to the problems we have now. The simple fact is that we did. In the evening hours of up to about four thousand one thousand and fifty seven the first outer special satellite. Took up and on our planet. This became you know when you were in F U I was the satellite separating in ninety six minutes and after the second that's what I believe I was using on our planet and then the same when literally was and I was I was besieged by questions on what was. And this is one I'm going to devote my ten minutes to what can we learn and what ever. I me begin by saying that we have been. In this country to call it if you might not think it's in example nation of flight walked for I want one satellite launching the first of which is scheduled for Wednesday morning of this week weather permitting. In preparation for this satellite launching we had established. Two lines for precise tracking one of these tracking lines one along the East Coast of the United States and the west coast of South America which are more or less on the same. And this was what planking by a great deal another acting line. Packing by optical means by astronomical Camelias began in Honolulu and went across White Sands New Mexico for the way down Kennedy's Spain team here and no other IT media nor than Australia to drama and I was scientists or at least some of them had been a little bit well wait for some time and whether I was so subtle and such might not be wasted because all these people on these two track again and it's good as they work and play in that state was that experience. And the idea of filing a satellite I just thought I'd say. One of they now have all of the practice they need. And could possibly digest and actually some minor flaw it's have been a solid in the method of tracking and have been corrected but generally speaking we have. Are going to alone a number of things of the following kind. You all know that the planet Earth is a magnet and has a magnetic field. Recently at a professional meeting of the International Geophysical. One expert pointed out that our present at the of the magnetic field could be quite right and he is weak since he was followed by another expert who apologized in saying that he has just learned that our ideas could be quite right but his own experiments have been carried out in accordance with these out more than I do yes and that's echoing. What an artificial satellite anybody is out of the satellite was ahead by us toward the sign which on these two sets of ideas it all how are they could be integrated to form he would one other thing that can be learned here is the far away we got all kinds of radiation from the sun starts with experience forced I don't buy all that visible light rays radio I want my sphere Yep so about one third of the radiation from the sun but it at such a VERY quickly that solves all of the X. layers very nearly all of them most of the time I own that very little of the visible light and the unknown quantity of the trace. To find out what radius and there actually is in space before a white Mustang goes to work figuring an artificial sample maybe is the only means no one through science certainly that class make haste and Space Quest make a very strong actually very fast moving company I also happen mostly of hydrogen atoms simply because I put in Athens happened to be the most frequent Adamstown little first to speak but they're big enough for heavy primaries as the expert quotes them naturally out of I on and comes off here young Adams all accepted. We do not yet know but we want to know just what the pope policy of these atoms is to each other and how sleep going to be something say the size of an airplane would be struck by that and I'll defer to the satellite is the means of finding out now all of this forceful it's instruments something else can be signed by the can be found out by the D.B.F. of the well but of such a satellite you must have a bad but it has one point two assists to the dog and one points out this out this point farthest out for the apogee is slowly approaching as the satellite all that's on us by missing the date of the pole which we can find out the density of that yeah at the lowest point at the so-called aether deep and there is no other way of doing it and this density is very important because this density is needed by the engine. To design the ship. Which will carry the fillets man into an all but own house. Now all of these things really are just continuing in. The first satellite piece the way for the first men to go into and. Into an Peets the way for the. Main space station to be put into one but on. The space station Intel paid the way for the exploratory to. My planets and to the moon. It is very hard to see all these things still in the future. Take place it is nice to see. That they will take place. In the next twenty and. That the future is. As a matter of fact the future. And the folks thank you. Thank you. Actually this delays book. That there are so many requests for the first flight to the moon that passage on the first flight. Out of that one out of every request is made by a woman. Our next pick up. Our next speaker has led almost a fairy tale life except that in most fairy tales results all right she would by some kind of magic this is done mind has magic it is through the magic of her personality but she has added to it an element not usually found in fairy tales a large measure of hard work Eleanor wrote some began her career in San Francisco as a young tree in a stock company at a salary of fifteen dollars a week and rose rapidly to stardom. She was in the theater only thirteen years but the years included among high standing role great popular successes in the title role of merely Marianne and as dad in the dawn of tomorrow in one thousand hand she left the theater retired to marry August Belmont with her marriage a new life began racing stable it was she who named man a world. Coaching it knew board sleigh riding in Central Park a box at the opera a private car a racing sloop her husband's interests will lead and she share them equally the first aviation meet in the East was held in Belmont Park they went to the Democratic convention in one thousand twelve the Cape Cod Canal was one of August Belmont's major projects and his was the first vessel to go through it at its opening when we entered World War Ron Belmont's third life began it is fitting to call it a life for the Red Cross claimed her and her energies for the next twenty five years. She are going ised directed raise money spoke in France England and in America from church pulpits in Carnegie Hall on the floor of the stock exchange in fact she was largely responsible for making not only the United States but a large part of Europe Red Cross countries during the depression as one more expression of her absolving interest in the welfare of men and women she are going to ised and worked for unemployment relief coming to the conclusion despite her master life fund raising that relief should never be at the mercy of voluntary contributions human need should be the concern of government local state and federal honey life was and still is the Metropolitan Opera called in to help in its desperate need she all denies the upper A Gill who system of paying memberships have democratized and saved up you know all these lives Mrs Delmon if you may imagine has known and worked with the world's most able and fascinating people herself one of them statesman military leaders bankers artists how friendships have been among both the great and the humble experiences sometimes amusing sometimes heartbreaking when I'd show up came to see her when she was playing in Milly Marianne. And wrote up I have just seen Marianne and I'm Yours devotedly I take no interest in mere females but I love all artists and they belong to me in the most sacred way and you are an artist there followed a growing acquaintance and finally a letter to the gifted beautiful and beloved Miss Allen in which he tells her that he is writing a play from Major Barbara because of various managerial difficult she never did anything but in her memoirs some wonderful letters from show about many years later she was in London and wrote to show reminding him of the young American woman he had written Major Barbara and asking if she might come to see. A prompt invitation from. In fabric of memory this is Belmont has written a moving account of that last visit which I have asked her to read at least in part to us now I'm most happy to be able to present to you a sensitive gracious and charming woman who shall rightly called one of the choice spirits of the Elena ropes and. An in. The winding lane. What a bill with the machine a line. Finally we reached the gate for a day that recommended by short conduct me to it said Lawrence. Descended from the car and with the sweeping gesture slowly opened the double gate which shores karma woven in an hour to cross the iron patter he closed the gate behind us and delivered at the front door and eco visitor the snow sitting room in which the made me was simply furnished a bay window at one end revealed an expensive green lawn with a small summerhouse beyond we're sure did much of his work on the lowlands where the area's framed pictures of years one even resting on a chair the desk and the bookcase held a bar relief a bust and the statue with of the author opposite the window was a fireplace with gas logs read it to offer occasional world for brief periods in chilly weather and alongside was obviously the great man's trailer while directly in front of that sire a couch acid both of cosy approach to the master of the House and the fireplace I had brought with me a basket of fruit including Razr isn't half a dozen precious English peaches some vegetables or other and counting the basket two or three bunches of well grown tiny young carrots their fresh green tops made the lacy drapery around the edge of the basket. As this fruitful tribute to a vegetarian was assembled I remember Dr childhood episode when for some sin of omission the punishment had been to write in a copy book one hundred times carrot out of whole horses. This remember and was followed by a later recollection of the well known critic James Nektar who years and got roped in an article on shore if he writes like this on vegetable it's thing quite he could do on me. Nicea had been that my host would arrive leaning on the arm of a nurse or secretary not at tall punctually at four o'clock the door opened and he stepped quickly into the room he was dressed in a gray ish tanned tweed suit plus four suggested that he might be outward bound over his shoulder was slung a leather strap from which hung a small pair of sealed blouses of course he had changed even in American and twenty or more years must register at least a mile in the transformation yet in no outward wa