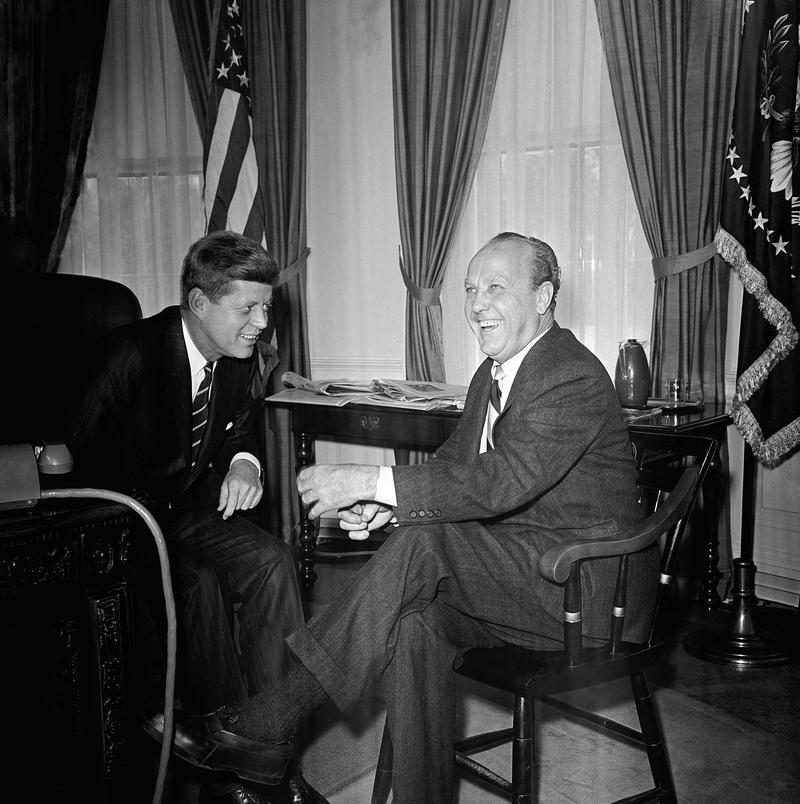 Summary
This episode is from the WNYC archives. It may contain language which is no longer politically or socially appropriate.
Barrett McGurn introduces.

William Randolph Hearst Jr. and Bob Considine speak about the "Hearst Task Force." The joke about the absence of Frank Conniff due to gout.

Hearst opens the speech by describing how the Hearst Task Force travel started. The first task force included Hearst, Conniff and Joe Kingsbury-Smith; they traveled to the Soviet Union.

The most recent trip, which included Hearst, Conniff and Considine "swept the other side of the Pacific." They began in Japan, and traveled through Taiwan, Hong Kong, the Philippines, Vietnam, and ended in Jakarta. The three newspaper men wrote a series about their travels to acquaint American readers with the side of the Pacific they were, perhaps, less familiar with.

Considine speaks about their travels. During the trip they met with Japanese Prime Minister Ikeda and the President of the Republic of China Chiang Kai-shek. He talks about political relations between countries, including a pact between the Philippines and Indonesia.

The main focus of Considine's speech is their meeting Ngo Dinh Diem the day before the 1963 South Vietnamese coup and assassination of Diem and his brother.


Audio courtesy of the NYC Municipal Archives WNYC Collection
WNYC archives id: 70508
Municipal archives id: T242
Transcript
This is a machine-generated transcript. Text is unformatted and may contain errors.
It is a very great pleasure to introduce. O.P.C. and Pulitzer Prize winning team Hurst task force William Randolph Hearst Jr and Bob Carter nine neither of whom need every penny of production as our fellow members Mr. Thank you thank you. Frank isn't here as you can see he's got the gout. It's. It's something that he nurses back and forth. When before he got to be an executive in our company just used to be called the soft what but. Now that he found out it was rather a rich man's Does he call the guy out now but it was roughly the same as to do with a visit to someplace like that I have a feeling anyway we really miss him we. Probably do more because. I think he's been writing some very. Bright stuff and brilliant stuff in the original stuff about Viet Nam and and while we. Travelled together was and we and think pretty much alike why I would have preferred And I think you probably would have to have heard Frank talk for myself how we're going to try and trap this up this point is if we can't go speak the same time we can but it doesn't come of worth a damn and and and we often do this from a kind of affect but this sort of a thing is best for us to be the alternate one listen to the other so I thought I'd break it in a little bit by reviewing your god just sort of telling you a little about how we got on this task force picture vice it was it was from the first visit up to Russia and when they said that I could go they told they've sent that I could go and he came and told me at the Gridiron after a few snots After dinner I thought things had gone too far you know I thought maybe it's just a lot this evening that he's talking about and he said no this Russian says you can go things have changed up there since Stalin and this other guy would you can go up there and I thought well that I surely ain't gone by myself by a damn sight and so I said well so I thought of Joe Schmidt who was overtaken by Smith who was over in Europe and Franklin if we'd been in the water again I thought maybe the feel that we would not get so on our backs on the mat at the same moment and but we figured to have a pretty tough time with them so we we said that with three of us will go they first said well we know kings very Smith and only two maybe just their way of doing things as most of us know and I said no that's our way of doing things and I said All right so ever since then we've been traveling in threes. Joe got himself to be had a via necessary in the States and then when we joined up with U.P. in the U.P.I. he went down the journal and Bob and Frank and I have been traveling as a trio since then. And this time when Rogers joined Rogers joined us over there. We went over to do the usual thing not only because we like to travel it gets us out of our offices and out of town and it's good for us and it's on the cuff but. We do learn something and we hope we interpret something and we hope it's good for the papers that's the name of the game. We all about the same time began to realize that while this news was coming out of the Pacific are right it was confusing. I thought it was just me of course I was out of the match and sort of a little out of touch to get the papers the next day and the radio doesn't come to clear they're in the television and. And when I talk to the guys back east they said no that's happening here to The Times says one thing the drip says another in the morning it's great you're missing it and so I said well why don't we go out there myself and everybody said that's the ticket so we we went out we make a little preparation for these things sometimes not as much maybe as we go on we check in at the State Department and sort of lay on some names in in the in the. In the embassies and they kind of tip him off that we're come and give him a warning so that they can be out of town or not as a truth and they U.P.I. and the A.P. both sort of tip their guys off for the same reasons with the same results. And then we have some charms they are usually in steps and some of the country's most of the country but what Joe and Barack were saying about newspapers felt as if if it was only one group that we could see invariably in any country that I have a visit and now that's quite a few whether if it was the State Department or the local newspaper guys I turn to the newspaper guys every time. So there you should have your own guys up here I don't mean us I mean the more the merrier to get these first hand reports I should say now that we decide to do a sweep of the other shore of the Pacific I know that California Oregon Washington coast pretty well in Mexico. But the other side of the same ocean is less snow and less known to most Americans so we started at the top in Japan and went down to Taiwan and then into Hong Kong and the Philippines and Vietnam and down to Jakarta we could've called it from Japan to Jakarta that would have been a hell of a time didn't think of it and if you go any of those places you don't have to go to Jakarta I can tell you that don't bother Valley yes we didn't get there scenically Yes but politically. The guy what we're coming to him right now we wrote a series afterwards and if some of you are not familiar with that series just shows you don't we do like paper but. Maybe that's why yes because for the good guys read the paper. I'm going to we're going to I'm going to turn now the storytelling part over to Bob who not only writes better but talk better and then if half I have any disagreement or anything I'll kick him one of the table or he can do it and then we'll take questions or anything you want and I thought somebody's got to get some order to Atlanta. I too am sorry about the kind of sniping here. He has written but I think was the first. Level headed reasoning about the D.M. government his role in this war against a communist force. Today about he's got. His young going that in the United States. With gout was also on a Mars plan note. He was upset over not being able to be here and I said Well. Frank. I get along without you. Hurst will be disappointed. At all the cut down by fifty percent of the appreciative chuckles. And while he speaks of. Franken I. Think and I go on the road with a that we have a little act and Frank. Sits on one side of him and I sit on the other side of our leader here and. And we've come down with an interesting. Malady which is being studied leading medical societies and it's rare disease call of primitive palsy. We got off to a good start on this trip and we nearly started a war. Tween Japan and. The Republic of China. Not the People's Republic the Republic. In the course of our interview with the Cato. Premier Ikeda. We ask him a. If you see a chunk I checked leading up the good attack back on the mainland and succeeding in liberating the seven hundred million Red Chinese. And he said he'd never take that very seriously have taken that claim very seriously and I said understand that in the in your country many are the United States has a lot of a lot of talk along those lines but. You know for the birds or less so Bill left him on the question of the. What the I mean this is a just a lot of wishful thinking and all these claims and and cries of talk I checked and he smiled amiably and Marla's agreed so. We went over our notes with his press boys later sharp guys too and they changed tiny little things out of semantics. All he said he would wasn't worried about. China developing an atomic weapon he thought would take twenty five years from the know how to deliver it if they did develop it she thinks they would in the next year or so he was worried that there was one more atomic power on as your neighbor said Russia after all has. Tremendous power atomic power and they have all of our targets and they have their missiles positioned in position as I'm well there is a tiny change in our script as we read it over to these oppressed guys. They wanted said positioned not position against us or something but they went right past the press guys went right past the allusion to the inability of chunky Sheykh to get back so you. We made a black to our story in the U.P.I. picked it up made up the lead. I hit the front pages of junk I Sex newspapers in Taipei. They stone the Japanese embassy there in the in the in. The tank I Psec withdrew his ambassador. And Ikeda instructed his ambassador in Taipei to have no more social intercourse with the. Formosan Chinese crap their style of it I say. We got word from a male Keppen our editor in Washington said it looks like looks like a slant eyeball to slant eyeball concentration in the in the. Well out chunk I Psec couldn't wait to see us when we got there. So we went up to his place in the hills beautiful place by the way. And he came in he looks great seventy five years old. Good in tram and smiles all the time. And Adam was in good form. He said kind of a prime minister the guy I think is getting paid in the Dignitas don't you know. That delicate Wellesley and such a number. So Bill said. Not a bad following I don't think he probably meant it that way really she said then why just printed the and. We left there and the other. That seemed to be a contradiction there on on the Taiwan. On the one hand the place was loaded with military. The Nike's in place and good air force and U two operations. More troops. Has the highest incidence of troops versus civilians I believe of any country in the world training night and day for this. Invasion of the mainland. But no shipping to take in there and a constant build up of very shrewd by means a very shrewd Chinese businessman build up of that island itself schools hospitals new hotels going up office buildings and now exporting their industrial products and on the one hand they are fixing to go on the other hand they're certainly fixing to stay Junger didn't care to divulge when he was going to invade. Feared price would blab it or something yes but. I think he keeps putting it back a little. And every time a. Chinese dies on the mainland I'm afraid that one fewer person in the world. Knows about this old man's dreams and hopes of returning. I with my person was not surprised that in the Philippines and bills been there not a number of times and. Make it a call to run up and I'm Since returning. Seem like an honest Philippine president in the dish and I'm not so I sigh he's. Got a pretty good firm hold on the government there his party has places. Bombing they don't wish to to remain as simply the source of supplies for Japan's an enormous industrial giant. They want to get in the game themselves they want to get too down into Southeast Asia faster than the Japanese salesman are Japanese sales and are going to Southeast Asia lot faster than the average troops dead and capturing more territory by means of Peace Corps. And trade concessions in them and good shrewd Japanese business sense but the Philippines one in the act two and I thought we were there they signed a pact with Indonesia. Indonesia has about the same sort of economy but worse and one of our pals out there said the only thing that they can do a pact between the Philippines and Indonesia they can exchange Singer sewing machines. They both have plants. And I have a lawn I don't support the economy. Below later had dinner with some of the bright young Philippine business types and will want to say something about that later if I file any moment. Sukarno is a not but an interesting when. He came but must have been the first interview he'd given in the years. Very very colorful guy by far the most colorful person we met on a trip. Designed his own uniforms and. His own medals. He'd been busy that morning webbing up a new gold medal and. For attendance at the palace the now. He turns out in terms of mobs on and off like a speck it no question in our mind that. He permitted the British embassy to be burned the most brutal and shocking manner and the property of the British community destroyed he called it off at five in the afternoon presumably in the and the cops didn't come out the troops didn't come until midnight. He. Has a land that extends three thousand miles over three thousand islands which until he said he couldn't do it anymore spoke sixty eight major languages and nearly two hundred dialects and now he has imposed a single language on them and that seems to be working he has a hatred we hear so much in un here and so for the colonialism and where we have been free from British control for so long with has been that hatred has been bred out of us cept to our societies I belong to a head. Start had I. But there you see the burning deal of the anti colonial man a hatred of the Dutch hatred of the British hatred of all things colonial and this man's eyes burn like coals of blazing coals when he speaks of and shakes his voice rises and the very dramatic GUY Oh he says. When he graduated in one thousand twenty six he was one of eleven Indonesians permitted to have a college education and here by the Dutch He was one of eleven in the graduating class of that I should say and now he says they have one hundred eighty thousand one in one thousand at the end of the war the Dutch had only seven hundred fifty thousand Indonesians in grade school another fourteen million. And I asked him how could one how could a civilised nation like Holland. Suppress you people away. He said because he wanted coolies so all they wanted was coolies. We were to supply the coolies for their oil and rubber Some were consultant to pitch they could remember her name for some reason. They couldn't remember can ever Considine. Like the kind of names of a palace that Considine this. So I try to explain a word I said as an Irish name. So any funny when his ministers came and. He introduced his ministers to us that this is William Randolph Hearst and two hours. In the that. Great building as it was a little bit like that. I never realized how. Great he was a great his power has until that introduction by the way he sat languidly in the chair he's painting filled office and reached a lazy hand up to each minister as he went by like a schoolboy in it everything but because he's running to never in. And he never he never moved from his chair we were standing upright and attention it is said that he dances on all the parties of Indonesia belongs to none yet makes the keynote address at all political conventions and. Has a very good way of controlling the largest and best nipped party in Indonesia Communist Party which has somewhere between two million and two and a half million card carrying members they meet regularly They're strong they're well to do. Tough and he has a very good way of keeping him in line if there were an election tomorrow his foreign minister told us. There are elections tomorrow the communists would win