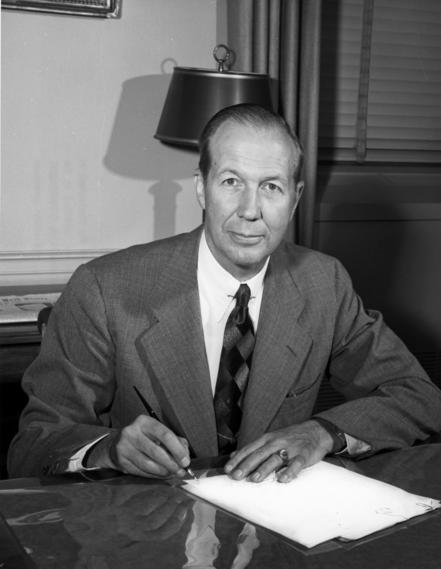 Summary
This episode is from the WNYC archives. It may contain language which is no longer politically or socially appropriate.
William C. Foster, Director of the United States Arms Control and Disarmament Agency speaks about the discussions that took place at a 17 nation disarmament conference in Geneva on February 12, 1963. Discussion of a nuclear test-ban treaty between the Soviet Union and the United States.

Followed by question and answer period.
Audio courtesy of the NYC Municipal Archives WNYC Collection
WNYC archives id: 70406
Municipal archives id: T208
Transcript
This is a machine-generated transcript. Text is unformatted and may contain errors.
It's my great honor and pleasure to now to introduce best of William C. Foster. Role in American history is known to all of us and needs no introduction he not only was the chief of the Marshall Plan the unprecedented American economic venture of the post World War two period which undoubtedly changed the course of European history he also was cochairman of the gate the group which produced the still top secret National Security report on relative Russian American military strength in one thousand nine hundred fifty seven that time he had the unique experience of briefing a vice president of the United States on on top military secrets of this country and now he is he has just returned mystifies to tells me that he couldn't come directly to us he had a few congressional committees to me had to report first He's just come back from six weeks at the resumption of the disarmament conference. And is continuing as the chief of an agency which was one of the the main hopes one of the main dreams of President Kennedy along with the Peace Corps it was President Kennedy's belief that the top brains of the United States had to be harnessed for a search for the solution to arms control and disarmament in the belief that if this problem weren't solved perhaps we would wind up with no problems at all to solve Mr Forrester thank. Thank you very much Mr McGovern I am delighted to be here I have I look around and see a number of friends I didn't know some of them are in the press but the jack bang I'm here is one that I hadn't realized was a member of the press but I'm delighted to see him and wish him well and he is in his new activities. I have not written out a speech because I felt that it would be better to find out what is in your mind and in the presence of experts I did not write this I will therefore speak from some notes in an attempt to set the backdrop of Geneva as I see it at present and as I hope for its progress in the future as you know Mr Good Maaco has recently done me the honor of saying that my optimism must be insincere since words are not strong enough to indicate his disappointment with the progress so far I completely disagree with that I think that our proposals this year at Geneva set forth by President Johnson are the most forward looking the boldest. On the most promising that I have ever been put forward in any discussion leading hopefully towards Arms Control and Disarmament I think it is quite natural that since we have spent in my agency almost three years developing the technical background of these it would be a lot to expect at the Soviet Union in six weeks would be able to respond affirmatively to these proposals they are comprehensive we are dealing with the security of great nations all nations around the world and as your president said that possibly with the with the future of the world I think it is actually reassuring that the Soviet Union has not immediately turned down these far reaching proposals because I think it indicates that they are considering them and hopefully will consider them favorably as we further elaborate what they mean how these proposals. Deal first and foremost with the greatest threat to the survival of the world namely nuclear arms and the two major points of the five points that President Johnson authorized me to put before the conference had to do first with the nuclear freeze. A nuclear freeze is in our opinion truly disarmament at least in a potential sense if you look back five years the amount of bombs in the world looks very small in the nuclear field as contract as contrasted with what it is today in fact since this conference opened in one thousand nine hundred sixty two. And this grew out of President Kennedy's desire to reinstitute a direct confrontation with the Soviet Union on the broad problems of disarmament since March of sixty two when this conference opened actually saw strategic missiles have tripled in the United States. In two years more our missiles will be seven and a half times what they were in one thousand nine hundred sixty two now if you could put a freeze on the further production in numbers and characteristics of nuclear delivery vehicles missiles for teaching. This in my opinion is this is true disarmament and they start and one must on must start by stopping before one can reduce and this is what the United States has put forward at Geneva. The Second Nuclear item of vast importance is the willingness which the president expressed to cut down and if matched by the other side to cut off the further production of fissionable materials for weapons purposes this again is a willingness to to stop the build up of this most destructive of all invented weapons. He had three other points the first was a response to most crucial letter of two years in which he suggested that we should go in with him in the peaceful settlement of territorial disputes the president responded to that by a letter which we delivered the day before this conference reopen than January and so far in spite of this being a proposal most crucial we really had no response to the president's. Willingness to to negotiate this kind of an agreement the fourth point is consistent with some of the things that were achieved in one thousand nine hundred fifty three and I will go back to those in a moment. And that is methods to reduce the risk of war. One of the threat to the survival of all of us is the chance of a war by accident all miscalculations are always that this chance can be reduced this risk can be reduced and we have suggested a number of such. Presently one of them of course is the stationing of observers. On the territory of both sides this has been suggested by the Soviet Union and we have responded that this is something we would like very much to discuss and this is not the only one of such we do maintain as some of you know victory those of you who've been stationed in Germany what we call United States League A It military liaison missions these missions go into East Germany from the United States with the United States group Soviet to go into West Germany. These small groups can observe what is taking place on the other side except for certain proscribed areas. And this is taken place all during the years since one nine hundred forty six this is the so-called heating the mountain and agreement even during the Cuban activity these missions went back and forth and these were partly. Partly responsible for the fact that we knew that there was no build up in East Germany at that time. And so this is another way to reduce the danger of war by accident or miscalculation we would like to expand this kind of improvement in communications improvement in communications as a business which all of you are experts in but if our communications between the two sides were better Many times we could minimize the difficulties and the dangers of unexpected unwanted war. There's no doubt that both sides agree that a general nuclear war is intolerable with weapons of the magnitude which we presently have. This is certainly something we haven't common and I think out of this not of the Cuban situation we did achieve in one thousand nine hundred sixty three three meaningful arrangements with the Soviet Union arrangements which as shortly before they were achieved as June early June. Were stated to be unacceptable the hotline was signed on June twentieth one thousand nine hundred sixty three. The limited nuclear test ban was initialed in late July was signed in August and in the fall of of sixty two when we presented the form of the treaty which was ultimately signed almost exactly as we have presented it. It was stated that this was a trap laid by the United States it was completely unacceptable to the Soviet Union it obviously was to the advantage of the United States and its allies and was of great potential harm to the Soviet Union and the expectation our expectation of any success in this could not. Could not be upheld. Last fall in October we achieved an arrangement we did it at the United Nations and this had been discussed privately and quietly with the Soviet Union for a year I think that period of gestation is one year so this year when it is charged and this conference is stalemated I do not believe and I think that they are as eager as we are to do a number of things in which we have a common interest certainly they want to avoid a general nuclear war certainly the expense of this build up of modern tremendous weapons is a drain on their economy which is a real a real problem for them. Certainly they are at least concerned by the perhaps loosening of some of the bonds within the Communist world and therefore. Since we want the same kind of thing in terms of cutting down the cost of the arms race the threat of the arms race and President Johnson as well as President Kennedy is dedicated to achieving a stable peace I think we have a common interest and when one has a common interest I think it can be expected that ultimately with patience and wisdom and new ideas and tolerance that one can achieve these things so that as to go make those charges my insincerity and having some optimism about this I do not agree with I was optimistic because I would be in this business and I want an optimist but I was optimistic optimistic in sixty two I was optimistic and sixty three and I'm optimistic now that the real basic considerations. In the need of our two great countries to come to some arrangement would prevent. Lower the chances of this kind of conflagration we must be able to find a way President Johnson is determined to keep. Biting away at this thing until we do find a way I think as he said yesterday his most important activity is the quest for peace he said this he said this to my agency has said before that. The State Department officials and in New York that I mean in Washington that. His prime objective is to make progress in this field and he has given me the kind of support that to me at least indicates he means this and I think it is willingness and I in the election year to put forward the kind of proposals that could have a substantial economic effect if they were to take place probably as an indication of his willingness to make this is primary consideration. Now I will I will make one commercial because I think this is something as that which is misunderstood. My agency does not operate in a vacuum. We have been charged on the floor of the Congress with coming up with ideas which are giving away our military forces and putting them under the command of a Soviet undersecretary at the United Nations. I can assure you that any proposal that my agency puts before the the conference at Geneva or deals in bilaterally has been through the most arduous course of discussions that one could ever have your president omitted one job that I had happened of and Deputy Secretary of Defense as well during the Korean War So I have a certain knowledge of military functions and I have on my staff presently. Thirteen very distinguished military officers the top man is an active three star general in the Air Force everything that we put forward is first considered within my agency the statute which established this agency requires that anything we do must be consistent with the National Security at the staff level every one of our proposals is discussed almost nauseum but out of this comes a recommendation which is usually agreed to by the staff not only of my agency but of the Atomic Energy Commission of the defense department of the state department of the CIA and before any recommendation goes to the president it is considered by a so called committee of principals committee principals is chaired by the secretary of state I am the Vice Chairman Specter defenses on it germ of the Atomic Energy Commission is on it the director of central intelligence is on it as a body you gentlemen the head of the USA is on it the president's national security affairs advisors on it MacBundy and the president's science advisor is on it and every proposal that we put before. The president or his final decision is first going over by this group I don't say they always agree one hundred percent this would not be the way our government works but at least every member of that committee of principals has the opportunity to make his opinions known and the president then makes the final decision as to what happens I should say also that I think they've been very few instances where this was not a unanimous recommendation. And omitted one member of that committee the chairman the Joint Chiefs of Staff. So that we do not conceive of these things in a vacuum the fact that the United States has this agency now which is one of the smallest agencies in the United States government but I think one of the best we have two hundred twenty members we've been accused of having all generals and no private but that's the nature of this we are charged we have the primary responsibility within the United States government for the development of policies having to do with arms control and disarmament the director is the principal adviser to the president and the secretary of state in this field. And therefore these people must be good and I'm very proud to say they are good and therefore anything that comes out of this group is the product of Kennedy's vision and in pushing toward the establishment of this kind of an agency which is in business thirteen months a year thirty hours a day eight days a week and it is almost literal and that it has resulted in our having a confidence in what we put forward which quite frankly if we had it before it did not deserve such calm confidence because before we sometimes made intuitive proposals and I speak as one who is has headed one of two of our delegations to do even before this agency was in business and now I on the other hand have complete confidence in what we put forward as being in the national interest consistent with our national security and hopefully able to make a great contribution to the achieving of a stable peace and I will conclude these remarks by one final statement. We are continuing to press for general and complete disarmament. I like to compare general and complete disarmament in my own personal approach to it with my looking at a landscape I can see houses trees people in the foreground I can see them fairly clearly as it gets back a little from the foreground it gets a little hazy and as I look at the mountains way in the back or as I look at the edges of New York as I fly in with a day like this with a smile which never used to be here when I was a New Yorker. It gets very hazy Indeed I think generally complete disarmament can be precise in the first stages and we approach propose a three stage plan I think the second stage becomes a little more difficult to appraise therefore our proposals must be mu