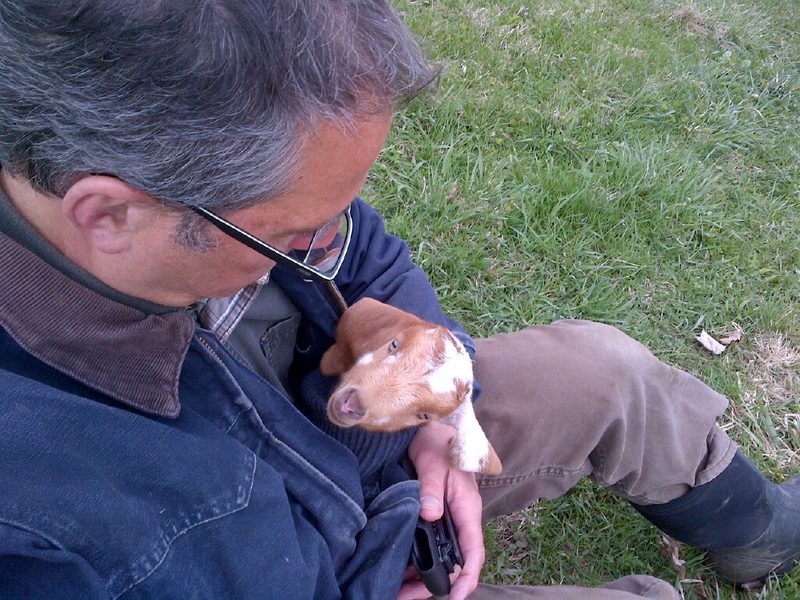 Seven years ago, Steve Shultis came upon an ad in a store in the Hudson Valley area where he lives with his family offering two adult Nubian ewes, or female goats, to a "good family." After what Shultis, who is New York Public Radio's chief technology officer, describes as a rigorous qualification process, his family was deemed good enough.
The Shultis family bred their first two ewes, and have continued to grow their small herd, now numbering nine—Stella, Elektra, Millie, Maverick, Tillie, Sweetpea, Moonshine, Brownie, and Scarlett. 
"They are just adorable," says Shultis, especially the hand-reared babies, who are "really like pets." 
The goats are a family affair — Shultis's five sons help out — and he thinks the daily interaction with animals has been good for them— "you get to see the whole circle of life."
The family gets about a half gallon of milk a day from their herd ("just the smoothest milk we've ever had") and are thinking of trying their hand at cheese.
Asked how goat herding compares to Shultis's demanding day job, he laughed. "Anybody in a technical field needs the release of coming home and experiencing something that doesn't need an update that night, or your license has run out," he said.