Widow of Slain Attorney Carey Gabay Draws From Their Life Together to Move Forward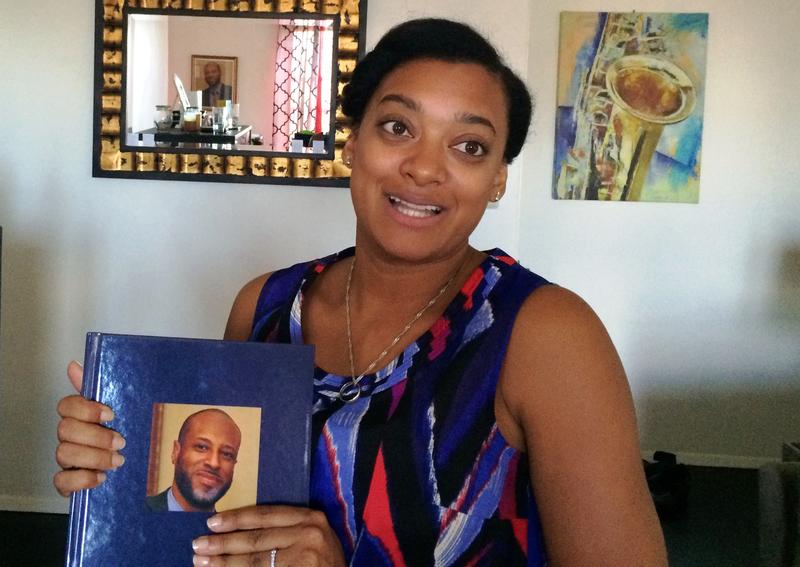 Trenelle and Carey Gabay's Sunday routine was always something they looked forward to. 
Church. Brunch. A little relaxation at home — she with a book, he watching sports or politics on the TV in their Clinton Hill apartment. Or maybe a little afternoon napping. Then, sometime around 3 p.m., when the heat of the sun was just bearable, they'd hop on their bicycles and explore Brooklyn.
Their last ride together haunts her.
"Carey said, 'Babe, I want to show you the poorest part of Brooklyn.' "
They took their bikes on the  L train, all the way to the end.
"It was just all projects," Trenelle recalled, her mind stretching back in time to scan that grey landscape all over again. "I was like, 'Oh my goodness, it's so poor.' "
Carey told her not to talk.
"Just ride," he told her, "and take it all in."
She did: the children outside, the abnormally tiny windows on the apartments, the stifling feeling of confinement. Darkness fell and they peddled back home. At dinner, she asked him how people could live that way.
"They don't have a choice," he told her, "and the whole thing is to make it so they do have a choice, and there's opportunities, so that way, it's not hopeless. It's hopeful.' "
She's been thinking about that response since his death nearly a year ago. She believes her husband, a man who grew up in public housing in the Bronx, wanted to expose her to that kind of poverty for a reason — so that she could help others.
She is in the nascent stages of a project to create a non-profit foundation in her husband's name, to "give back to children living in poverty and social deprivation ... so they don't lean to those gangs," like the ones that allegedly took her husband's life, and shattered hers.
Carey Gabay was just 43 when he died nearly a year ago. He was shot in the head when a gunfight broke out between rival gang members. It happened after Carey, his brother and friends were heading home from the annual J'Ouvert celebration that marks the start of the West Indian Day parade in Brooklyn. Nine days later, he died. Five young men have been charged in his murder.
His death drew immediate attention: Carey was an attorney in the Cuomo administration, a well-liked man, admired for his personal story of having climbed out of poverty.
Alphonso David, chief counsel to the governor, worked with him. He said Gabay came to the administration about four years ago from a large law firm where he'd worked on commercial transactions. In Albany, he focused on housing and economic development. And his personal experience informed his worked, David said.
"Carey did talk about his past. He talked about his experiences living in public housing," David said. "He talked about how important it was for us, as policymakers, to advance policies that benefited all New Yorkers, not only some, and specifically focusing on those that are disadvantaged....He had a keen eye on how those polices affected racial minorities and the disadvantaged."
Trenelle Gabay, now 38, says her husband lived with hope, despite having grown up with little.
When she complained that her glass was half-empty, he'd come back and say: "No Trenelle, it's all about perspective. It's how you look at things." A year ago, she struggled to find truth in those words.
"Looking at my husband in the hospital bed, I would say, 'See Car, my glass is empty now,' " she said.
Today, she is embracing his attitude for herself, and for others. She is still working through the details of the foundation, including developing a website and meeting with anti-violence groups, but she is adamant it will help children. She says she wants to motivate inner-city kids to choose the path her husband took out of poverty, rather than the path of the gangsters who shattered her and Carey's families. And she wants it to be practical too, providing tools kids need to succeed in school.
Trenelle says she also wants to be able to help the surviving family members of people killed by gun violence. She recognizes her husband's position in the governor's office allowed her to get a level of assistance not everyone can afford.
And, she wants to speak out against guns.
In addition to working on housing, Carey Gabay was among the attorneys who worked on New York's landmark 2015 gun-control legislation, known as the SAFE Act. He also had an older brother who died as the result of gun violence, and a college friend who lost her mother to gun violence.
Carey reached out to that college friend in an email to offer her words of comfort. When Carey died, that friend sent Trenelle the letter. Trenelle, who said the last year has been one of intense suffering, said she feels Carey's words are once again sending a message to her, guiding her the way he would when they rode bikes. He always rode in front.
"After I lost my brother," he wrote, "I couldn't imagine how I could live, or if I could live, how live could ever be enjoyable again. With time, however, I learned that I could go on, that life would be different, but that it would be just as beautiful, and enjoyable, as the many times my brother and I bicycled together."
Carey promised his friend life would get better.
"I know that it may be difficult to fathom at this point," Carey wrote, "but trust me when I say that this time will pass, and your joy will arise in the morning."